PWS has added a brand-new category to the raft of products it offers its customers – we find out from Graeme Smith, head of retail and commercial design at PWS, why the brand has moved in this direction, and why Alveus was the perfect partner to do it with.
Q: Tell us about PWS' new sinks and taps category – why have you launched it now?
A: We decided to launch the sink and tap category having been very impressed with Alveus's products and their European manufacturing set-up; we know our customer base increasingly see PWS as a 'one-stop-shop' for components, and this launch therefore closes one of the few gaps in our product offer. For their part, while Alveus have an excellent reputation and sales footprint elsewhere in Europe, they've never fully established themselves in the UK, and so this collaboration with us allows them to dramatically scale up their sales here with our large and diverse customer base.
Q: When it comes to kitchen design, how do you think that the role of the sink area has evolved?
A: The sink has always been a vital part of a kitchen design and layout and this is something that has been strengthened in recent years. The wet area is no longer just a feature tucked away to perform washing up but has become central to the modern food preparation area of a busy home. With the rise of freshly prepared meals and recent increase in popularity of home cooking, the sink has doubled as an area to prep food – utilising new accessories such as drainers and chopping boards. This is particularly important for those who meal prep and use lots of fresh ingredients. With a focus on hygiene in everyday life the need for a sink that is easy to clean along with a flexible tap solution have seen designs become streamlined and versatile in terms of functionality.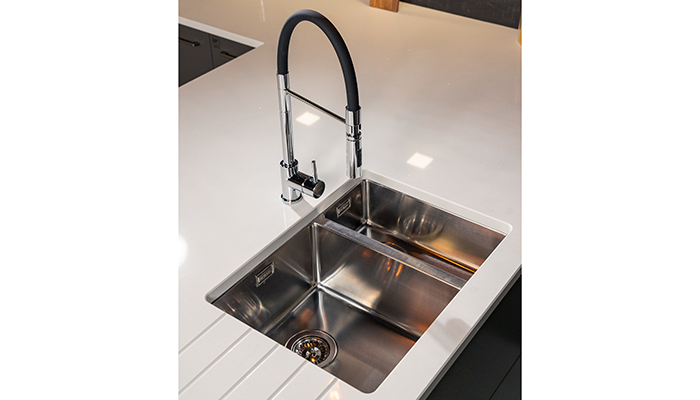 Q: Are you noticing any particular trends when it comes to sink designs?
A: Sinks and taps were long specified in utilitarian and simple finishes such as stainless steel and chrome, and they generally blended with other appliances in the kitchen design. As trends have moved towards mixed metallics and warmer tones we have seen, as with handles, the rise of brass, copper and anthracite finishes to add a more sophisticated finish to the sink area. With the sinks location moving and the prominence of these appliances changing this has ben important to keep them in harmony with the design as the kitchen becomes more of a living space, enjoyed by multiple generations for longer.
Q: How about taps?
A: The co-ordination of taps and sinks with other metallics in the kitchen design, such as handles, have meant that taps have become more of a sculptural piece both in terms of form and finish. With the added functionality of being able to have sections that pull out and alter the flow of water, from a stream to a spray, it all add to the flexibility of what the simple appliance can offer a household.