New Blanco UK MD Neal Jones believes it's all about the little things in life – he tells Amelia Thorpe how improving enjoyment at the kitchen sink will deliver the brand's continued growth.
One hundred days into his new role as UK MD of sink and tap specialist Blanco, Neal Jones says: "The business is in really good shape – even after lockdowns and the challenges of COVID, the business is not just healthy but busy recruiting."
Jones, 47, joined Blanco on the retirement of Simon Hart in December, after running NRS Healthcare for 3 years, after a 5-year stint as UK MD of small appliance specialist De'Longhi – amongst other things, the leader in the coffee category. "I saw the tremendous growth in appliances to meet the suddenly burgeoning demand for upscale coffee consumption," he says. "So I've got experience in seeing how macrotrends like that can transform the home environment."
Other macrotrends, he suggests, apply at Blanco. "Since COVID, there has been more focus on the space in which we live and spend our time – and the way that we are suddenly investing more in our homes to make them as great as they can be," he says. This has been a driving force behind the Blanco Unit strategy to combine sinks, taps, in-cabinet waste and organisation systems for drinking, preparing and cleaning – all in one place. "It is about identifying the 'water place' where the consumer interacts with the sink, tap and the space around it and how it is of vital importance to producing a useful – but also beautiful – kitchen," he adds.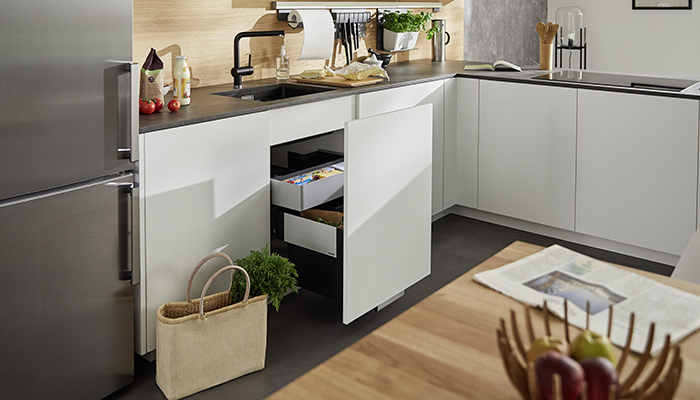 Jones insists that a sink really can delight – simple things in life can give us little moments of pleasure, he says. "It is possible that all products that we interact with can provide an enhanced feeling of satisfaction – we can't decide that certain product categories cannot delight because they are heavily practical." He points to the tactile nature of sink and tap materials, the improved ergonomics of design and the 'subtle touch points' of use, such as the radius of a sink that introduces aesthetic appeal to an in-built shelf that creates a useful two-storey sink design. "If we can demonstrate how you can use your water place much more efficiently and for a multitude of tasks, then we will delight the consumer – it's a combination of function and emotion," he says.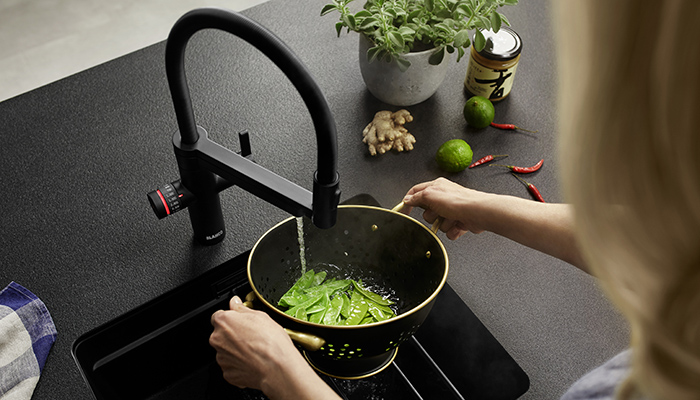 He also suggests that the multi-component approach is a USP for Blanco, which provides everything from boiling water taps to Silgranit sinks – and is part of the 408million Euro Blanco Group, headquartered in Oberderdingen, Germany. "The future is not just about a single component – it's about the interaction of multiple components together," he says.
Jones says the strategy – and opportunity to put it into action – was key to his taking up the new role. "When I was contacted by Blanco, I was really interested in Blanco's 2025 outlook to up their interest in the end consumer," he explains, adding that 2025 has resonance since it is the centenary of the company founded in 1925 by Heinrich Blanc. "We really value the business that we have through the kitchen retail trade sector and fundamentally believe that is the most significant route to reach those end consumers," he says. "But if we are going to broaden the understanding amongst consumers, we are going to need to do more consumer marketing than perhaps we have done in the past." £1million worth of advertising and media activity is planned in 2022.
2021 turnover was "north of 20% up on 2020" he says. "In general, the sector is healthy, so we looking to continued growth through 2022, however I am mindful that the second half might not look like the first half, given some of the challenges to the UK consumer, such as the increase in National Insurance contributions, the general rate of inflation and the ability of people to return to going on holiday," he notes. "Now there will be more things vying for our wallets."