Leading British manufacturer Crown Imperial offers retailers a stylish choice of home working and storage solutions, its Lifespace range is ideal to incorporate into any room scheme. Tony McCarthy, Commercial Director comments on the popularity of its range, "We have seen an increase in demand for our Lifespace furniture, as customers embrace hybrid working, splitting their work time between home and office. This new work-life balance opens new opportunities for retailers to demonstrate the versatility of the entire collection to achieve a seamless style fusion".
Working from home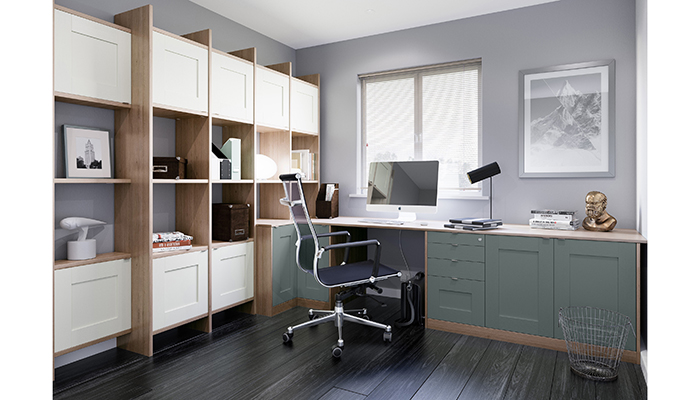 Create an elegant modern workspace with Crown's modern classic Midsomer, presented in painted Oyster and Sage. Sleek modular shelving is styled in Textura Sand Oak, offering open and closed units to hide away untidy clutter and still have essentials close at hand. The wide desk area boasts an ample workspace and organised interior storage, finished with discreet brushed aluminium shadow handles to complete the look.
Leisure & workspaces
Where space is of a premium, multi-functional rooms are increasingly popular. Crown Lifespace offers the option to add a desk and modular shelving to a bedroom area, creating a flexible home working zone.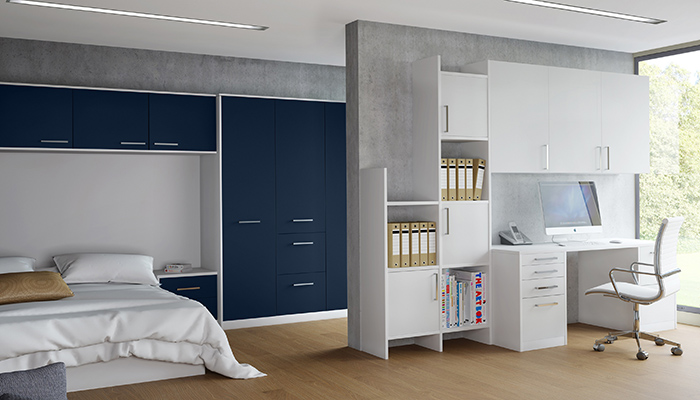 Kitchen & work zone
The kitchen is the hub of the home and through zonal design it is possible to achieve a unified style, whether by creating different levels to balance the entire scheme or by designing a dual work and leisure zone away from the daily hubbub of the kitchen.
Crown Imperial offer a complete living solution and retailers have access to the same design palette across the entire Crown furniture collection to create a seamless feel.
www.crown-imperial.co.uk Telephone - 01227 742424