According to Google Ads Keyword Planner, the last three months have seen a 50% increase in online searches for 'bathroom tile alternatives', which means that retailers should ensure they offer consumers options in line with the latest home trends, says Mermaid's national sales manager, Keely Greenhalgh. Here she discusses the benefits of panelling within the bathroom environment.
As people continue to spend more time working away from the office, there is a growing desire to make much-needed home improvements, creating bespoke spaces they'll feel happy living in. In some cases, this means renovating tired and old bathrooms and with that, the realisation that traditional tiling is no longer their only option when decorating the walls.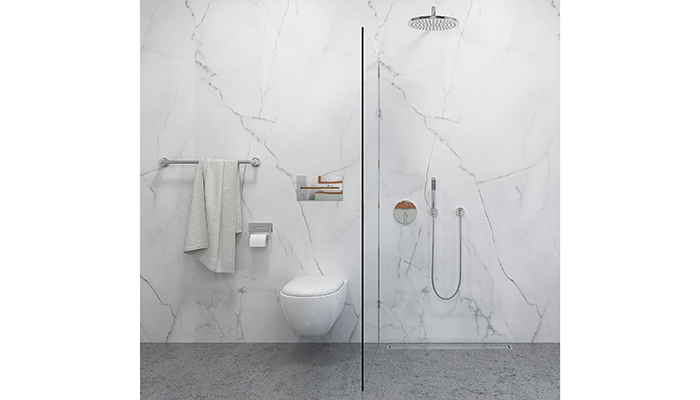 The Panel Effect
Panels can create a striking impression in the bathroom, with most ranges on the market encompassing a variety of styles from marble, stone and wood effects. Some panels even replicate the aesthetics of a fully-tiled or mosaiced wall with none of the hassle that comes with actual tiles.
Mermaid's new innovative range, Mermaid Elite, offers the further freedom to secure in either horizontal or vertical positions thanks to the inclusion of a postformed edge. If the intention is to create a focal point, the panels can be attached to a statement wall behind a freestanding bath or even allow the creation of seamless niches within a shower enclosure.
Sink or Swim Innovations
Most panels on the bathroom market use aluminium trims to hide unsightly join lines, breaking the illusion of one seamless design. However, the panels in Mermaid's Elite range have been designed to overcome this, featuring tongue-and-groove edges that slot flush together when sealed with Complete sealant, creating a sleek and impermeable watertight finish.
Rewards for Retailers
Using tiles in a bathroom renovation can be a lengthy process, and consumers may be discouraged by the prospect of having their bathroom out of action for a period of time while this work is undertaken. On the other hand, retailers can assure their customers that installation of a panel system is much more efficient option – where tiling an entire bathroom may take days, panels can be secured to the walls in a matter of hours.
Time-pressured homeowners will also be attracted to the low maintenance that comes with bathroom panelling. While grouting is notorious for accumulating dirt and silicone is prone to breaking down over time, a seamless panel installation such as Mermaid Elite, removes both these issues, with cleaning a simple case of using a non-abrasive cloth, soap and water.
After the work has been done, consumers want to know that their new bathroom is going to look just as good as when it was first installed. Fortunately, Mermaid offers its own adhesive and colour co-ordinated sealant called Complete, providing a 15-year guarantee on bathroom installations when used with the brand's panels.