There are plenty of things to consider when choosing kitchen flooring that is both striking but hardworking. We talk to Adrian Bergman, design manager at British Standard by Plain English, about the key elements to work through with your clients.
Wood
"Wooden flooring has an unparalleled warmth and character and is a favourite amongst the British Standard by Plain English design team. There are many colours and species of wood to choose from. A classic choice is Ash, for its extreme durability and natural look. All wood develops a natural patina over time and rather than worry about this, we encourage clients to enjoy the rich character that this offers."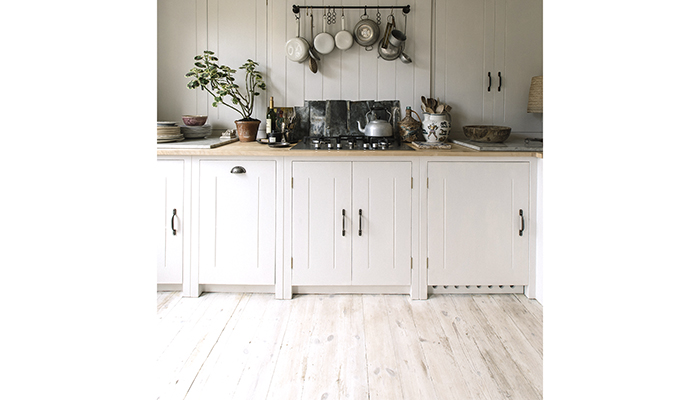 "If you are looking for a way to breathe new life into existing floorboards, or the client doesn't have the budget to replace them, suggest painting them in a contrasting colour to the kitchen cabinets or to match with them. Checkerboard designs have been hugely popular in recent years and act as a playful and inexpensive path to go down."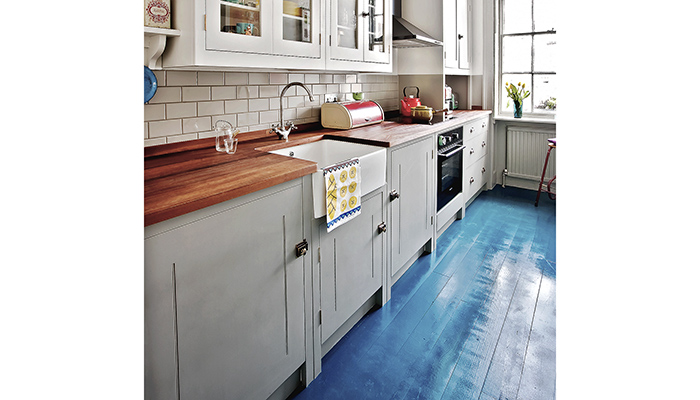 Concrete
"Whilst concrete is sometimes more complex and costly to install, a polished concrete floor is easy for homeowners to maintain as it is resistant to chips and cracks. Concrete offers an unparalleled clean and seamless look. As it is becoming more popular, there are now myriad colour options on the market – some companies can even colour match, meaning it is very versatile. Like stone, to make it water and stain-resistant, concrete needs sealing once it's set. It's worth pointing out to the client that it can also feel cold, so benefits from underfloor heating or layered rugs."
Tiles
"Porcelain tiles are increasingly popular as they are extremely durable and available in a huge variety of finishes and sizes. They require little maintenance and are waterproof, stain resistant and scratch-proof. Tiles are a great way to add colour and pattern. Terracotta tiles, for example, are a natural option that bring a lovely warmth and will sit very happily in a traditional kitchen. You could suggest a simple square tile in a diamond pattern or a hexagonal tile for something a little different, although these will require sealing."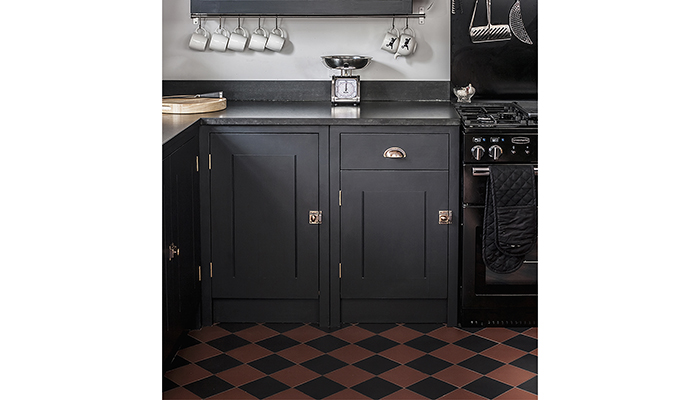 "If your client is looking to incorporate an intricately patterned tile – such as those seen in historic Victorian buildings – opt for an encaustic tile. Unlike a glazed tile, these tiles are made up of two or more colours of clay or cement inlaid together so the pattern won't wear off over time."
Bricks
"With their unique and characterful surface, bricks provide a warm and traditional feel to a kitchen. It is worth bearing in mind that they are difficult to maintain and clean, so we tend to recommend them for ancillary spaces such as boot rooms, utility rooms and pantries where the footfall tends to be lower."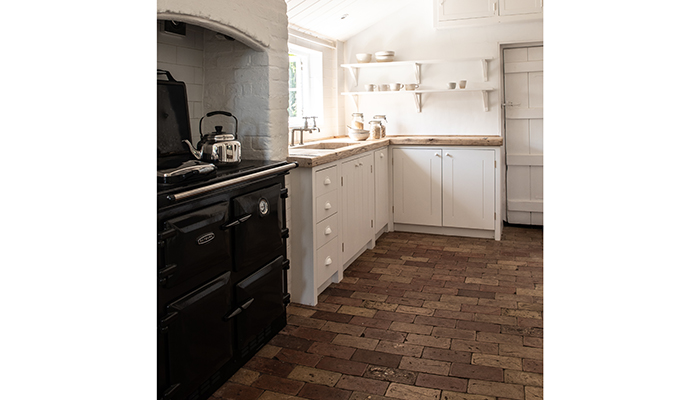 Linoleum
"Many clients are surprised to learn that today's Linoleum is created from natural materials. Linseed oil [from flax seeds] is mixed with cork dust, wood flour or rosin and then pressed into sheets. Many companies also use natural or environmentally responsible dyes to colour the linoleum. Given this – and the spectrum of colours and designs available – it is no surprise that more and more clients are specifying linoleum."
"Similar to encaustic tiles, the colours are not just printed on the top of the linoleum but run through the entire tile, so won't fade with wear. Although water resistant, Linoleum can be damaged from excess water, so it will need to be re-sealed over time to ensure it is protected."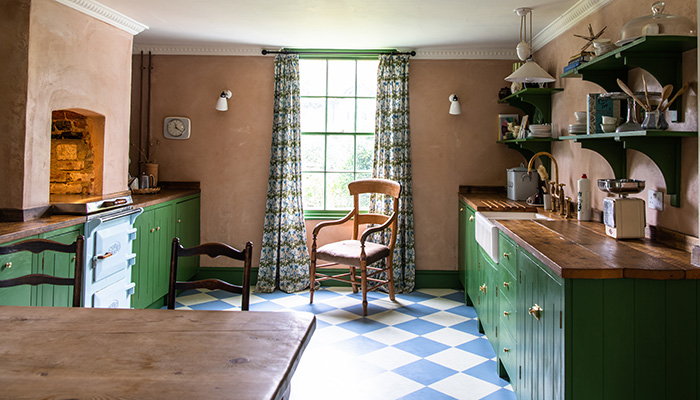 Stone
"Stone flooring options include Limestone, Travertine and Slate. With huge variations in texture and pattern, and reclaimed pieces offering beautifully storied patinas, stone offers something for all tastes. It is important to consider the tile size, shape and bond as this will impact the overall look and feel of the space – for example, larger slabs will make a small space feel bigger.
"All natural stones are porous, so it is worth bearing in mind that it will need to be re-sealed from time to time. Stone can be colder underfoot and as a result is often used together with underfloor heating. If your client is considering underfloor heating, we always plan this with ours from the start of the design process. Additionally, it must be positioned so that it is not below the floor cupboards as it can spoil food and cause the joinery to shrink and split."