Nicholas Anthony's newly refurbished Wigmore Street SieMatic showroom is offering clients a new interiors concept. Design director Niko Rasides tells Tim Wallace all about it.
The conventional idea of the kitchen is being rapidly redefined. Take Nicholas Anthony on London's Wigmore Street for example. Last year this flagship SieMatic showroom was just one of many upmarket kitchen outlets in the neighbourhood. But it has recently enjoyed a stunning transformation to mirror a brand-new design concept.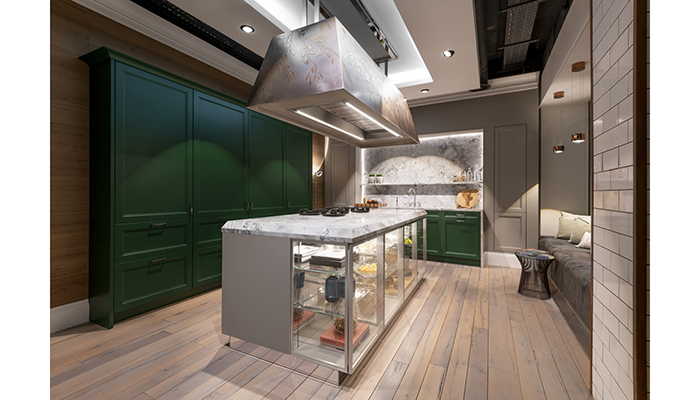 Forget any traditional focus on units, worktops, hobs and sinks. Instead, design director Niko Rasides is inviting his affluent clients to open their minds to wider possibilities.
"The word kitchen looks dated, even obsolete" he says. "The future will be elsewhere. We don't want to be perceived as a kitchen showroom. We are much more than that. The properties we work on are open plan, which means we have a bigger living space which may include a sofa, a dining table, island cabinetry... But all this is not just a kitchen. It becomes a culinary area and a lounge area, but overall it's an open-plan space."
The wider industry shift to offering interiors rather than just kitchens isn't exactly new of course. But for Nicholas Anthony, the timing of the launch seems perfect and footfall has increased dramatically.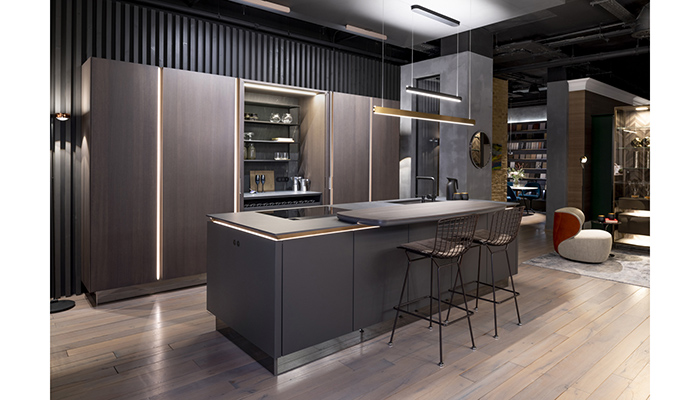 "During lockdown, people stayed at home and appreciated the importance of having a beautiful home," Rasides explains. "The key is to create our own design language. We want to introduce our own little story where people will engage with us. Because they share the same ethos and can see how we add value to the property and enhance their quality time with their family. This has proved more important during lockdown."
The new concept begins with an appreciation of the heritage of the building. Some of the store's pillars, for example, are clad in London Underground tiles while corten elements give a rough metallic look, helping connect the exterior with what's inside.
Bespoke handmade elements are warm but contemporary. The highly engineered SieMatic furniture is stylish and minimalist while the new living room furniture comes from Knoll and Walter Knoll and the lighting from Occhio.
Other bespoke elements come from Nicholas Anthony's signature line including a bespoke drinks cabinet with panelling designed by Rasides himself. But he also highlights the plethora of surfaces and finishes, sourced from around the world but not widely supplied.
"This gives an individuality and uniqueness to every project we do," he says. "We try to infuse depth – the stone, the lighting, the furniture. Our approach is holistic. The showroom's purpose is to inspire. Interior designers, architects and developers are all welcome. Clients understand the journey, the experience and the potential of what we can do. The ultimate goal is creating something that the end user will find valuable and gain an attachment to."
Bathrooms are an important element in the company's three other showrooms but are not part of the mix here. "Space in this historic part of London is simply too expensive," Rasides explains.
He also rejects suggestions that the war in Ukraine is doing further damage to the buoyancy of the sector. Instead, he offers the familiar argument that clients at this level are less susceptible to inflationary pressures. In fact with prices rising by 30% since the beginning of the year, his advice to them is to buy now or pay more later.
He concludes by warning that launching a new design concept comes with risks. Work has already begun to revamp the other stores but the new interiors concept will be exclusive to its more cosmopolitan London clientele.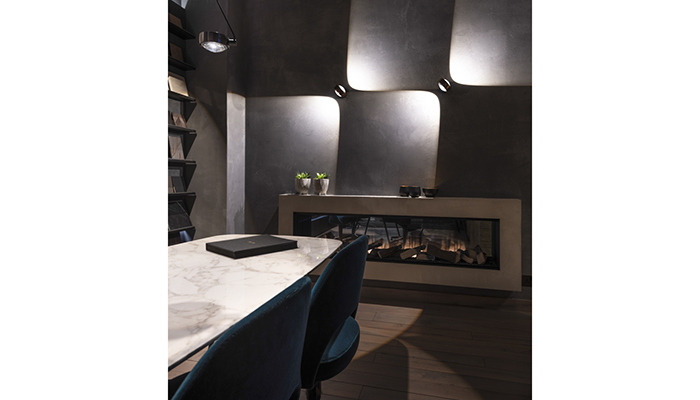 "Designers need to do what they feel comfortable with – it can be a disastrous move if you can't support it," he says. "It's not a time for experimenting without having the hard data. Everyone needs to consider the times we're experiencing and make a decision on what's best."