Roberto Heredia, UK country manager of Acquabella, talks to Nicola Hanley about the Spanish bathroom manufacturer's quest to become a reference brand in the UK and how it is going about strengthening its position.
Since Acquabella entered the UK market around a decade ago, the Spanish bathroom manufacturer hasn't missed an opportunity to exhibit at KBB Birmingham, and this year was no exception. "It was a pleasure to meet customers again at KBB Birmingham, where we renewed our commitment to independent retailers in the UK and Ireland," says UK country manager Roberto Heredia.
While Brexit, the pandemic and increased production and transport costs kept many bathroom brands away from this year's show, Acquabella returned with a showstopping 100sqm stand that won KBB Birmingham's Best Bathroom Stand over 30sqm. On it, it showcased an array of shower trays alongside its latest launches, including the Opal Quiz bathtub, Chrea collection and On-Top XL basins. "We owed it to the KBB community and came back with a lot of force and desire to see everyone face-to-face."
Resin shower trays remain Acquabella's strongest asset says Heredia, but UK consumers are increasingly being won over by the brand's complementary products. "Our star product is the resin textured low-profile shower tray, but we have managed to get the British market to buy a concept, which means that we have rarely received orders that only include the shower tray."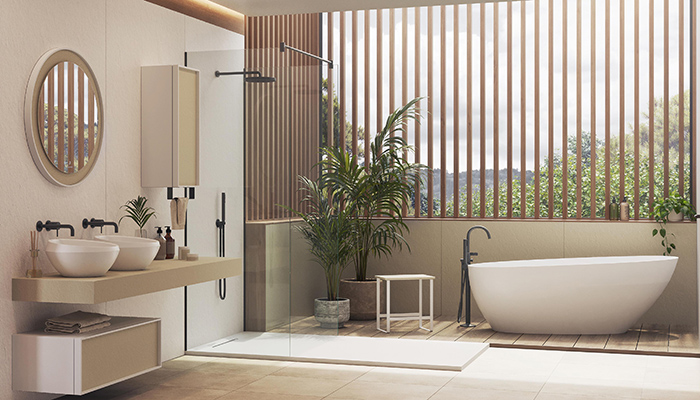 In 2021, the brand, which is active in over 40 countries and sells products through around 120 retailers in the UK, marked its 25th anniversary. It installed an automated shower tray production line at its HQ in the city of Vall d'Uxó, about 30 miles from Valencia airport, increasing capacity by 150% and improving delivery times for customers. And that's not all. "In 2021 we opened a third building dedicated exclusively to the manufacture of bathroom countertops, a product family in which we have grown considerably and especially in the UK," says Heredia. "We have also diversified the cargo in two different ships to be more effective logistically, which is a clear commitment to well-organised growth."
In the UK, sales have continued to increase year-on-year, despite the global difficulties, and Heredia is optimistic about Acquabella's potential for growth. "In such a demanding and professional market, the greatest opportunity for Acquabella in the UK is to be recognised in our sector as a reference brand. I have been fighting for this for 10 years and I believe it is possible," he says.
"Our main obsession now is to offer customers best-selling standard products in immediate availability. We have many new projects in the pipeline and new weapons that will improve our service to bring it up to the level of local manufacturers and UK distributors within 2022. This means we will have stock in the UK and that will happen in the next couple of weeks after a great effort on our part in response to customer demand. It is a definitive step for us to give our customers in the UK and Ireland the best service."
Face-to-face contact with customers is also key to the brand's success, claims Heredia, who has begun touring around Scotland, England and Ireland to introduce retailers to Acquabella's latest launches and service improvements. "The human touch has always made us different," he says. "I hope that sooner or later, no one who wants to see me will be left without a visit."