Taking a cue from luxury hotels and retreats, homeowners are beginning to embrace the idea of outdoor baths and showers. Splashing about in the garden may not be for everyone, but relaxing while taking in views, sounds and scents offers plenty of wellbeing benefits. Lisa Hibberd checks out the latest designs suitable for outdoor use.
"There is a growing trend in blurring the boundaries between internal and external space, and to make the living environment more aligned with nature," says Emma Joyce, brand manager at House of Rohl. "Outdoor bathing can amplify the life-enhancing benefits of a long soak, with fresh air and the joy of gazing up to the heavens. An outdoor bath is indulgent and luxurious – a real treat for the soul. Victoria + Albert Baths are made from a unique stone composite called Quarrycast, meaning they can be used outdoors without fading or cracking, and without affecting the 25-year warranty. You lose very little heat from the water to the material, making it practical as well as durable outside."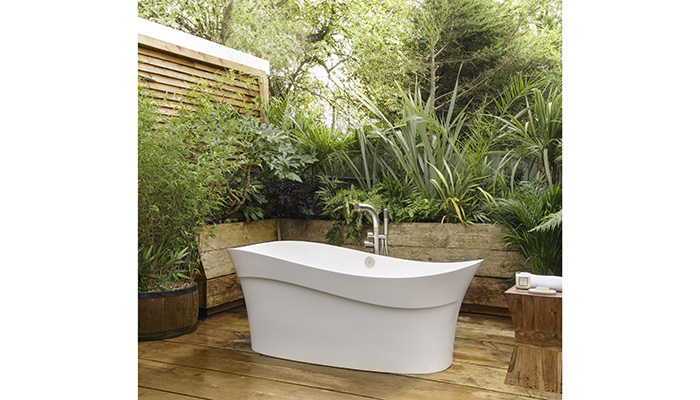 Joey Wakelin, PR and marketing manager for William Holland Ltd, suggests that copper also lends itself well to garden use." Copper is a natural, corrosion-resistant material, making it practical for outdoors. Our copper baths don't need any special maintenance as they simply get more beautiful with age, evolving in tune with the environment. They are also naturally heat retentive, maintaining their warmth so you can have a nice long, luxurious soak beneath the stars." Choosing a material with excellent heat-retaining qualities also means that the client will be less limited by the weather, as the bath is likely to be used not only during the warmer months.
As well as choosing a beautiful, freestanding tub, there are, of course, practicalities that must be addressed, says Barrie Cutchie, design director at BC Designs. "Whatever the location that is decided for the bath, the main thing to consider is how to get both hot and cold water to it. This can always be achieved by running a hosepipe from a tap connected to the outside wall of a house but one that has both hot and cold water. To empty, you could either direct the water straight to a drain or let it soak into the garden as you would a paddling pool. Alternatively, clients may wish to enlist a plumber to hook the bath up to the water pipes for hot water on tap, and potentially, for drainage too."
Barrie also recommends that designers consider privacy when planning a project, although this does depend on how the bath is going to be used. "If a person intends to use the tub like they would a swimming pool or jacuzzi and wear swimwear, then privacy isn't so much of an issue. However, if they hope to use it as they would an indoor bath, then the designer will need to consider how to shield the user. Many of the baths we see in outdoor settings in hotels or holiday cottages are often in remote locations with only sheep or cows for neighbours! If however, a homeowner wants to bring the glamour into their own back garden, there are several options including hedging, stone walls or lush green plants, as well as specially constructed gazebo-style structures that can give offer privacy from above." Ideally an outdoor bath or shower should be situated in a private location yet still within easy reach of the house, to avoid having to dash too far afterwards.
Joss Thomas, founder and designer at Indigenous, agrees that privacy can be an issue. "Baths or showers can be tucked behind walls, a screen or trellis, or even sited in a suitable shed-type structure if plumbing and drainage is available. Accessories are important too; don't forget a well-appointed stool to place a drink, and a hook for a fluffy towel or bathrobe." Wherever the client chooses to place their outdoor bath or shower, the surroundings must be equally as relaxing. Harsh lighting could have the opposite effect, so designers should consider options such as lanterns with candles, or perhaps solar-powered festoon lights to achieve a softer glow.