Kitchen specialist Interiors of Harrogate offers a diverse mix of brands including 'DIY range-beater' Häcker, Ashley Ann, Systemat, Rotpunkt and Loxley. Owner Paul Whiers tells Tim Wallace why the strategy is paying off.
Q: What's your average price for a kitchen?
A: Customers haven't got a clue about price. We're more in the £20,000-£40,000 bracket but we're finding people coming in because we start at £8,000. We end up selling them a £20,000 kitchen whereas if you go into Tom Howley with a budget less than £15,000 you're wasting your time. We can end up being cheaper than the multiples. Wren recently priced one at £8,000 which was just boxes so I took their plans and priced it exactly like for like, which I do a lot. I'll do a plan that's better and if it's too expensive I can still revert back. The biggest problem with the multiples, and I try to push this big time with customers, is that they can't control the process. There will be a percentage that go wrong; you're just a number.
Q: How well has the business coped with the pandemic?
A: Last year turnover was about 40% up on 2019, which was a good year. So far this year we're about 60% up. The profits are way up as well. After Covid a lot of people have been left a house or whatever and they'll spend on inherited wealth more quickly and easily.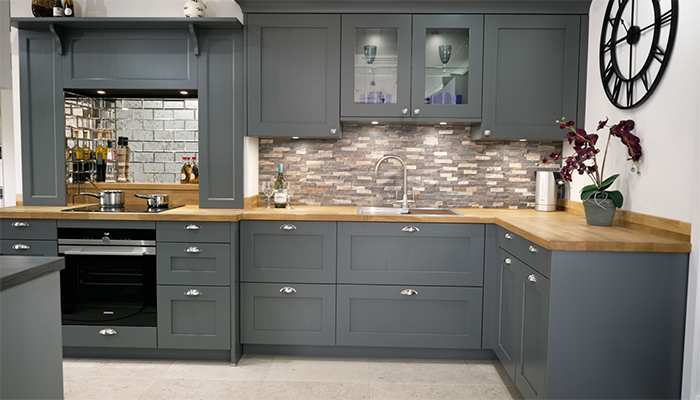 Q: What's your turnover?
A: We used to do much bigger turnover but we were busy fools. We were doing a lot of kitchens but for smaller margins. So now we do less and we're improving those margins. Going back 12-15 years we did £3m turnover and there was no independent doing that back then. Now we do £2.2-£2.3m but I'm making more profit. And it's profit that pays the wages.
Q: What sort of margin do you look for?
A: The margins have diminished over the year because of appliances but 35% is achievable. Our margin on Häcker is 43% but you're not going to make that when you're selling appliances at 20-25%.
Q: Do you see the boom continuing?
A: If we'd had this conversation before Ukraine I'd have said yes, but that will scupper projects. A lot of people deal with Russia, buying or selling. I know of two big kitchen retailers that have big accounts with Russia. But I still think the boom will continue. A lot of people out there want to build an extension but can't get a builder so that's going to be a project for next year or the year after. Builders are booked up for a year or longer.
Q: Are you still struggling with appliance delays?
A: It's getting worse but we've got a big credit account. The biggest problem, when delivery isn't for 12 weeks, is having to rent storage which has put my overheads and insurance up. I've been buying cheap Teka ovens to put in until the customer's order arrives. For £155 it cools the situation down. I've currently got 12 appliances missing out of people's kitchens. Some appliance brands were struggling to fill their stands at KBB and shouldn't have been there.
Q: How easy is it to get a budget out of clients?
A: What's been great since lockdown is our new survey asking customers exactly what they're looking for. Part of the form asks for their budget, which they've got to physically fill in and can't bypass. Trying to get budgets out of people before that was much harder.
Q: Do you promote a specific design philosophy?
A: There's a marketplace for that but where we win is knowledge of the industry. An architect is good at generalising but if you want to know about kitchens he'll send you to a specialist. A guy came in recently and I completely changed his wish list. My staff are all knowledgeable whereas you go to some places and even guys who've been at it a long time don't know enough. The problem now is customers can go away and look it all up.