Creating a spa in the bathroom has evolved – now beautiful spa styling needs to match personal spa experience. Sarah Evans, head of product marketing at Hansgrohe UK, looks at how, in order to achieve the latest home spa, retailers need to consider products that tick the box across other aspects too.
There are many product options that can help create the spa-like look. The addition of Matt Black or Brushed Black Chrome showers, taps and accessories being perhaps the most obvious. However, to meet the experience side of the consumer brief, this must be coupled with what the shower and taps can offer in terms of water experiences.
Showerheads that incorporate different spray patterns can provide your customers with a luxurious showering experience, especially if it takes the selection to the next level. With this in mind, Hansgrohe has put significant investment into spray technology development, and key to this is the acclaimed PowderRain spray pattern.
With the advantage of micro spray technology, PowderRain is much finer than conventional shower jets; with up to six ultra-fine outlets per nozzle, spray is transformed into thousands of micro droplets, designed to envelop the body in a gentle cocoon of water. What's more, these micro droplets help to reduce noise and minimise splashing, creating a peaceful, tranquil space for your customers.
Alternatively, Rain spray, is a powerful rain jet, which will provide your customer with an energising shower experience, or, to enhance the spa experience further, our Whirl setting offers a swirling massage spray, which can help relieve muscle tension in the neck and shoulders. All three spray types have been incorporated into for some of our Raindance shower heads, with different configurations available within the Rainfinity range.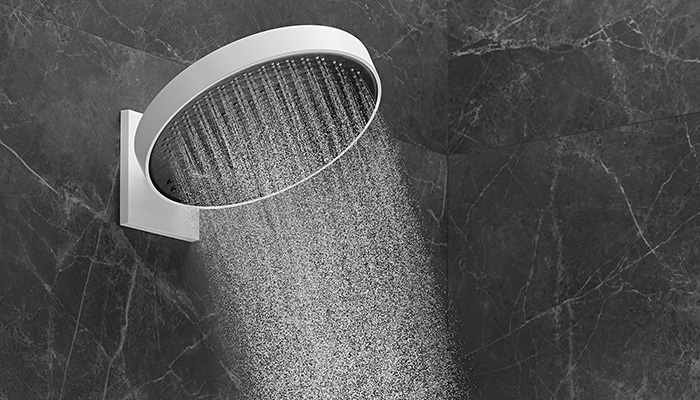 With energy bills rising and consumers becoming increasingly aware of their impact on the environment, recommending products that will reduce the amount of water and energy used can be a real advantage for retailers. Particularly when you can give the assurance that it won't impact performance.
Many consumers worry that function will be compromised, but with the latest technology, savings can be achieved across both showers and taps. Mixing water and air, along with special flow limitations, seen in our EcoSmart technology, can help reduce the amount of water that a shower or tap consumes by up to 60%. The enrichment of air ensures a constant flow rate, even at different water pressures – so bubbling water can be enjoyed even at a low flow rate.
There are also ways to make taps more eco-friendly. All our basin mixers have a flow rate of 5 litres a minute as standard, helping to reduce your customer's water and energy use from the outset.
Further energy savings can be made by looking out for basin mixers that incorporate our CoolStart technology. Achieved by adjusting the cartridge position within the mixer, CoolStart means only cold water can flow when the handle is set in the middle position (in line with the spout) – as opposed to standard taps where the hot water will start to come through. To get hot water a more deliberate movement, turning the lever to the hot position, is required. This simple upgrade to a consumer's bathroom will see their water use reduce, along with their water heating bills.
The ability to recommend a product or brand in the knowledge that it will not cause issues later down the line is key to taking sustainability to the next level. Rather than dipping into trends, the outlay of a new bathroom is more often seen as an investment. Something that will stay looking good for the long-term, reduces the potential for disappointed consumers.
For example, our showers and taps only use high-quality materials approved for use with drinking water, with every single part complying with the relevant standards. Everything is tested with water or air to get as close to the bathroom experience as possible. We also 'over-test' to ensure the robustness of all our showers and taps – in the UK, three-bar working pressure tends to be the average water pressure, but our products are all tested to 16 bar as standard.
Aesthetic longevity is just as important when it comes to securing ongoing product confidence and satisfaction too. Whether a consumer has gone for Chrome or a finish such as Matt Black or a Polished Gold Optic, they want it to stay this way and not look worn after a few years of use. Investing in a refined PVD process that is resistant to external factors means we can offer a finish that is durable enough to offer years of protection against wear and tear on our Premium PVD coatings and lacquer coatings, for a colour intensity that lasts.
Being able to manufacture our own mixer cartridges equally means we can guarantee the whole product with a 5-year manufacturer's warranty. Our spare parts guarantee is upheld even after the product is discontinued – for up to 15 years. Providing further peace of mind on the continuity of supply and a spa-like experience that can be enjoyed for longer.