Bathrooms with out-of-the-ordinary shapes are a common occurrence in many projects, making it necessary to specify bespoke solutions or come up with ways to work around tricky features. Lisa Hibberd discovers some of the best options, and hears about some key design considerations.
"Designing a shower enclosure in an awkward area can seem quite daunting but there is a good range of specialists and product solutions now available to ensure consumers can get the most out of their space," says Lorraine Walsh, bespoke design consultant at Merlyn. "With the availability of bespoke bath screens, wetroom panels and wall profiles, hinges and handles, designers have the flexibility to create stylish yet functional showering experiences in areas they may have never considered suitable. We always recommend working with a dedicated bespoke design team, with extensive experience in developing bespoke solutions, whether it's increasing the height of a shower door, working around dwarf walls or incorporating different angled cuts. To ensure the most effective and stylish solution is specified, designers must evaluate all the options for the shower space and layout at the design stage before any work has commenced. This is also really important if there are any wooden elements in the room such as door frames or beams. The glass cannot sit flush with any wood-based features as the moisture will cause the wood to rot. A 10-15mm gap between the glass and the wood is recommended to prevent any problems."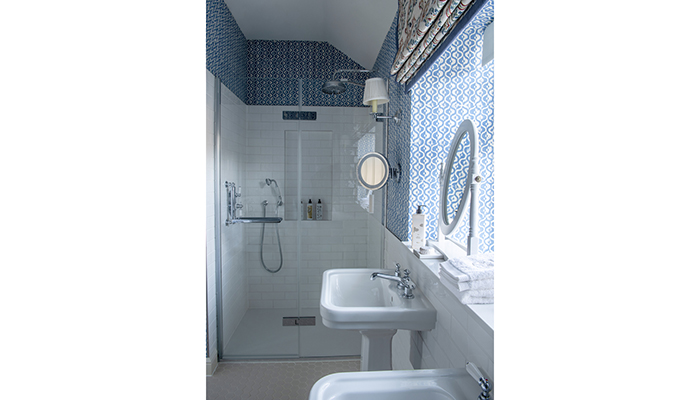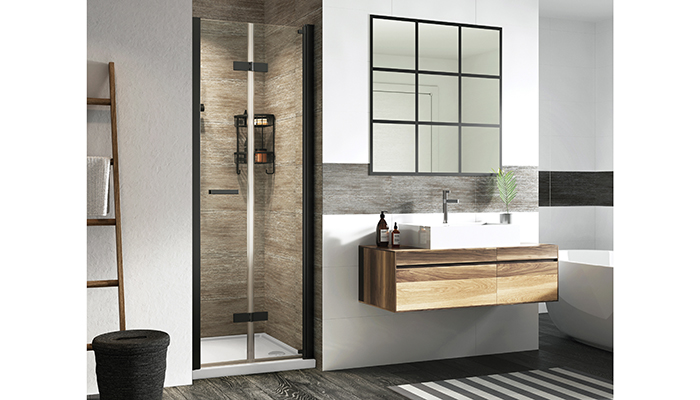 Max Finaldi, MD of The Shower Lab, agrees that any quirky features must be made clear at the start. "For a shower to fit perfectly into an awkward space, we need to have all of the information upfront. For example, if the angle of the sloped ceiling is slightly out or if we aren't aware of limited floor space in a bathroom, it can hinder the entire design and manufacturing process. The last thing a customer wants is a shower that is slightly off-size or one that causes leaks. All of our View Collection shower spaces can be customised to fit the client's needs. If you're working with a sloping ceiling, a recess shower space such as our View 05 or View 03 is a popular option. The glass can be cut at an angle to slot alongside the sloping ceiling while hinged doors offer privacy and good splashback protection. If it's single notches or cut-outs that are needed – such as those accommodating a beam – then something as simple as our View 01 fixed screen might be the right option – especially if the client is looking for good accessibility."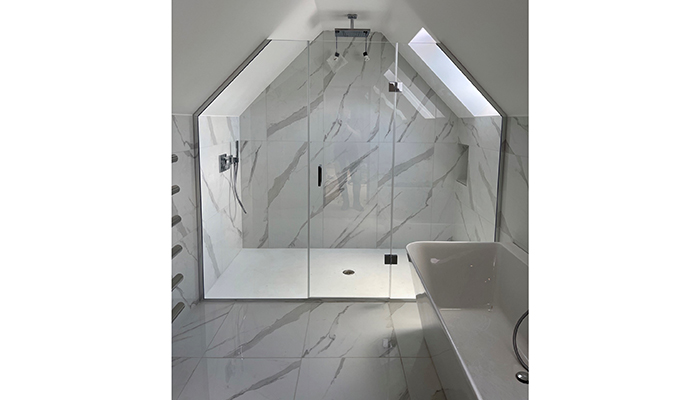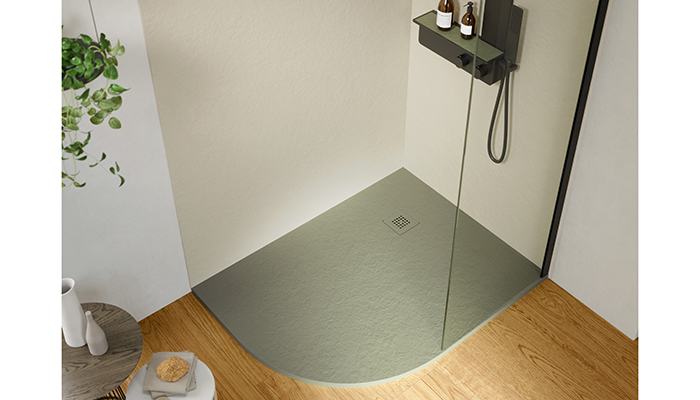 "In attics, lofts, under-stair spaces, converted garages or even basements, where a conventional shower enclosure can't be accommodated, a custom-made enclosure will ensure an exact fit and can incorporate precise dimensions without compromising on style or quality," comments Natalie Paley, national sales manager, retail and merchant, Coram UK. "With our Sealskin duka range of enclosures, every single enclosure is tailor-made, within 4-6 weeks, to precisely fit its environment. Specification of a wetroom floor can also prove beneficial for unusually shaped rooms. A trimmable floor former, like Impey's Aqua-Dec EasyFit can be cut to size to adapt to the dimensions of the room, while maintaining the correct drainage gradient. This removes the requirement for a shower tray, and allows for greater design freedom in an awkward space. Each of our Sealskin duka enclosures is manufactured to order, regardless of where it will be installed; this could be under a sloping roof or around boxed-in piping. Every product is cut with millimetre precision to the dimensions supplied, giving the designer confidence and freedom to explore new options in terms of layout, shape, and size."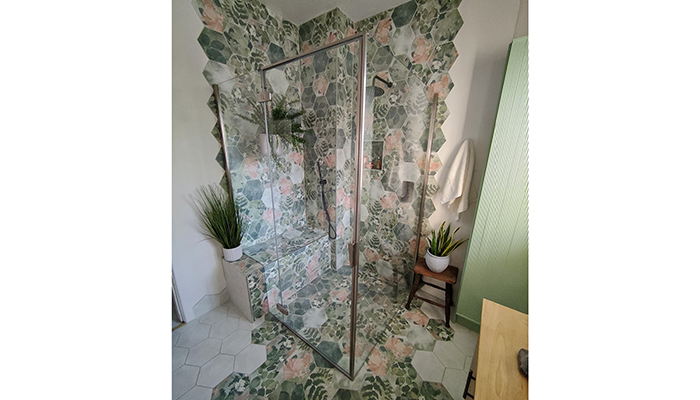 Bev Brown, MD of Lakes, reports that – alongside wall-hung toilets and basins – bifold, quadrant and corner entry showers are great options when floor space is tight, making use of the room's corners and maximising space. "Those faced with sloping ceilings and beams, however, may find it more difficult and this is where reduced height shower enclosures are also a good solution. Another space-saving idea is a pivot shower, where a swivel hinge mechanism sits between the door and frame and allows you total access without needing lots of room for the door. A walk-in or walk-through shower with single glass panel is another excellent idea for awkwardly-shaped rooms. Unobtrusive in style, the glass wall will also create a sense of airiness. Rooms such as loft spaces might not benefit from a lot of natural light, but adding in as much as possible will also help open the room up to the eye. Therefore, considering where you can best optimise natural light is key. For example, if you're designing a new bathroom in a loft conversion, think about adding a skylight above the shower to let the natural light pour through while still maintaining privacy." Designers can also utilise LED lighting within the shower enclosure in order to create a softer, more relaxing environment.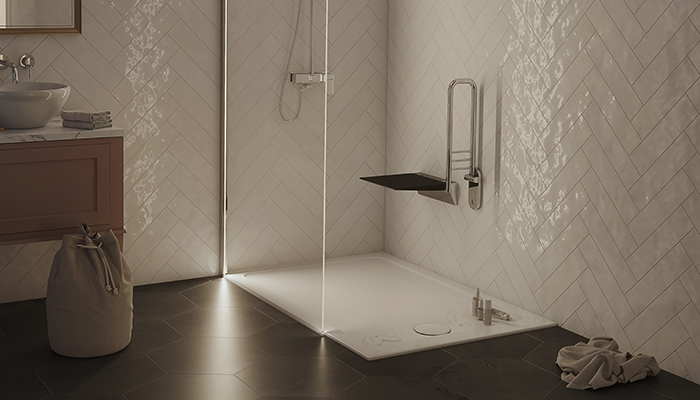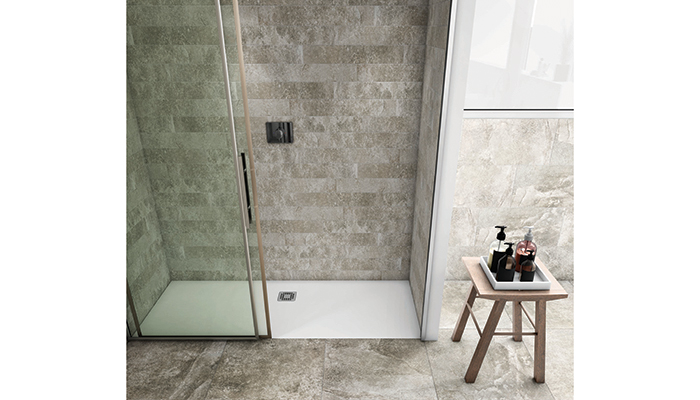 "For those working with compact or complex bathroom spaces, space-saving concealed shower valves are ideal for a bathroom design solution because the mechanics of the product are behind the wall, whilst also providing a sleek and contemporary finish," advises Paul Bailey, leader, product management, Lixil EMENA and Grohe UK. "It is not only design flexibility that concealed showering can offer but also more personalisation of the individual space in terms of layout. Positioning of a shower valve in an exposed system is limited by the length of the shower hose however this limitation is eliminated with a concealed shower system, offering the freedom to create a truly bespoke showering space."