As the way we live and work continues to evolve, the need for multifunctional solutions is more pressing than ever, says Fabiana Scavolini, CEO of Scavolini. Here she shares how the company is responding to its customers' needs for living spaces that work harder for both now and for years to come.
Shape shifters
Urbanisation has led to reduced living space and the compression of functions within it – added to which, we're all now working from home more than ever before. As such, the need for our homes to look good but also instantaneously adapt to different functions has never been more pressing.
Our response was to take the concept of the hidden kitchen to the next level. This translates to concealing the key elements of the home behind retractable and sliding doors. The upshot is that a single space can effortlessly transition from kitchen, to an office, to a dining room, to a bedroom, all within the same footprint. If the kitchen is not in use, for example, it can be hidden behind closed doors so that the space morphs into somewhere to relax. Or, on a work day, the doors slide back to reveal a home office.
The key when it comes to modular solutions is that they should be easy to reconfigure – life is hard enough right now! It's also important that the design is made to stand the test of time. And finally, modularity doesn't mean sacrificing chic aesthetics – which is what we've tried to do with BoxLife; to create something practical that is also stylish.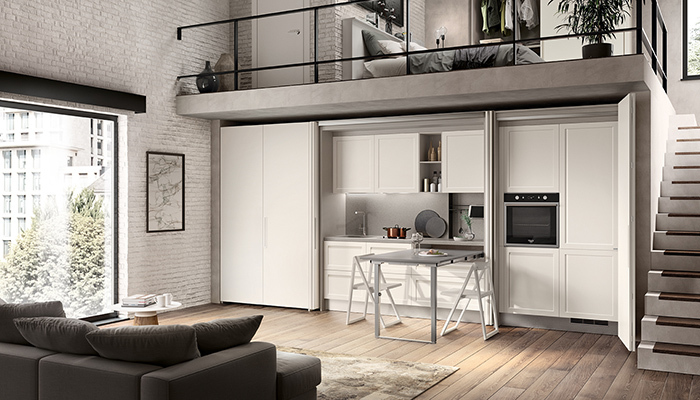 Shape up
Lockdown life has seen many of us converting corners of our homes into temporary exercise spaces. Zoom workouts and exercise apps are shaping up to be an ongoing trend, and, increasingly, people don't want to return to the gym. So, the search is on for more permanent workout solutions. For people without a garage or spare room this means squeezing their home gym into an existing space, which isn't easy.
So at Scavolini we have created Gym Space, designed in recognition of the major role health and wellbeing has come to play in the contemporary bathroom. Blending key features from the bathroom with elements of the gym, the heart of the range is a customisable frame, which acts as a base for typical home gym and bathroom components. In preparation for a workout, users can attach a choice of strength training equipment from a weight bench and pull-up bar to TRX bands. And when it comes to freshening up afterwards, the frame is customised with a range of bathroom basics: vanity unit, lights, soap dish, shelves, storage elements and mirrors.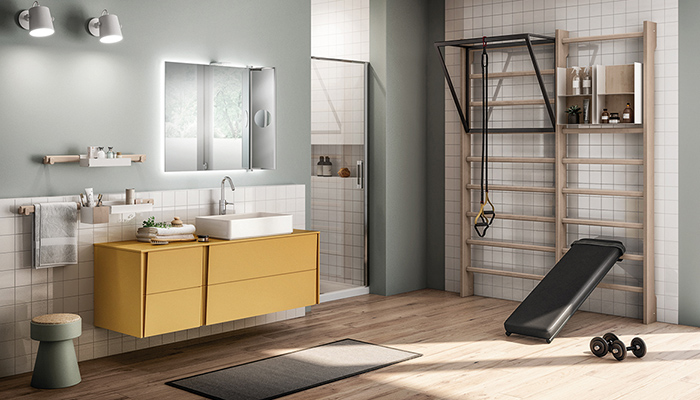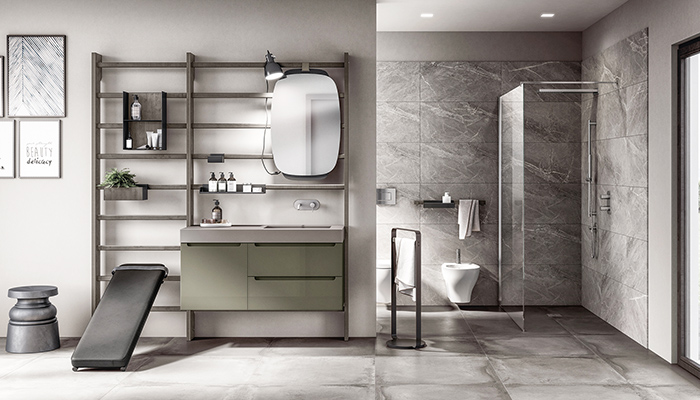 Clean up
The pandemic has highlighted the importance of hygiene, which I believe will continue to be a priority for people when designing their homes. We will see increased demand for boot rooms, for example, where outside wear can be removed and stored. What's more, the addition of a kitchen sink means that people can wash their hands before entering the house.
In the spirit of multifunctional spaces, I envisage these boot rooms will also incorporate space for laundry appliances, which frees up square inches in the kitchen. Kits to stack the dryer on top of the washing machine help make the best use of space in compact rooms.
For those looking for a dedicated laundry solution, Scavolini offers Laundry Space. Handy features include the Smart pull-out drying rack as well as full-height cupboards to create storage for tall, awkward items such as ironing boards and vacuum cleaners.