Crown Imperial, renowned British furniture manufacturer for over 75 years is delighted to showcase its latest kitchen collections to kickstart autumn design projects. Retailers have unrivalled access to a versatile choice of flexible furniture configurations, including a host of new cabinetry options to personalise to every style of room scheme.
Designed for modern lifestyles, Uno offers a contemporary selection of nine subtle shades, presented here in Taupe and Lorenzo, a perfect pairing of tone and texture. The sleek family kitchen features stylish dual islands and incorporates Crown Boxworks open storage for easy access to kitchen essentials.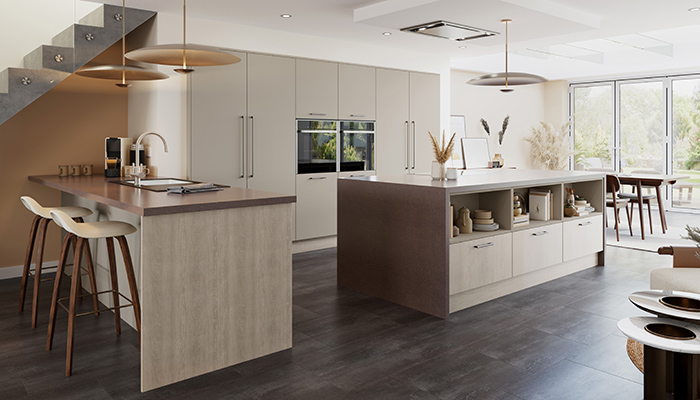 Textura takes centre stage in a multi-functional kitchen and dining space, it's zoned for form and function with a focal island for cooking and entertaining. The centrepiece is styled in the new Black Oak style and is combined with black handle-less profiles and plinths to create the 'on trend' finishing touches. Design led; seamless storage is showcased with tall larder units, presented in an understated Uno Dust to create the ultimate clutter free kitchen scheme.
Discover all the latest styles in the new 'The Kitchen' brochure and Crown retailers can also view the comprehensive furniture collection in the new online kitchen price guide.
www.crown-imperial.co.uk Telephone - 01227 742424.