Being able to provide a custom kitchen is a must when catering for clients after a unique design – we talk to James Bodsworth, design director for Daval Furniture, to find out how the brand's Salcombe cabinetry proved ideal for a project with specific requirements.
Q: What type of property was it in and who was the project for?
A: This was for a busy sociable family in a new build home in the rolling countryside of West Yorkshire.
Q: What was the brief from the client for this project?
A: The client required ample yet discreet storage, specially designed to serve the different disciplines in the kitchen living space like cooking, dining, seating and home entertaining.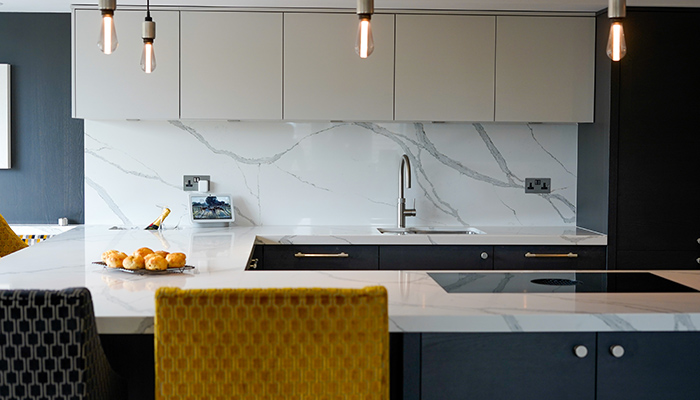 Q: How did you go about meeting the brief?
A: Made-to-order, made-to-measure fitted furniture creates a run of full-height cabinets on the far wall, complete with built-in twin ovens and a 13-bottle colour-matched wine rack. Texture and visual depth were a key part of the brief, which is why we specified our versatile Salcombe furniture in two opposing finishes to balance the homeowner's choice of mustard and grey upholstery fabric and provide definition to the main kitchen area. The distinctive high-rise bar stools offer friends and family a comfortable bar-style dining experience, which is great when entertaining or keeping the chef company. Our decision to include a peninsula unit allowed us to maximise the layout of the kitchen to provide plenty of room to manoeuvre, as well as seat five at the bar, and more on the recessed bench seat close by.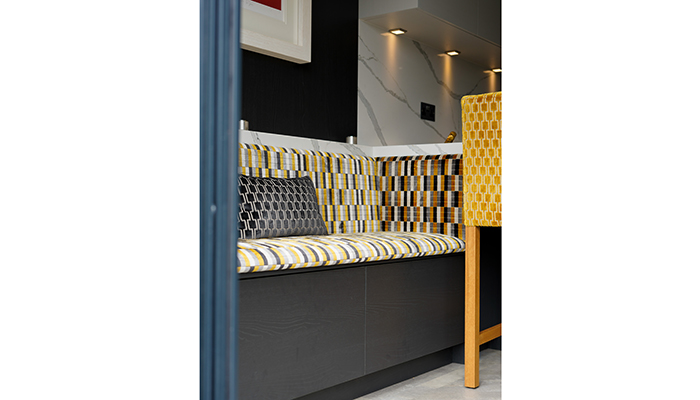 Q: What type/brand of cabinetry did you choose and what made it the perfect choice?
A: We choose our Salcombe cabinetry. We decided that the calm and contemporary style of our Salcombe furniture range was ideal for the project. It has a prominent textured wood finish, so it combines the best of a paint-effect kitchen with the simplicity of a slab door to create a warm and homely feel. By combining Salcombe cabinetry in Charcoal with Dove Grey accent cabinetry, we designed in two contrasting colours to provide a strong foundation and high degree of tone and texture. Salcombe Charcoal painted oak grain effect was chosen for the island, run of tall units with integrated drinks cabinet and built-in bench seat with two low-level drawers, whereas textured wood effect Dove Grey top units help to depict the pure grey-vein marble surfaces.
Q: What materials did you use?
A: In addition to the sustainably sourced custom furniture and natural stone surfaces, we specified ergonomic industrial-style knurled handles and knobs. These provided form and function in stainless steel to reveal a fully integrated fridge-freezer, essential cupboard space and a deluxe drinks cabinet with an antique, mirrored effect splashback. The white oak herringbone flooring beautifully frames the wrap-around island and the exposed pendant lighting by Buster + Punch, gives a subtle nod to the industrial heritage of the region.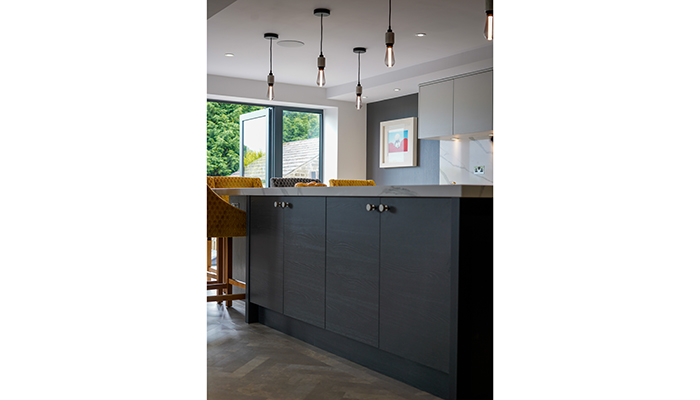 Q: What were the particular challenges that you faced and what were your solutions to overcome them?
A: We wanted to add some character to this new build property and by adding different layers of design in the kitchen, we were able to better reflect the homeowner's personality and rich heritage of Yorkshire. As we got to know more about the clients' personal style and how they like to cook and entertain, we could streamline the design with custom, designed-in storage and an easy-access cook and wash zone in the main kitchen area. This is minimalist by design, featuring a Bora Pure induction hob with integrated cooktop extractor on one side, and a Matrix 1.5 bowl stainless steel sink and hot tap by Quooker opposite. Above the bench seat near the sink area is a stainless-steel champagne cooler, which is inset within the surface of the chunky marble worktop. Within a short walk of the French doors, this deluxe cooler is ideal for when the homeowners are entertaining at home and want to serve their guests ice-cold drinks on demand.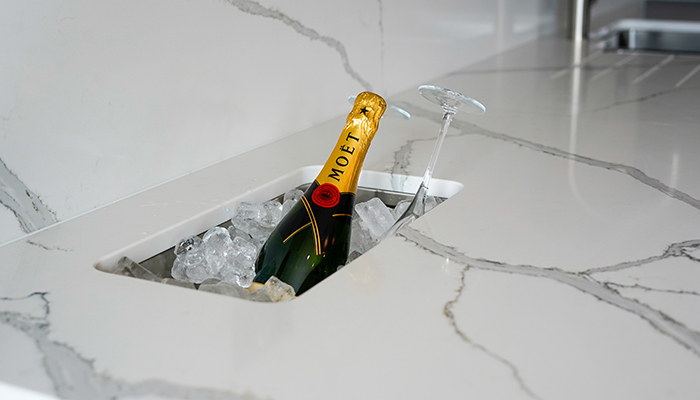 Q: What would your advice be to a designer who is just setting out on a similar project?
A: I would suggest that they help homeowners to optimise storage in line with their own lifestyle preferences with a long-term view. Custom kitchens incorporate different areas for work and play are being designed to enhance the flow of the ground floor, so being able to support the smooth running of a busy family home now and long into the future, is a real privilege.
Q: What is your favourite part of the finished project?
A: For me, the kitchen combines the very best of effortless entertaining for family and friends with a creative and integrated approach to storage and utility in the main kitchen area. Placing greater emphasis on hybrid living, I love how the furniture is designed to assist with everyday life and home entertaining as needed. The seamless blend of kitchen and living space allowed us to look at new design options like the banquette seat, which gave us the opportunity to introduce colour through the textiles and create a direct link between the kitchen and living room.
Q: What is the client's favourite part of the finished project?
A: As the client loves to entertain, it is the bespoke drinks cabinet which stores the homeowners' top shelf liquor and is designed with a series of suspended glass holders, a solid oak door pantry and barista-style coffee station for the perfect nightcap.