Sleep & Eat, Europe's largest hospitality design event, is returning virtually this week from 17th-19th November. Here event director Mark Gordon gives us a taste of what's in store.
This year's three-day virtual Sleep & Eat event provides the platform for the entire value chain to come together, to discuss the business of hospitality design, and has attracted a range of exhibitors, including leading bathroom brands such as Kohler, Victoria + Albert, Perrin & Rowe and Shaw's of Darwen, all of which are available across the event for visitors to meet with.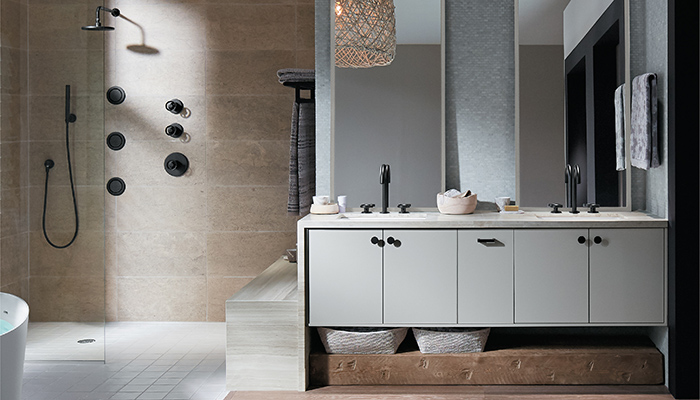 The virtual platform offers seamless networking opportunities for the hospitality design industry. Visitors can arrange 1:1 video meetings with exhibitors, live-chat with leading brands and participate in Hospitality Networking Hours; speed networking to make new business contacts the serendipitous way. Visitors will also be able to browse the extensive product directory, by selecting which product type they're most interested in (such as Bathroom & Accessories) and exploring the range of products, and be able to get in touch with the supplier to discuss further.
For the first time attendees can experience a new immersive feature – Hotel 2035. This digitally rendered visualisation conceptualises the hotel of the future. Attendees will take a 360° tour through several Sleep Sets, designed by innovative designers, architects and leading brands, including Accor, Wyndham Hotels & Resorts and IHG, as well as a virtual Hotel Lobby, Lounge Bar, Cocktail Bar, Restaurant and Networking Lounge. Bought to life by Fumo Studio, Sleep & Eat's visualisation partner, and sponsored by Parkside Architectural Tiles and Tsar Carpets. While exploring Hotel 2035 visitors will be able to view the suppliers used in the visualisation, with products from Gessi, Hansgrohe and Laufen featuring in the digital installation – it's certainly not one to miss.
The renowned Sleep & Eat conference will also be returning virtually and will focus on innovation and looking to the future, with discussions covering topics such as clean design, ways to deliver luxury, and how to bridge the gap between art and gastronomy. Keynotes will be steered by leading industry names such as Tony Chi and Alison Chi from Tonychi Studio, Lauren Rottet from Rottet Studio, Stefan Leser from Langham Hospitality Group, Adam D. Tihany from Tihany Design and Yann Bernard Lejard from The Ritz Carlton Bahrain.
Sleep & Eat visitors will also full have access to Decorex Virtual, the UK's leading interior design event. Not only will visitors be able to browse the full product directory, but they will also have access to the Decorex Talks Programme, including talks that discuss ideas and challenges behind designing a flawless bathroom, and the process of designing the ideal kitchen and many more pressing topics for the industry.
Registration for Sleep & Eat Virtual is free for all attendees using this link: https://dse.eventnetworking.com/register?&utm_medium=Print&utm_campaign=NAM20SLP-IV-kbbFocus1311