As Cosentino unveils its brand-new surfaces, Dekton Onirika and Dekton Kraftizen, we talk to UK marketing manager Laura Davie-Rush, about the inspiration behind the latest additions, and what makes them so special.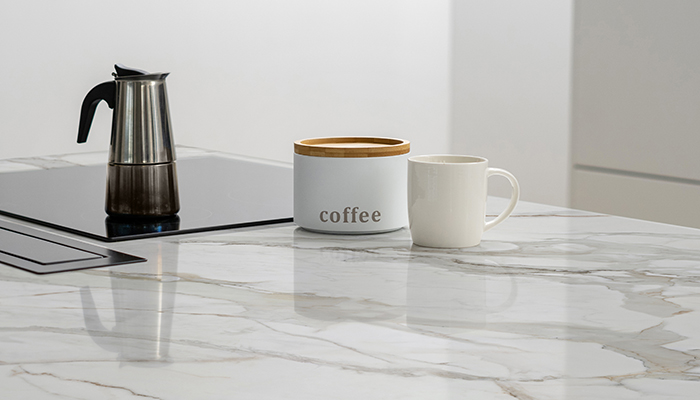 Q: Tell us about the new collections – what do they consist of?
A: There are two new collections launching – Dekton Onirika which consists of eight new dream-like shades – Awake, Lucid, Somnia, Neural, Trance, Vigil, Daze and Morpheus – including Polished and Velvet Matte finishes. Dekton Kraftizen consists of five versatile, rich shades – Umber, Nacre, Argentium, Micron and Albarium.
Q: Why have you launched them now?
A: With the growing awareness and demand for carbon-neutral products in the home, we are constantly evolving the colour options in our surfacing collections in order to make the choice of a sustainable surface a flexible one. With one range appealing to the the luxe market (Onirika), and the other to those who love a traditional, minimalist look (Kraftizen), they strengthen the existing Dekton offering. The Dekton range now includes over 60 colours so there is something to suit every style of kitchen and bathroom, be it for flooring, worktops, splashbacks, sink surrounds, ceilings or furniture cladding.
Q: How do they differ from previous collections?
A: Dekton Onirika is the first collection since the Dekton Liquid x Patternity collection to have been created alongside external designers. Dekton Onirika was created in collaboration with Nina Magon, an international interior designer who specialises in luxurious spaces. Nina's vision was to create totally unique colours and structures and not to mimic any existing natural stone. Dekton Kraftizen acknowledges the stucco trend within homes. This increasingly popular interior style can now be achieved with a water resistant, stain resistant and carbon neutral product, suitable for any area of the home.
Q: Are they in response to any particular trends?
A: The warmth and texture of Venetian Plaster – or stucco – has been increasing in popularity over the last few years. This tactile look dates back to the 15th century, with it traditionally being used on the exteriors of homes. It has even been seen to increase a home's curb appeal and value. With traditional stucco not being waterproof, customers can now achieve this look within their kitchens and bathrooms with peace of mind thanks to the Dekton Kraftizen range and its choice of five rich tones.
Q: Is there any particular aesthetic theme running through them?
A: Dekton Onirika is inspired by marble patterns and immersive living, with eight daring and luxe colours. The collection embodies sustainability and timeless elegance, blurring boundaries between dreams and reality. Dekton Kraftizen demonstrates the beauty of craftsmanship, paying tribute to master craftsmen and the techniques they perfected over the years.