KI Bathrooms designer Nicola Whyte reveals how she and the team went about creating a bathroom environment for a family of five who were after a soothing space to escape to.
Q: What type of property was it in and who was the project for?
A: Old bungalow conversion with a second-floor extension to accommodate a family of five.
Q: What was the brief from the client for this project?
A: The client's design brief requested for their existing family bathroom to be transformed into a relaxing spa escape with feature mood lighting and a steam room area.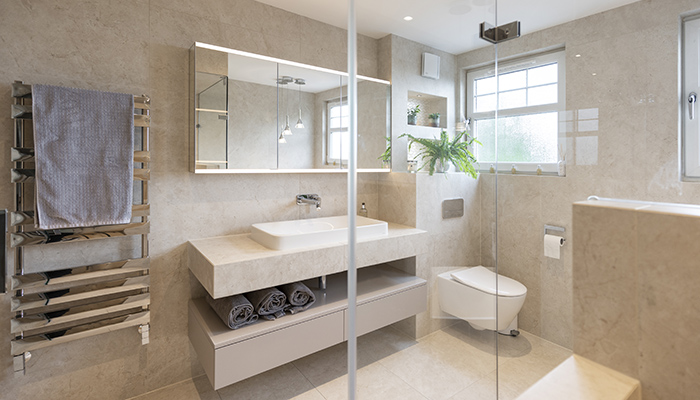 Q: How did you go about meeting the brief?
A: After working on a few different concepts, I decided it would be best to relocate the existing WC position and place the freestanding stone bath on an angle, this allowed space for a larger enclosed wet floor shower area with bespoke seating and a built-in steam room. By creating a dropped ceiling, a sleek recessed Axor rain head could be fitted with an additional riser rail to suit all family member's height variation. Selecting a warm travertine large-format floor and wall tile with a sister matching feature mosaic, created the illusion of a larger space than the original bathroom floor plan. The matt tile finish also worked well as a contrast to the cantilever glass cashmere vanity unit. All tiles were finished with a mitred edge join.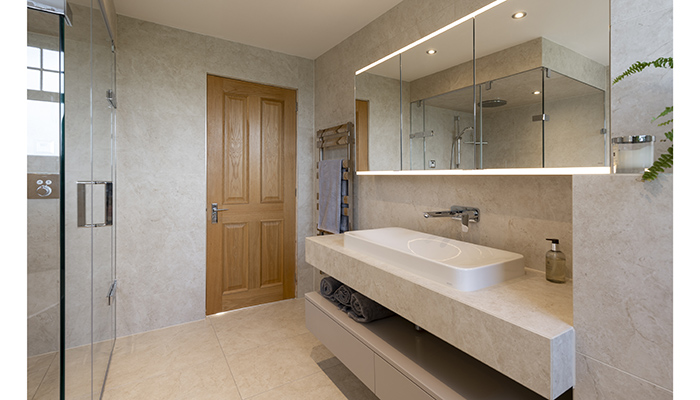 Q: What were the particular challenges that you faced during this project, and what were your solutions to overcome them?
A: The shower seat was originally designed with an open side however, due to the mosaic detail, we ended up altering the seat to include a side arm to give the best tile finish.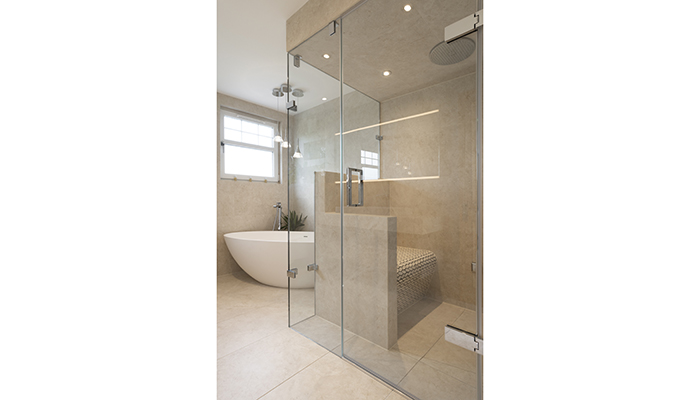 Q: What products did you use?
A: We settled on Keuco plan collection furniture in Cashmere, and Hansgrohe Axor brassware in Chrome. The bath is the Ellipse stone bath in Matt White from Waters Baths of Ashbourne, with Villeroy & Boch Subway collection sanitaryware, all set against Atlas Concord Marvel shine large-format tiles measuring 1200 x 600mm. The client's brief was to include a travertine tile into the final design to work in with the rest of the property features. We did however spend some time looking at different tile format options before coming to the final decision. Also, the furniture and brassware choices were selected through the client's preference for a German manufacturer's product – Hansgrohe have a large range of shower features and spray patterns to accommodate all client requests.
Q: What would your advice be to a designer who is just setting out on a similar project?
A: Be creative and think outside the box when it comes to design. Try to encourage clients to look at alternative ways of using a space that better suits their lifestyle.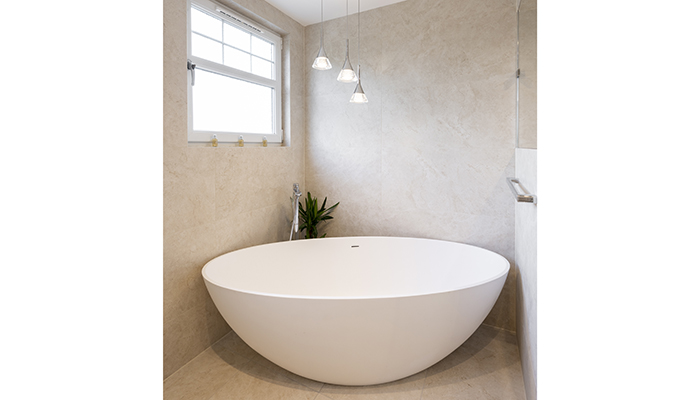 Q: Are there any design elements that you're particularly proud of?
A: I love the freestanding stone bath positioned at an angle with the overhead pendant lights – it's a great space to relax and unwind with the lights dimmed. The build Steamist shower is also a 'must have' due to the many health benefits steam offers in the confines of the client's own home.
Q: What is the client's favourite part of the finished project?
A: Upon presenting the design proposal to the clients, they were thrilled with the concept as it met all their requests. The job took three weeks to complete with the exception of the bespoke glass, which required templating. Arranging a final visit to see the completed bathroom, the clients were amazed by how similar the end result compared to the design visuals, and have decided to return to us for their master en suite renovation.