Harvey Jones creative director, Melissa Klink, has been overseeing all things design within the business for six years. Here, she shares her thoughts on the latest kitchen trends, inspirations and essential steps to follow to achieve the perfect scheme.
Q: How have kitchen trends changed since you started working with Harvey Jones six years ago?
A: The main shift in kitchen trends over the last few years has been the importance of personal connection. Our homes are such a haven, and we felt the strength and power of this through the pandemic. We need these spaces to reflect who we are and what we require out of life, and the kitchen is perhaps the most important of all. Making sure you can walk into your kitchen and, within moments, knowing it is yours from the way it functions as well as the overall aesthetic. Smart technology, earthy colour palettes and organisational storage needs are high on the list of priorities for most homeowners. Embracing indoor/outdoor living has really hit the kitchen industry, as our rooms are often incorporated into a new extension.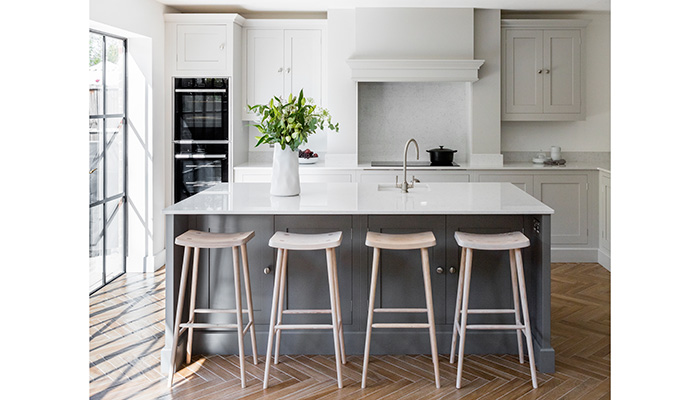 Q: What inspires your work?
A: Currently, my biggest inspiration is seeing life through the eyes of my daughter. Being only three, she finds the most peculiar things fascinating. And the way she pairs items together has taught me to look at life from a new perspective.
Q: Do you have a signature element you like to include in your designs?
A: I always make sure the kitchen has something special. This can be translated into a variety of ways depending on the space. Perhaps a unique tiled backsplash, a mix of three different metallics or a funky edge detail on a worktop. Always something to make you stop and check it out a little further.
Q: What do you try to avoid when designing a kitchen?
A: Not considering the end user. It's one thing to just design a beautiful kitchen, but it's another to design a beautiful kitchen for a specific person. And if that person isn't carefully considered, that will be felt when the design comes to fruition.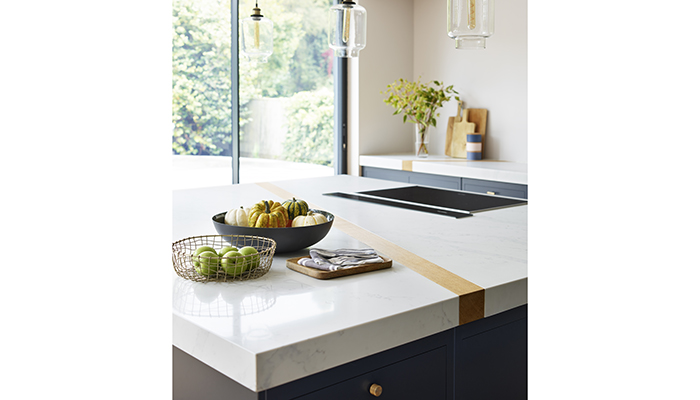 Q: What projects have you found the most rewarding and why?
A: Designing our Birmingham showroom was a lot of fun, and this is all down to the team involved. When you have a great team, everything is enjoyable. The architects, contractors, fitters, painters, everyone back at our workshop – it was a great experience. Our marketing director, Olivia, and I are designing our new website right now. It has been such a different type of creative thinking to plan on a screen instead of a physical space, but the process has been fantastic. I can't wait to share it.
Q: If you were to re-design your own kitchen, what would you change?
A: I don't think there is much I would re-design about my kitchen. When you take the time planning to your specifications, it really does just fit. But an update in colour and handles is always on the table! I am already preparing to repaint the cabinetry in a rosy biscuit colour soon.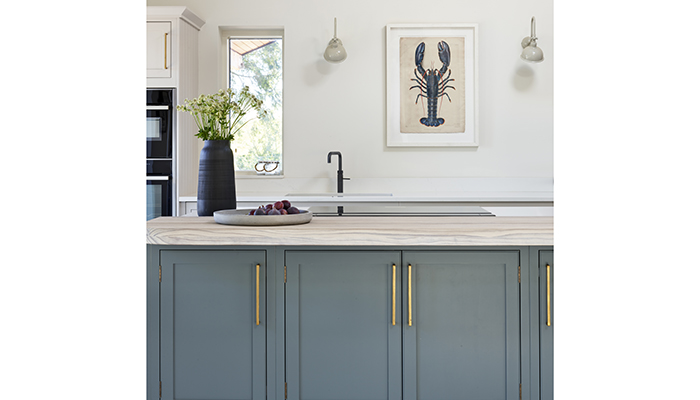 Q: What is your favourite Harvey Jones kitchen range?
A: I have a soft spot for the Arbor range – there is something so beautifully special about the delicate detail around the frame. But I am constantly inspired by our clients when I attend photoshoots. An edgy, contemporary Linear kitchen will encourage me to pare back and simplify, or a lovely Original space will make me want to layer everything with fresh flowers, soft linens and vintage crockery. It's safe to say, I'm constantly updating my favourites list.
Q: Sustainability continues to be at the forefront of the industry. What is Harvey Jones doing to ensure its design processes are aligned?
A: We are always thinking about sustainability. We design for life, but we know that life evolves and changes as we go along. To avoid any waste, we ensure our kitchens can change with [the client], updating the look and feel to suit any style.