A striking bookmatched island is guaranteed to be the focal point of the kitchen, made possible with Larsen, a new MDI surface, exclusively produced for CRL Stone by Inalco.
Inspired by the beauty of marble, yet suitable for the busiest of kitchens, Larsen draws the eye with its beautiful, bold patterning yet exudes a timeless elegance that enables the surface to integrate seamlessly into any setting. Hygienically clean and maintenance free, Inalco MDI is a highly durable surface that really looks the part, successfully combining both form and function.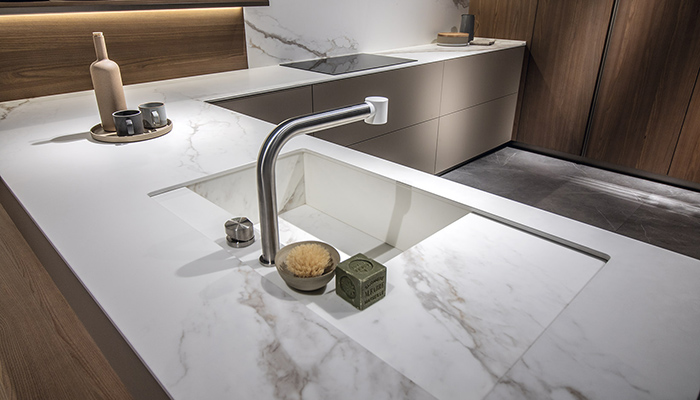 Luxurious through and through, creating a monochrome effect in the modern home is just one of the many design possibilities with Larsen, where an intense white background meets its match with the deep, bold contrasting veining that looks its absolute best when used over large areas, including worktops and splashbacks. Combine with similar light tones to keep things simple or move up a gear and elevate the room's design to a new level with contrasting shades – the possibilities are endless with Larsen.
A truly stunning option in both contemporary and more traditional settings, Larsen boasts a luxurious natural finish with a 20mm thickness.
For more details call CRL Stone on 01706 863600, or visit www.crlstone.co.uk.