It's almost a cliché to say the COVID pandemic has changed the way consumers use their homes. But people continue to transform their kitchens to suit new hybrid ways of living and working. And, one of the biggest changes we've seen is a huge demand for instant hot water taps.
Multifunctional
Meeting this burgeoning demand is Rangemaster with the launch of its new GEO Intense 4-in-1 tap. The GEO Intense delivers on-demand, filtered steaming hot 98°C water, cold filtered water, as well as regular hot and cold water – all controlled by the two handles.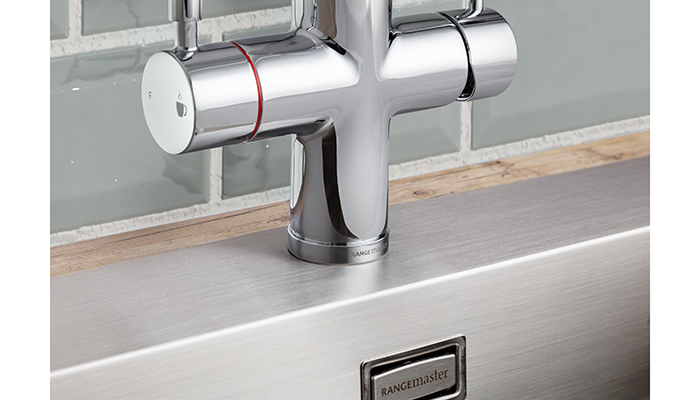 Designed to fit in – and stand out
Recognising the importance of coordinating with ever-evolving kitchen designs and colour choices, Rangemaster offers the GEO Intense in four of its most popular finishes – Chrome, Brushed, Brushed Brass and Matt Black. This makes it an ideal choice for any kitchen style, from contemporary to traditional.
The filtered steaming hot water is safely operated via the left handle with push-down lever to avoid the wrong choice of water being dispensed. For people with limited mobility in their hands, it's a safe and easy-to-use alternative to a heavy kettle. The left handle also controls the filtered cold water, while the regular hot and cold water uses the right lever.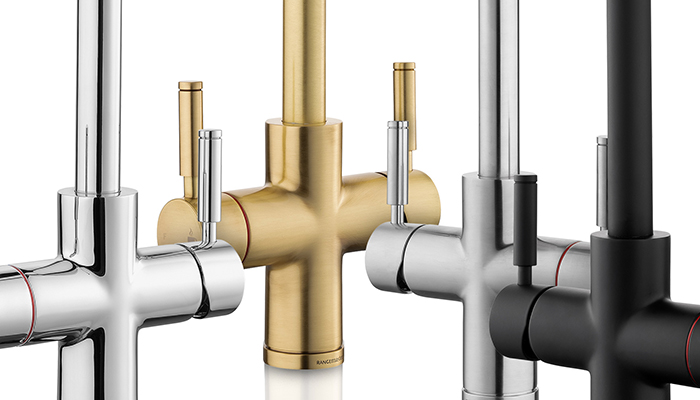 Compact but powerful
The GEO Intense can be easily retrofitted or included in new kitchens, and new-build developments, thanks to its compact size. The system's PROBOIL.2X next-generation boiler measures 22 x 22 x 28 cm, perfectly sized for an under-sink cupboard, with a generous 2.1-litre capacity. The GEO Intense also has a complete refill time of just seven minutes – providing around 65 cups of hot water per hour. The compact boiler includes intelligent self-diagnostic and intuitive controls, making life easier for homeowners by including a filter life and replacement indicator.
Energy conscious
As the UK deals with rising energy prices, the GEO Intense features a controllable tank temperature range from 75˚C-98˚C, to ensure maximum energy efficiency. For added control, the PROBOIL.2X also boasts a power-saving mode with eco and holiday settings, plus it's insulated to reduce heating noise and save energy. All these functions combine to produce a multifunctional tap that is a stylish and practical choice for energy-conscious homeowners.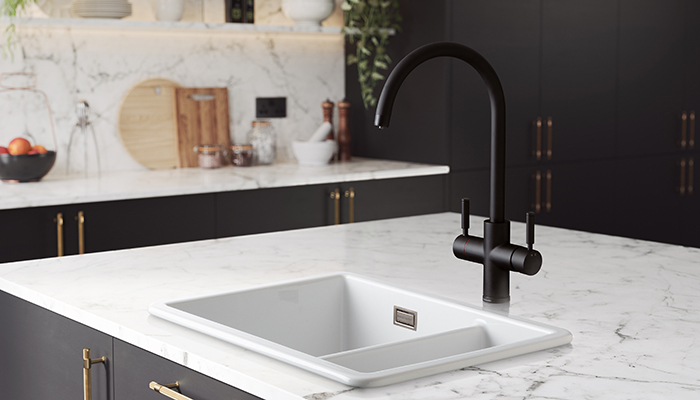 Easy to fit, easy to maintain
Rangemaster has designed the GEO Intense to be easy to install and fuss-free, thanks to its fast-fix, tool-free connectors and ½ inch flexible hoses. The tap also comes with a ceramic disc filter cartridge. To underline its quality, the GEO Intense is KIWA UK REG4 approved – the same testing as WRAS – so specifiers and contractors can be safe in the knowledge that it is compliant. The tap comes with a five-year warranty and the PROBOIL.2X boiler has a two-year warranty.
GEO Intense 4-in-1 taps are available to retailers now. For more information, call Rangemaster on 0115 946 4000 or visit www.rangemastersinks.co.uk.