Glass splashbacks are hygienic, non-porous, easy to clean and great at reflecting light around a space, but above all they can be used as a way to inject colour and personality into a kitchen design – Angelica Hedges rounds up 10 stunning examples.
1. Entitled Bluebell Birches, this glass splashback from Sue Tinkler Art Glass has been designed using visual computing technology to integrate the splashback with the strong horizontal line of the cupboards. Lit with complementing downlights, it was made with crushed glass for the flecked effect, and installed in three sections with permanent silicone. It measures 2020mm wide and 525mm high.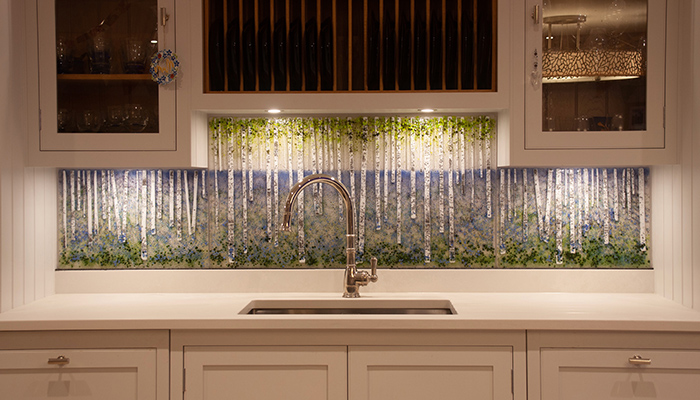 2. From the Calm Collection by Sally Coulden at Red Dog Glass Design, this distinctive glass splashback is entirely made to order with a smoky, pluming effect, which highlights the various dark and light tones that are prominent in any kitchen scheme. It is exclusively installed and formed by Optidek.
3. From Optidek, this glass splashback has been crafted from 6mm untoughened Satin Bronze Mirrored glass. Complemented by LED spotlights on the underside of the overhead cabinetry, which accentuate its mirroring nature and the warmer tones of the scheme, this splashback is installed in a Warendorf display with a matt metallic finish at Halcyon Interiors.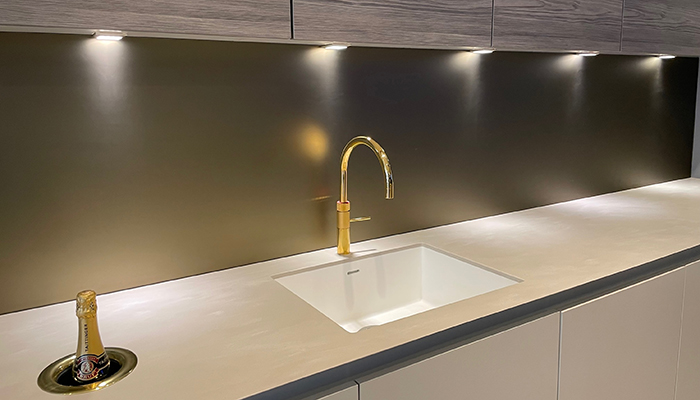 4. This design is called Chalk Stream and is inspired by the natural qualities of the flow of the chalk streams in Hampshire, near where artist Sue Tinkler of Sue Tinkler Art Glass lives. It can be created in a variety of different colour combinations to suit a particular interior, and can be installed either vertically or horizontally depending on the available space. It is fitted either with a securing silicone, or fixings so it is removable, and measures 800mm wide by 600mm high.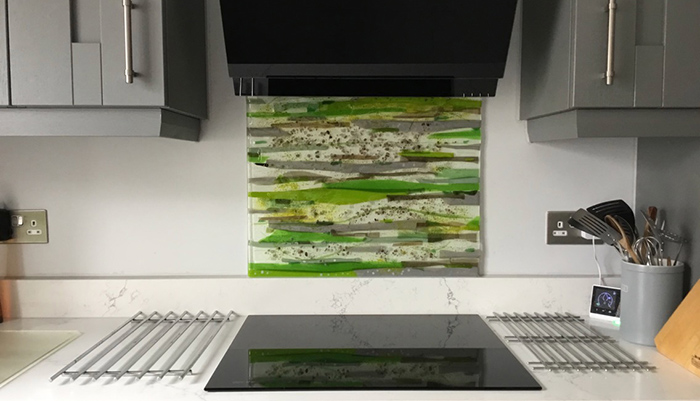 5. From Optidek and installed at the Sheen Kitchen Design showroom in a Pronorm display, this splashback is formed from 6mm toughened Bronze Mirrored Glass. Spotlights on the underside of the upper cabinetry enhance the reflective nature of the surface, which adds warmth, reflects light and makes the space feel bigger.
6. This piece is from Cherry Glass Interiors' Graduated Range is crafted from 6mm, low iron, toughened, heat resistant glass. It can be produced in any colour, and for a touch of customisation it can be reversed from light to dark or vice versa, to suit any size or overall concept. As with all the company's products, it comes with a 10-year guarantee for added peace of mind.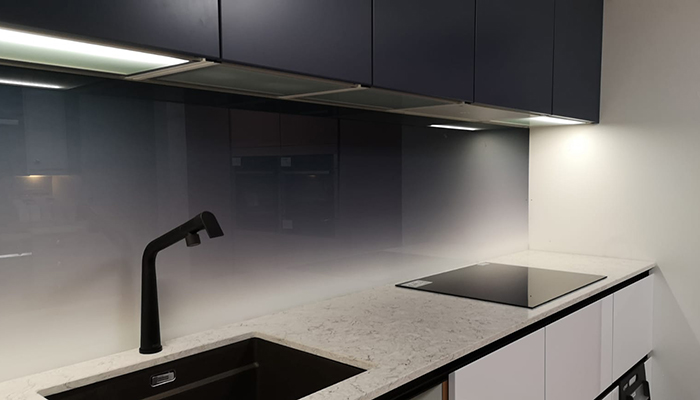 7. Shown in situ at a kitchen display in the Poggenpohl showroom in St Albans, this splashback is from Optidek's brand-new Artisan Collection. The range consists of bespoke wallpaper and fabric-backed toughened glass panels can be adapted to suit the needs of a scheme – it is shown here in Copper Glacier.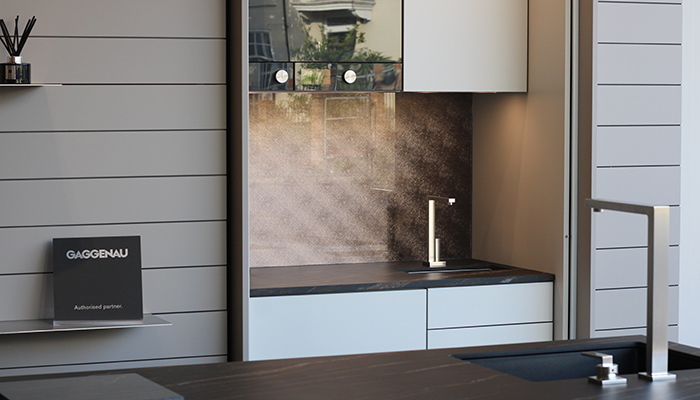 8. This atmospheric design from Sue Tinkler Art Glass is called Winter Birches, and was inspired by the trunks of silver birch trees and the veins that run through their bark. Embossed on this design are the additional variations of falling snow, a deer, and the clients' two cats for an added personal touch. Measuring in at 1090mm wide and 745mm high, this piece has been created with a white glass background to contrast with the colours of the surrounding scheme.
9. This bold Splatter paint design by Cherry Glass Interiors is flexible due to its colour-matching abilities, and can be made to add contrast or blend in with the tones of any scheme. It is cut from 6mm toughened glass, which is said to be durable and heat resistant, with polished edges, and for added convenience the company offers a template and fitting service across the UK.
10. The Ocean Wave design from the Essential Collection by AluSplash is ideal for designers looking to attain a 'glass effect', and is made from an aluminium substrate which is said to be 'post consumer recyclable'. The splashback is composed with a fire-resistant centre between two aluminium sheets, which is then coated in AluSplash's paint coating for heat resistance and an anti-bacterial element.