The terrazzo trend shows no sign of abating – in fact there's a host of brand-new floor and wall products that are just perfect for creating a cool bathroom scheme. Angelica Hedges rounds up 10 of the latest designs.
1. From Emil Ceramica Group in Italy and recently added to the Ceramique Internationale portfolio, Medley comes in three different varieties: Classic, Pop and Rock, each with their own distinctive qualities, with the addition of Minimal to the collection – a more muted version of each colour to work in conjunction with the terrazzo. Pictured here are Rock and Classic Terrazzo, paired with Minimal – the tiles are available in sizes of 300 x 600mm, 600 x 1200mm, 600 x 600mm and 900 x 900mm, with a 20mm thick tile in the largest available format of 600 x 1200mm.
2. The new Tile Collection wall panels from Multipanel consists of nine decors – pictured here is White Trestino, which features subtle highlights and lowlights of various shades of grey, with patterns of larger shapes, and some speckled configurations that are also scattered across the panels. Using a 2.5mm soft grey grout line which is carved into the decors, the waterproof panels effectively appear to be tiles measuring 580mm by 400mm.
3. The Crocante porcelain tile collection from Arcana Ceramica was launched at Cersaie 2022, and is pictured here in their Tutti Frutti design, which takes a more subtle contrasting approach to the terrazzo style. The design is suitable for both walls and floors, is available in six colours, and comes in 600 x 600mm, 800 x 800mm, 600 x 1200mm and 1200 x 1200mm sizes.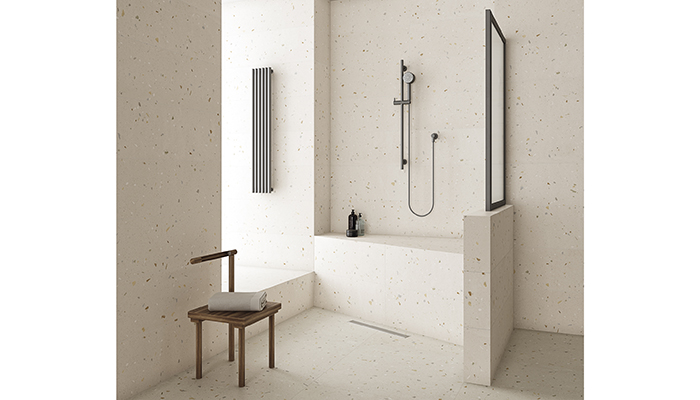 4. Amtico's Spacia Terrazzo vinyl flooring collection is composed of various patterns, with the Terrazzo variety featuring six cooler, interlacing, textures – Gibson, Negroni, Mimosa, Highball, Sidecar and Julep, whereas Elemental Terrazzo consists of larger marble pieces with a bolder character to them, named Amalfi (pictured here) and Capri. These tiles are available in formats of 120 x 120mm, 180 x 180 and 360 x 360mm depending on the customer's intentions, whether to fill a small section, or wash over larger floorspace.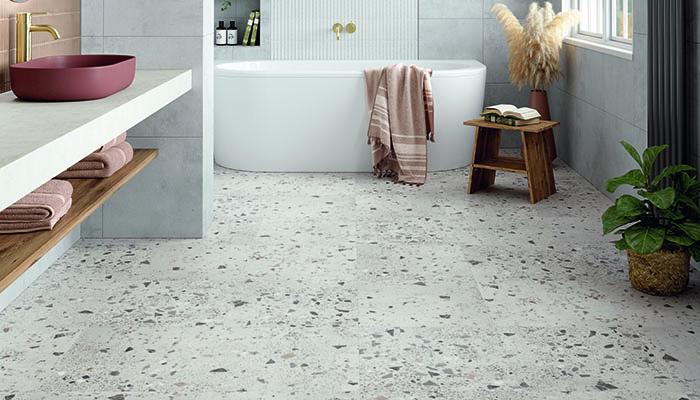 5. Launched at February's Surface Design Show, the Chicago collection of hexagonal and square tiles by Dune Ceremica comes in a palette with a variety of colours, including Ginger, Olive and Ocean, with chunks of each shade featured in the terrazzo with an underlying white base. Suitable for wall or floor tiling, this collection is available in a composition of 215 x 250mm, and the square tile option (147 x 147mm) can also incorporate a botanical design in both warm and cool tones for an alternative look.
6. From the Elburg collection by Arcana Ceramica, the Ribe tile features light earth tones in mostly large chipped shapes, with some smaller speckled patterns in between. This slip resistant tile is formed from glazed porcelain, which is available in a matt or semi polished finish, and is suitable for walls and floors. Shown here in Beige, Ribe is also available in Grey and Anthracite and measures 800 x 800mm.
7. The Stardust Collection of porcelain tiles by Wow Design is inspired by outer space, and features two designs – plain and terrazzo – that both have a soft, matt finish. They are available in five colours – Ivory, Ocean, Teal, Nero (shown here on the floor) and Cotto (pictured on the wall). They measure 150 x 150mm, and are are suitable for both walls and floors.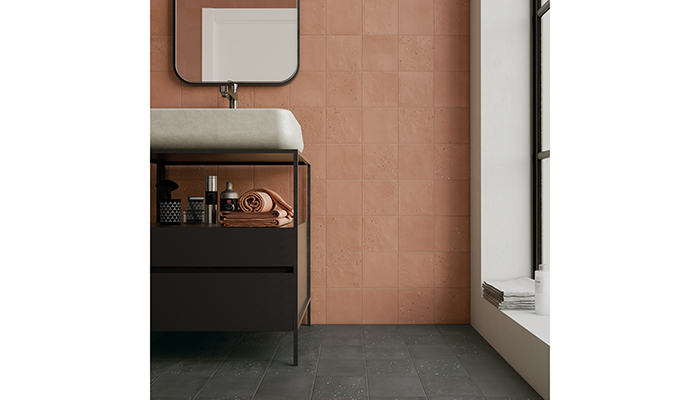 8. Terratzo Mix from the Chromatics Collection by Spanish brand El Molino is made from a white body ceramic (pasta blanca), and is pictured here with contrasting bold colours, working against a stark white background. The Terratzo Mix tile is more suitable for use on walls and is available in two formats – 300 x 900mm and 620 x 1200mm.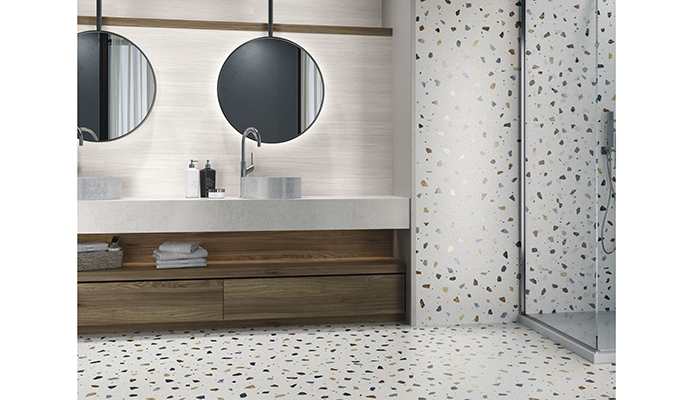 9. This porcelain floor tile collection from Vives features the Octogono Valeta Verde pattern in contrasting colours, which enables designers to incorporate close-knit terrazzo styling coupled with chunkier forms to create an overall, bold diamond-versus-circular pattern. With the floor tiles measuring 800 x 800mm, the wall tiles pictured here are also in a terrazzo style from Vives called Monaco, which also measures 800 x 800mm.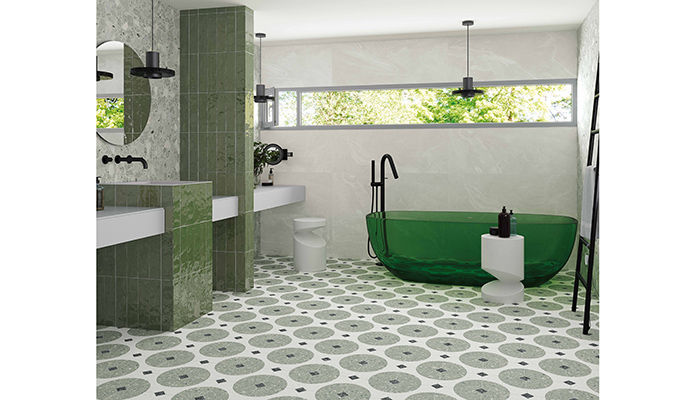 10. The Sensa collection from Harmony, pictured here showcasing its unique micro-terrazzo tiles, features six designs in options of White, Green, Blue, Grey and Silver, and is suitable for both walls and floors. Made with the brand's Shaped Tech technology to offer a digitally created relief texture, these tiles measure 900 x 900mm, and achieve an almost natural effect with their fine, speckled pattern.