With a community of over 65million homeowners and home design enthusiasts and more than 3million residential construction and design professionals, Houzz has unique insights into how people are designing their homes. See how hotter summers, the post-pandemic landscape and even mushrooms are influencing consumers' design choices.
1. Nostalgia
From the resurgence of 'modern farmhouse' style, which is up by 135% in searches on Houzz year-over-year, to the recent interest in cottagecore, homeowners are looking to the familiarity and comfort of the past and bringing elements of this into their modern living spaces. Within the most-saved photos on Houzz, the design platform's experts say they are increasingly seeing the use of warm wood, rich colours and carefully chosen vintage pieces along with heirloom textiles, such as patchwork blankets, tapestries and antique rugs.
2. Warm colours
At the beginning of 2022, designers on Houzz predicted a move away from cooler tones to a warmer palette. Now they're seeing those shades of terracotta, pink and mustard creeping into room schemes with searches for 'dusky pink', 'brown' and 'mustard' all increasing on Houzz this year (up 81%, 25% and 24%, respectively). These colours are warm and relaxing and, along with the trend for nostalgia, could also be a result of homeowners looking for rooms that offer comfort and reassurance.
3. Temperature-regulating design
With greater extremes in weather and rising energy bills comes a need to rethink the way we regulate the temperature in our homes. In the past year, Houzz has seen an uptick in searches for 'external shutters' with heat-reducing window treatments set to play a much bigger part in keeping homes cool in the summer months. Effective insulation will also become a more pressing concern to help keep homes warm and reduce energy costs in winter. Searches for 'external insulation' rose significantly year-over-year on Houzz as homeowners seek out ways to improve the thermal efficiency of their homes.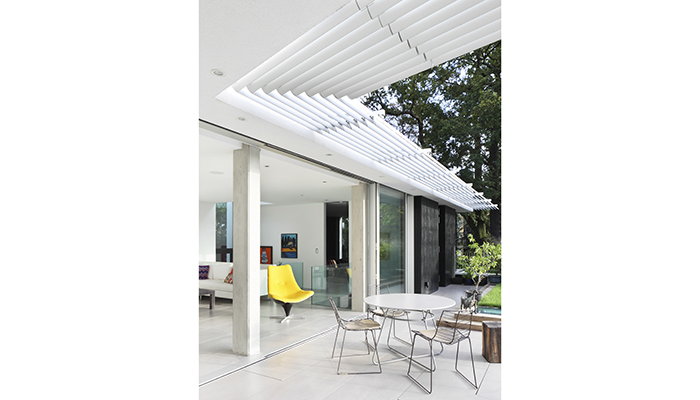 4. Biodynamic lighting
Interiors have increasingly been inspired by nature in recent years, and this is a trend that keeps evolving and developing. The latest iteration is biodynamic lighting – where artificial lighting is designed to replicate daylight as much as possible – which is set to become more mainstream in 2023, according to lighting experts on Houzz. Homeowners are certainly seeing the benefits of a well-planned lighting scheme, with searches for 'lighting design' on Houzz up by 73% this year.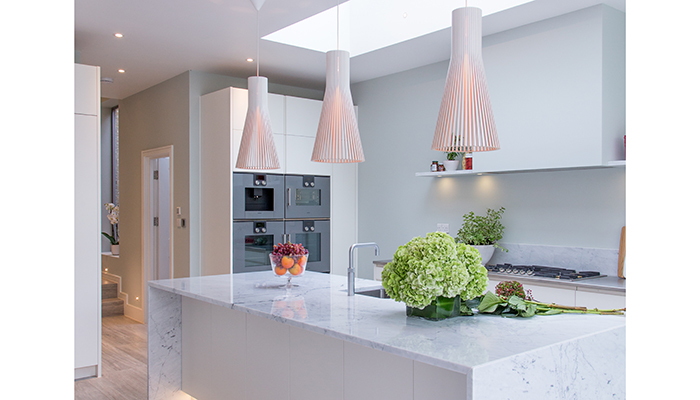 5. Interesting wall coverings
Wallcoverings are set to play a big part in 2023, according to designers on Houzz, with murals, bold papers and interesting textures all emerging as growing trends. Within the most-saved photos, Houzz has seen a rise in the use of bold papers, oversized designs and textured finishes, and searches for 'decorative wall panels' and 'modern wall panelling' have increased (up by 132% and by 116%, respectively).
6. Japanese-inspired design
Japanese design influences have quietly been making their way into the mainstream for a while now and in the coming year, professionals on Houzz predict that we're likely to see this trend emerging in a much stronger way. Characterised by clean lines, muted colours and natural materials, Japanese style is restful and understated and puts an emphasis on organisation and storage. The philosophy of 'wabi-sabi' is also seemingly popular among Houzz users, with searches spiking (up by 179%).
7. Biomimicry
Another example of nature-inspired design likely to gain traction as a design practice next year is biomimicry, according to design experts on Houzz. This practice involves designs emulating the ingenuity of models, systems and elements found in the natural world, with projects on Houzz this year featuring many ingenious architectural ideas inspired by nature.
8. Circular-economy design
The sustainability of design continues to be a hot topic and is a growing interest among homeowners, with searches on Houzz for the keyword 'sustainable' shooting up by 2x this year (106%). Professionals on Houzz tell us that more and more they are considering the whole lifecycle of an item at the outset, including how it will be reused or recycled at the end of its life.
9. Mushroom tones, textures and shapes
The humble mushroom is set to have a surprising influence on interiors in 2023. Mushroom motifs and shapes have been popular throughout 2022 and designers on Houzz predict that they are set to inspire paint and texture trends next year. As a paint colour, mushroom tones are gentle and soothing, and can be used as a contemporary neutral. When taken over into soft furnishings, mushroom-like textures, such as soft velvets and suedes, in tones of warm brown and taupe can bring a relaxed and understated feel to a room.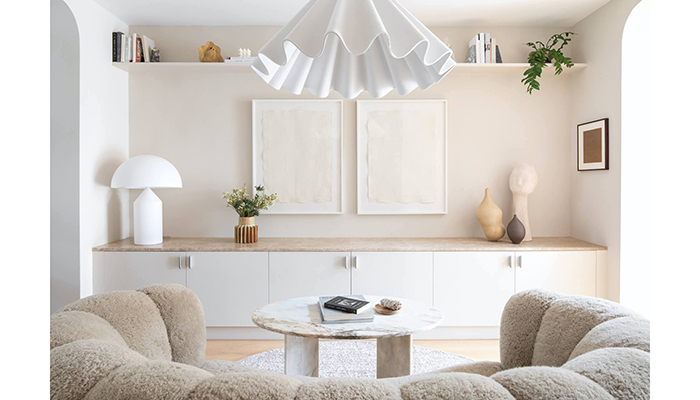 10. Playful design
On Houzz, we've seen an increase in the use of playful colour combinations, as well as the introduction of personal and quirky touches, such as wall murals. Moving away from the safety of neutrals, designers on Houzz are having fun with colour and texture and being creative when it comes to designing spaces for clients. Searches on Houzz for 'colourful living room', 'colourful bedroom' and 'colourful bathroom' have all increased (up by 197%, 192% and 42%, respectively) and the search term 'painted ceiling' also saw an increase, up by 112%.