As Magnet continues the roll-out of its concept stores with the opening of the new South Wimbledon branch, Emma Hedges discovers how the retailer is responding to consumer demand and making sustainability a high priority.
Magnet's new 'immersive' South Wimbledon concept store is the third of its kind to be launched by the Nobia-owned retailer in the UK, with another two in the pipeline. The impressive showroom boasts 10 full-size kitchen displays, including showcases of its Nordic Nature, Ludlow and Soho ranges, as well as functional spaces and interactive areas that have been carefully considered and purposefully designed, with customer feedback informing every element. The store's fully working kitchen area allows Magnet's in-store team to demonstrate how key appliances such as instant boiling water taps, AEG steam ovens, coffee machines and 'advanced' hobs work.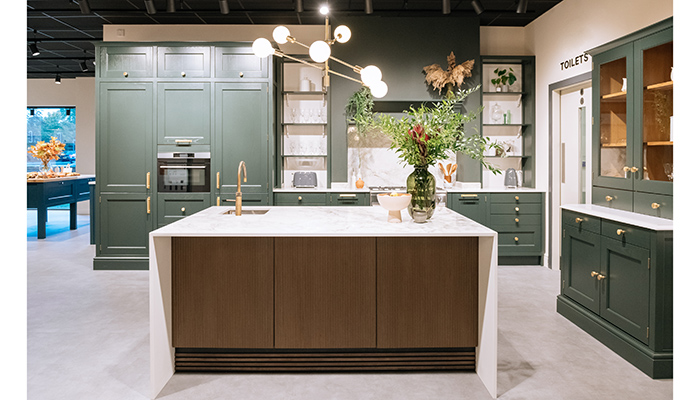 Other interactive areas include the 'Styles and Materials' area, featuring a mood-boarding space to encourage customers to experiment with materials, styles and colours. In addition, the 'Design Studio' – a self-contained area where customers can embark on the design journey – features booths for privacy as homeowners talk through their lifestyle needs, with carpet to absorb sound and create a sense of intimacy and reinforce a tailored approach to buying a kitchen.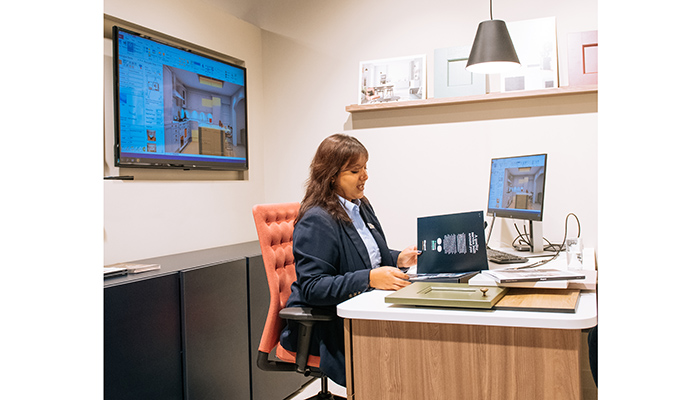 While the latter element deliberately mimics the high-end, personalised design experience offered by many independent studios to try and bring it to the mass market, it's when it comes to sustainability that Magnet is blazing a trail. "Our parent company is Scandinavian, so sustainability is part of the DNA of the group," explains Anna Russell, Magnet's director of marketing. "We're seeing in every piece of research that we look at that it's something that's becoming more and more important to consumers – we're looking to just make it easy for them to make good choices."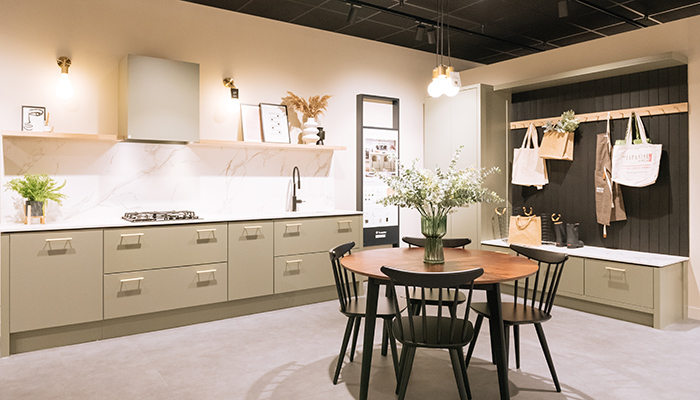 As part of this effort, Magnet has partnered with Re-Home (formerly known as the Used Kitchen Exchange), to enable Magnet customers to 'trade in' their pre-loved kitchen, when ordering a new one. This initiative is currently being trialled across Magnet's South Wimbledon, Kensington and Esher stores – the scheme is free of charge and has been designed as a hassle- and guilt-free solution to disposing of a pre-loved kitchen, that isn't at the expense of the environment. Depending on their condition, old kitchens will either be converted into biomass (grade C wood), refurbished for affordable charity resale, or stripped for parts. Customers will also receive money back, which they can put towards their new Magnet kitchen.
Additionally, the selection of products in the portfolio is curated to present sustainable options to customers. The new Mindful World Concept Kitchen, officially launched in November and to be rolled out to all stores by early 2023, is a combination of two ranges: Nordic Craft and Hoxton. Described as 'focused on sustainability, craftsmanship and functionality', it harnesses 'insightful design that is considerate of the planet and the impact we make', including using recycled or responsibly sourced materials.
The Concept Kitchen features FSC sourced timber drawers with exposed finger joints paired with Magnet's existing 'True handleless' cabinet range, Integra, and Magnet's premium edged matt Hoxton door in Sumi Black made from recycled PET foil. The Mindful World Concept Kitchen also showcases Seacycle Knobs made from recycled sea plastic from fishing nets, ropes and trawls, a Schock quartz composite sink made from 99% sustainable materials, and a Dekton carbon neutral worktop option. The choice of AEG appliances is also intended to offer a more sustainable way of living, and for an extraction option the A++ rated RørosHetta Mantica Hood is included.
"Mindful World is about pulling together sustainable elements," says Jennie Nash, the retailer's design excellence manager. "We're trying to be thoughtful about material selection, so showcasing a beautiful worktop that's carbon neutral, or sea plastic handles – everything that builds it into the customer's mind so it becomes an easy choice without compromising on design."