Robert Stein, product manager for appliances at Rangemaster, summarises everything retailers need to know about range cookers to help you guide consumers through the decision-making process.
The range cooker market has seen a surge in demand over the last two years as homeowners have looked to update their kitchens with the latest cooking tech. However, although we're starting to look at those times in the rear-view mirror, they have changed the eating habits of the nation for the better, placing a greater emphasis on cooking healthy meals at home. A recent survey by Rangemaster showed that 43% of people say they now make healthier eating choices compared to before the first lockdown. As a result, homeowners look for appliances that offer more than one type of cooking method.
Range cookers have enjoyed decades of popularity as multifunctional appliances that can bake, roast, griddle, and much more, in a large assortment of sizes, fuel types and styles. For retailers, they present the opportunity to utilise their manufacturer's training and help consumers find the perfect range cooker.
At Rangemaster, our range cookers are available in three sizes to suit a variety of kitchen layouts or dimensions. Typically, the 110cm models have two 79-litre oven cavities, whereas 100cm versions have a 79-litre multifunction oven on the left and a tall fanned oven with 82-litre capacity on the right. 90cm range cookers generally have the same multifunction oven but with a 67-litre tall fanned cavity on the right.
It's no surprise that 110cm cookers offer large cooking capacities – in fact, these models can cook a 12kg/25lb turkey to feed 25 people.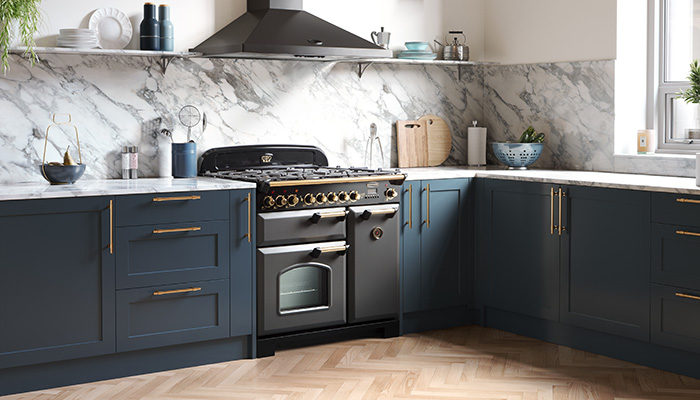 While size can be used to estimate how much food can be cooked at one time, it's also important to highlight the clearances required when discussing projects with customers. For instance, they may envision a flush fit between cabinetry, which requires a minimum 9mm gap on either side of the cooker; however, we recommend the appliance is installed at least 30mm in front of the kitchen cabinets with a 5mm gap between the sides. This is to prevent any door trim details and handles from impacting the cabinet or worktop.
After determining the size, customers also need to choose the fuel type that best suits their cooking habits. The two most popular are electric range cookers with induction hobs that provide the fastest, safest and most efficient method of cooking, and dual fuel models, which offer the benefits of electric multifunction and fanned ovens with the familiarity of gas hobs. Thanks to innovations and developments, both fuel types are compatible with different griddles, such as flat, ridged or teppanyaki.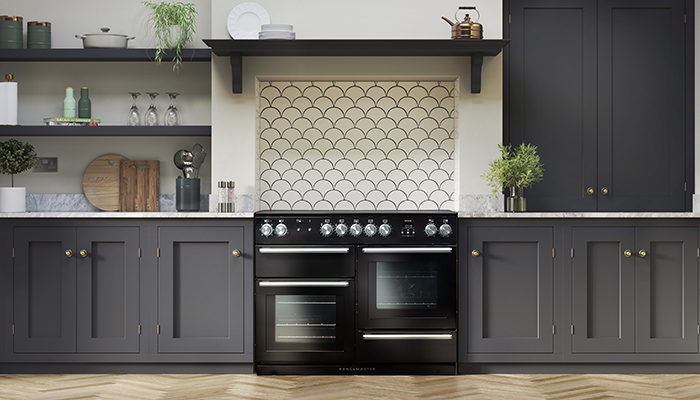 Sales of electric range cookers with induction hobs have increased significantly year-on-year. After all, they offer speedier cooking times and induction is considered a safer option than gas in multi-generational households. The hobs are also incredibly responsive, controllable and efficient. Plus, many of today's models are equipped with bridging functions, dedicated temperature settings and specialist features to make cooking easier.
That said, there is still strong demand for gas hobs, with dual fuel models accounting for around 34% of the market. Now, retailers may be aware that a UK Government target of net zero carbon emissions has been set for 2050. So, what does that mean for gas cooking? Hydrogen has already been identified as a low-carbon alternative to natural gas in the home heating market – and the BSI has certified that all Rangemaster dual fuel range cookers can benefit from this green fuel and are already fully compatible with H2 or 20% Hydrogen.
There is no doubt that range cookers will continue to be included at the top of consumer wish lists. As a result, manufacturers, such as Rangemaster, provide training for retailers and showroom partners. We recommend continuing to use this service after the initial training, in order to stay informed about any updates to products, new features or even the industry. Plus, most offer a choice of in-person or online sessions, so there is always an opportunity to brush up on the latest range cooker developments.