British manufacturer Crown Imperial is delighted to unveil its new working from home furniture styles, providing the perfect new year interior inspiration for your clients.
Designed for modern lifestyles, retailers have access to a choice of stunning home working and storage solutions to suit every room scheme.
Ideal for compact spaces, Crown Imperial's new curved desk solution is available in two sizes and offers the option to combine with a standard desk length for an additional work area. The modern set is presented in Uno Linen, with ample storage including organised filing drawers for easy access to everyday office essentials.
Continuing the contemporary theme, the new Uno range is showcased in Truffle and paired with Pebble, a two tone design combining a distinctive woodgrain style and neutral shade. Crown offers a versatile choice of furniture configurations to maximise every cm of work space, including open and closed cabinetry to create a seamless feel.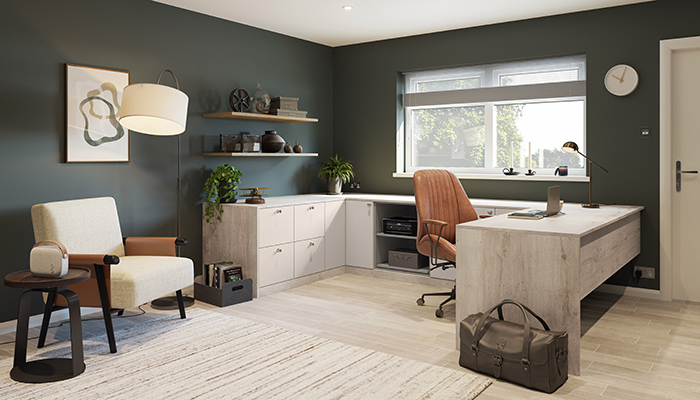 Perfect to achieve the ultimate home office vibe, Crown introduces two new styles Uno Taupe and Textura Taupe Oak. Fully equipped to meet the demands of a busy work schedule, the L-shaped layout offers an array of organised storage, pull out shelving for the latest technology and drawers for ergonomic access.
Crown Imperial offers a comprehensive collection of working from home, bedroom and kitchen furniture, accessed through a central design palette to ensure a seamless fusion throughout the home.
www.crown-imperial.co.uk – 01227 742424.