With consumer lifestyles more hectic than ever, along with the rise of social media posts documenting highly organised homes, kitchen storage has had to up its game. Lisa Hibberd explores the options available to designers, from impressive larder units to clever internal drawer solutions.
"In these days of ever smaller homes, combined with increasing gadgets aimed at making life easier, there is huge demand for storage space that is organised so that all contents can be easily seen and accessed," says Amanda Hughes, ergonomics expert at Blum. "There is nothing worse than having to empty the entire contents of a cupboard or drawer to find that elusive saucepan lid or USB lead. In terms of innovations in storage it's all about wider, deeper and higher. Getting additional usable space can achieve an enormous amount of extra storage. A single 1,200mm drawer gives 15% extra space over two 600mm drawers. Base unit drawers are so much easier to use than cupboards and fixed shelves, and with Blum runners, consumers can rest assured that the drawer won't bow or break."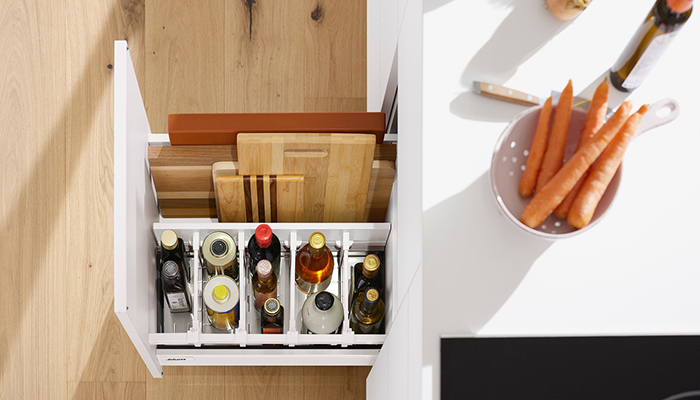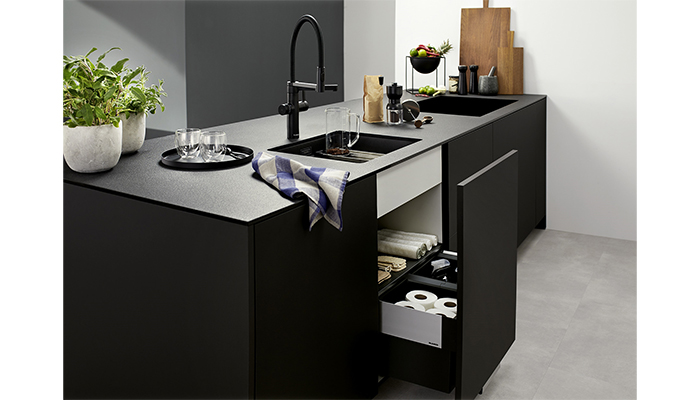 "In recent years, we've spent much more time in our homes and as a result, our kitchens in particular have become more multi-functional," suggests Adeline Baker, category manager at Häfele UK. "Our research of 2,000 homeowners found that many are using the space for purposes other than cooking. An estimated 4.55million homeowners (26%) use their kitchens for socialising and entertaining, 2.8million (16%) use the room to relax in, and 1.9million people (11%) use it as a playroom or homework area for children. The data also shows 1.75million homeowners (10%) use the kitchen as a makeshift office when working from home.
"With kitchens serving multiple purposes, spaces need to be organised and clutter-free, hence the rise in demand for being able to 'shut off' an area or keep items out for view. From a product perspective, it's all about solutions that help maximise every millimetre of potential kitchen storage. Our pioneering hingeless flap fitting, Free space, is one such product as it creates more storage room within cabinetry by eliminating the need for large cover caps. It also has an internal installation depth of only 63mm. Likewise, Matrix Box A from our Matrix range of drawer systems has a thin walled design for more usable space while still maintaining a load bearing capacity of 30kg."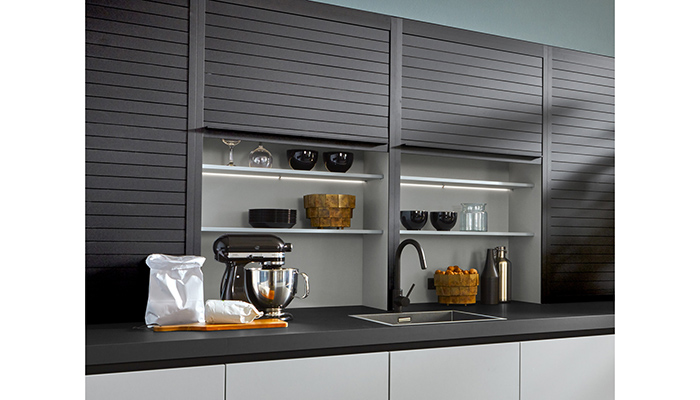 "Good quality, ergonomic and efficient storage has become increasingly important to consumers when planning a kitchen design," reports Neil Taggart, marketing manager at TKC. "Accelerated by the pandemic when there was a shift towards shopping less frequently and planning and storing foodstuffs, demand has continued with people recognising the benefits of organisation and practicality. More and more, consumers like to be a 'home chef' and a larder or pantry offers plenty of storage functionality while also making an eye-catching design statement. Customer reaction to our new Butler's Pantry has been highly encouraging with displays particularly popular and subsequent sell through very positive. Our customers also benefit from the pantry being available on our standard lead times."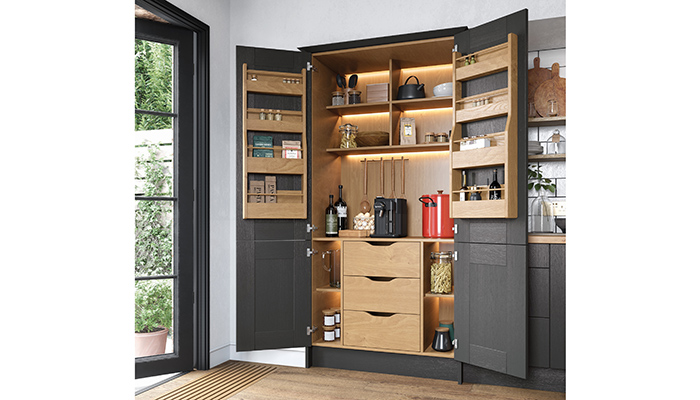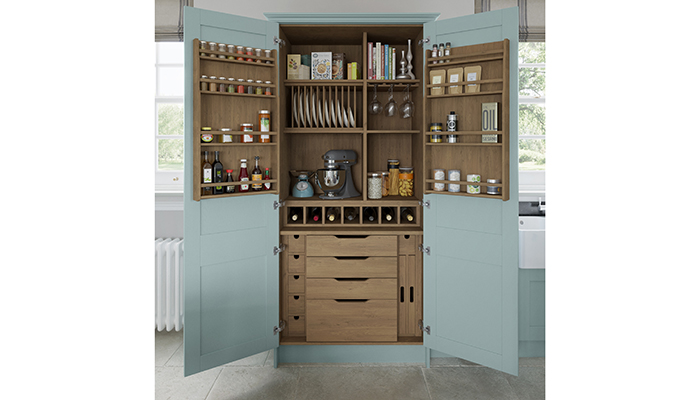 Simon Bodsworth, managing director of Daval Furniture, recommends that focusing on the practical and helpful nature of storage solutions for today's busy lives is vital for retailers when highlighting their storage options in a showroom setting. "Retailers need to fully demonstrate how these products can actively enhance daily life as well as ticking the boxes for sustainability and design. Carefully curated props and well-dressed displays will help end users to visualise products in their own kitchens and understand how the right furniture can anchor and support their lives: from food shopping and meal planning, through to home baking and even entertaining friends and family."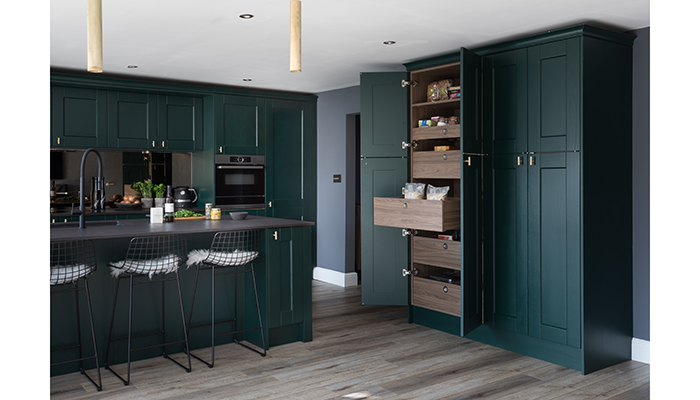 "In my experience, high-performing showrooms have a great range of fully integrated solutions so that customers feel like they are actually in someone's house with real groceries and household items in the cupboards and drawers," agrees Matt Phillips, head of UK operations at Rotpunkt. "However, given that some consumers have specific needs and may need to be persuaded of the benefits of a particular storage idea, there is a lot to be said for inviting the client 'behind the scenes' into the staff kitchen or office areas so they can see a relevant product in daily use, if appropriate. I believe that showing hybrid furniture in a real-life setting helps to build trust and confidence and will also enhance your bank of testimonials, so do make sure that you have 'before and after shots' of recent projects as well as supportive brand imagery easily available on a staff tablet or screen in your client meeting area. Remember that you are not really selling a kitchen, you are selling the power of possibilities to enhance a whole family's lifestyle!"