Suchin Pindoria, of North West London-based family-run business Such Designs, talks us through the design process involved in a recently completed luxury townhouse project.
Q: What type of property was the project in and who was it for?
A: The project was in a townhouse property, which had been the family home although the daughter had recently flown the nest to get married. The kitchen was dated and the project was part of a large-scale refurb of the whole house.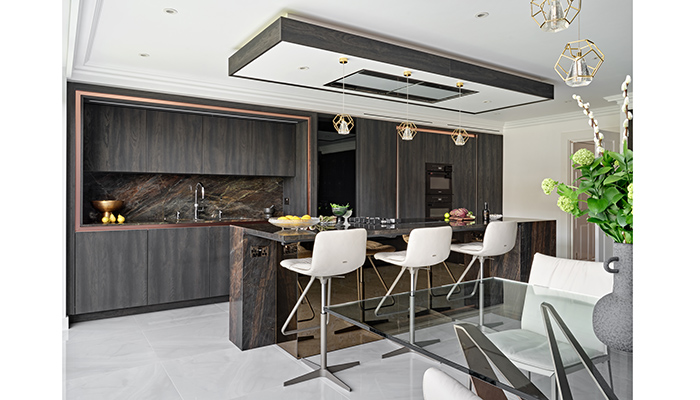 Q: What was the brief?
A: The clients came in a little uninspired although they knew they wanted to create a different perspective on the style of the ground floor. I pitched a modern lux feel and sold them on the idea of creating a space that did not feel like a kitchen, but more of a space where the furniture integrates well with the architecture of the property so that it all feels as one.
Q: How did you go about meeting the brief?
A: The kitchen is the heart of the home and it needed to be a luxurious, social space with versatile seating areas, and above all to not feel too much like a kitchen. The clients are sociable people and have lots of gatherings and entertain frequently.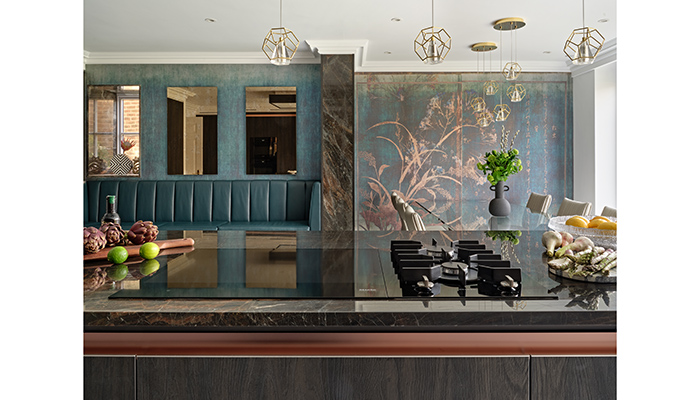 Q: What type of cabinetry did you use and what made it the perfect choice?
A: We went for Rotpunkt Syncro Laminate Flamed Wood – it offers high levels of bespoke-ability and is also really hardwearing.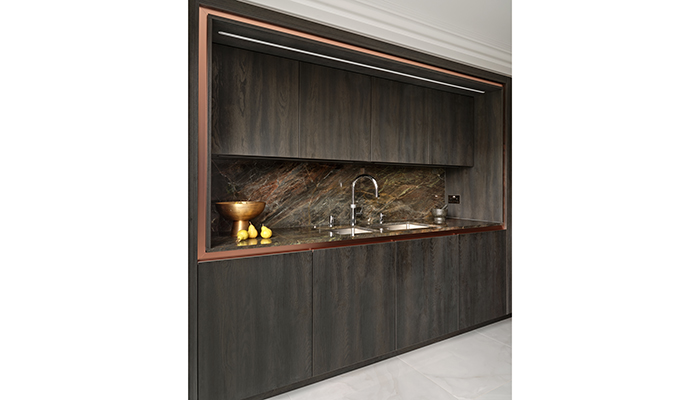 Q: How did you incorporate individual touches into the design?
A: We chose brown amber quartzite for the surfaces and a Glamora wall covering – I didn't want too much contrast with the units and worktop but wanted to highlight the stong natural textures of the materials. Along the seating area we replicated the window dimensions with the mirror to fill the space and offer continuity of size. We built the furniture in line with new coving, and included copper highlights as the handleless trims tie in with the antique mirror in the breakfast bar, and the lighting.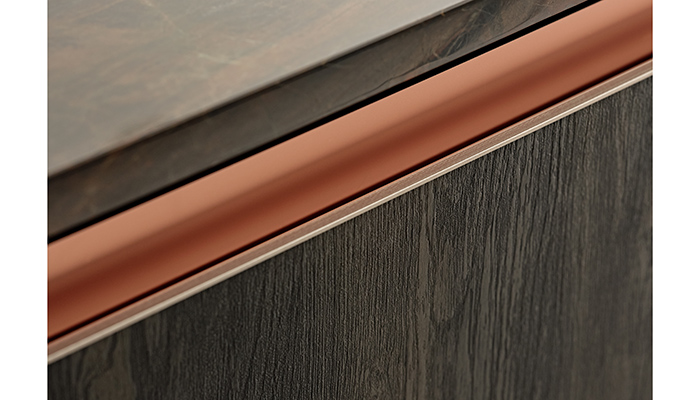 Q: Were there any particular challenges you had to overcome?
A: Fabrication of the worktops was a huge challenge and the material turned out to be troublesome. We had to reinforce the breakfast bar for additional stability. We kept the client informed at all times and pointed out elements we were not happy with and focused on the re-fabricating elements to get the best possible finish.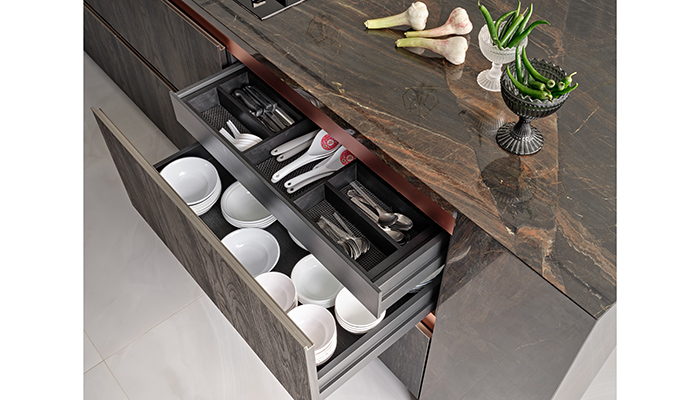 Q: What is the clients' favourite part of the finished project?
A: We created hidden access to the utility room, and they loved the idea of the hidden room. They also loved the seating wall.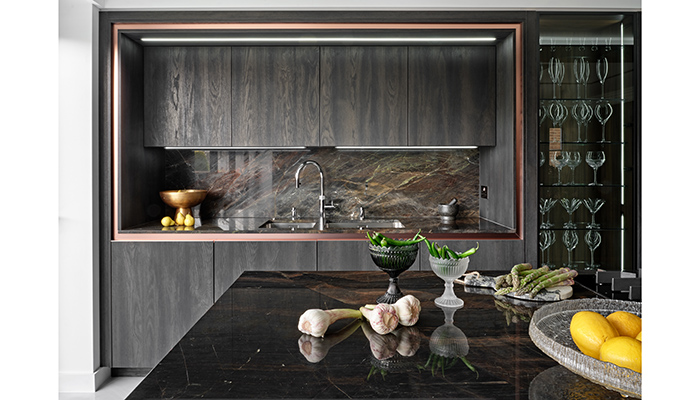 Q: What's your favourite part?
A: I like the fact that the space feels like one entity and all the materials work harmoniously together – in fact, the new kitchen design set the tone for the rest of the refurb.