Incorporating gleaming metallics into a scheme can add warmth, luxe and character – Angelica Hedges rounds up 10 stunning designs that use metallic finishes to their best advantage.
1. By Roundhouse Designs, this Urbo & Metro kitchen features antique brass and dark bronze elements. The hand-finished brass panels on the splashback and island, along with the dark bronze handles, create highlights in the design, allowing the light to catch them so they glow, adding a rich, reflective touch to the scheme, and contrasting with the simple, dark cabinetry.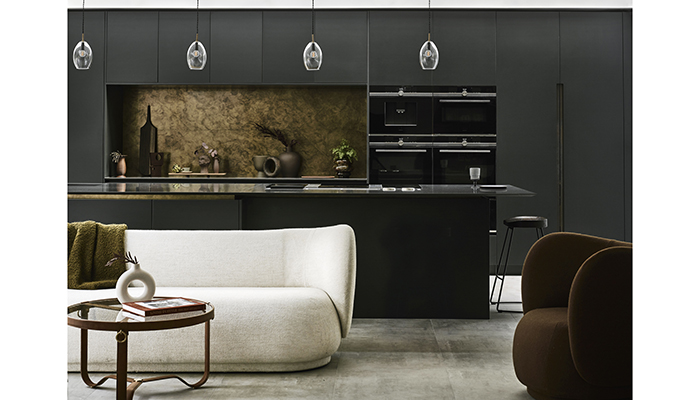 2. The Maya Kitchen from MinottiCucine takes the metallics aesthetic to new a whole new level with its kitchen made of 24K gold. Created using a galvanisation process, this kitchen exudes 'silent luxury' to chime with the brand's 'visual silence' ethos, with the combination of stone and gold blending together in a minimalist style with cool tones. The reflective surface of the gold plays effectively with natural light, creating a serene but opulent scheme.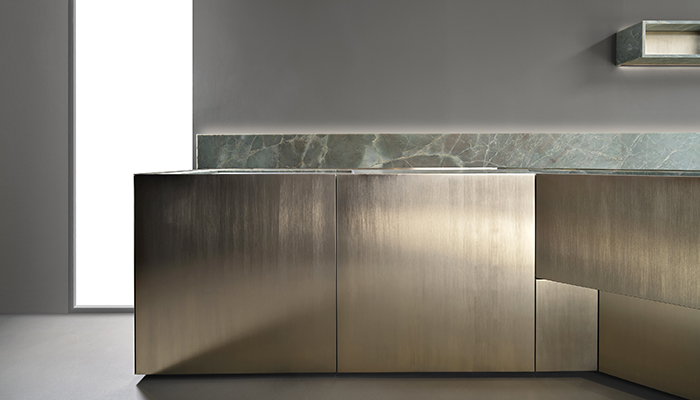 3. By Brandt Design, this kitchen features warm and bold metallic accents, bringing a rich touch to the whole scheme. Pictured are gold finish taps, and wine rack and integrated wine cabinet, which are then blended with a sideboard with satin brass luxurious trims, and a mirrored glass shelving display. There is a lavish touch in each zone of the kitchen, which is heightened by the reflective quality of the finishes.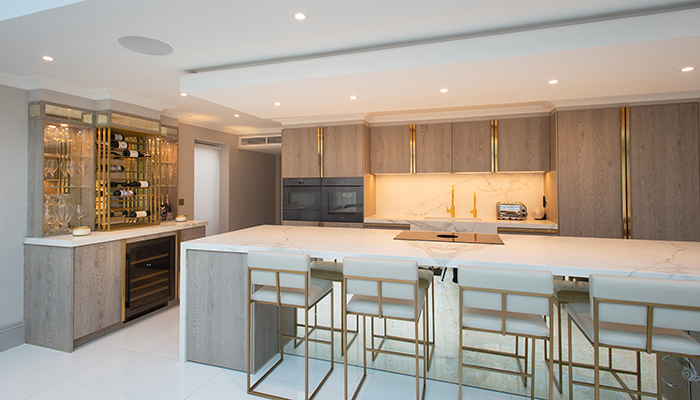 4. This design from Rotpunkt features a metallic finish effect called Corten Steel, pictured here contrasting with other Power White surfaces to create visual drama and a warming reflective feel. This handleless kitchen is available with additional LED lighting options, in place to accentuate the reflective nature of the surfaces. The metallic-style finish creates a warming and lush atmosphere against the stark white cabinetry.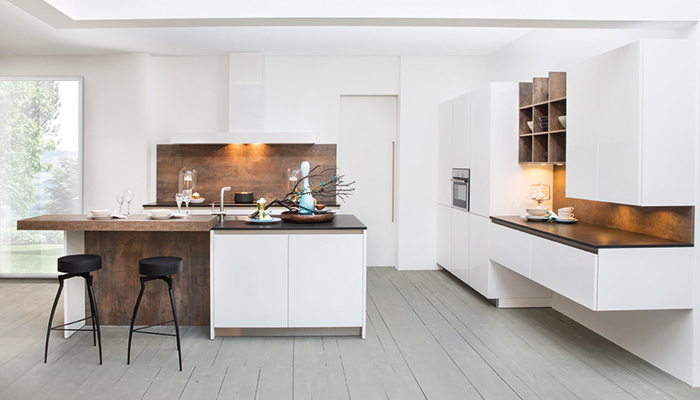 5. This design shows Masterclass Kitchens' H Line Sutton Heather Slate with Milano Carrara Marble and Metalix Brass handle rails, working in harmony with a glamorous Metalix Brass Splashback. The Metalix range consists of five metallic finishes – Aluminium, Titanium, Bronze, Copper, and Brass – that enable designers to incorporate lavish accents in any scheme. The Brass components pictured here bring in a bold touch of grandeur, adding both light and interest.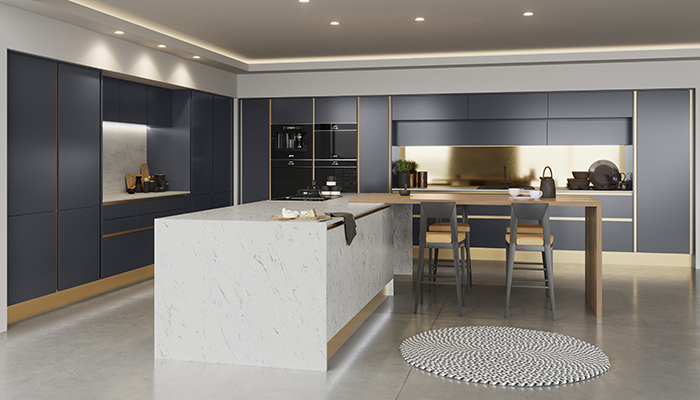 6. From Devol Kitchens, this design features a classic real copper worktop and splashback, that create a bold and glowing contrast with the other more muted tones in the room. The bespoke copper surfaces feature highlights and lowlights, which reflect the light coming in through the window and create both warmth and drama in a relatively small space.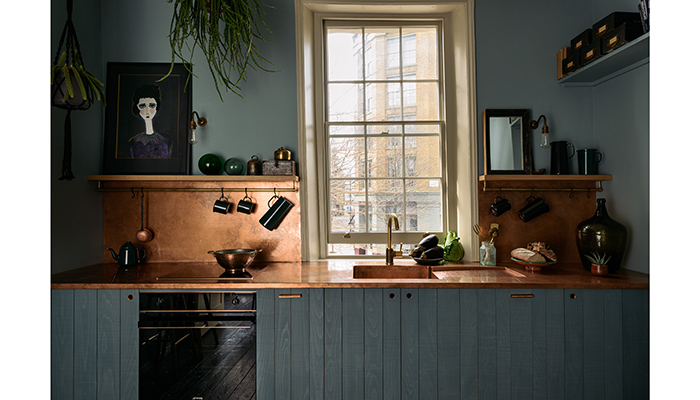 7. From Simon Taylor Furniture, this contemporary and luxurious kitchen features bespoke steel components, such as the brushed steel cabinet fronts and handles, a steel island, and brushed stainless-steel cooling appliances. LED lighting plays an integral part in heightening the perspective and accentuating the sleek finish of the steel cabinetry, adding a cool, shimmering effect.
8. From Ledbury Studio, this kitchen features a motif of aged Verdigris, which is echoed across different components of the design – aged copper panels are on the doors surrounding the oven, and aged brass handles adorn the island cupboards. The different textures create a layered richness with a contemporary touch, while adding a pleasing patinated effect in a variety of tones.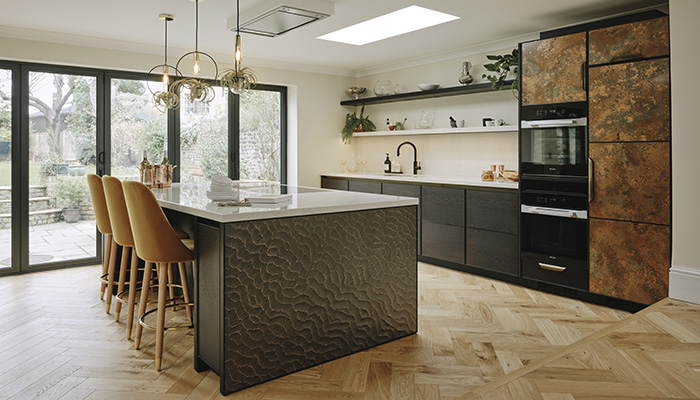 9. This design by the Main Company features brushed brass doors that work in conjunction with the tones of the surrounding brick walls and the artisanal concrete splashback. The combination comes together to create a vintage feel for the space, with the layered textures building a warm, rich atmosphere. In addition, the floor-to-ceiling windows opposite let in plenty of natural light, which accentuates the brushed brass components of the scheme.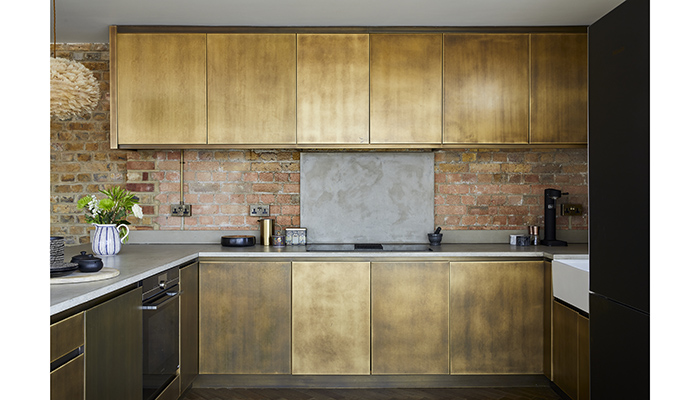 10. This kitchen from Rotpunkt introduces the company's Bronze door, formed from a bronze metal laminate solution, and featuring a brushed-metal effect. Handles can be colour matched with the door design in this bespoke Bronze finish, which also comes available in Carbon and Brass. This creates a shiny effect, which is extremely reflective when it comes into contact with light and helps to infuse luxury.