Paul Illingworth, design manager at tap and shower specialist Abode, reveals this year's key trends for kitchen sinks, along with which products the brand is set to release next.
The sink will be taking centre stage in 2023, and we are excited to announce the arrival of some great new products in Q1 to meet the demands of today's multifunctional kitchens. Our current bestseller is the Matrix stainless steel sink range, which harnesses the latest pressing technology to create precision-engineered shapes with almost square radiuses: ideal for the industrial look. In addition, we will be delivering classic ceramic sinks with a touch of modernity in 2023, offered in a range of contemporary hues, which allow the end user to personalise the kitchen living space to their own tastes and provide a high-contrast design feature in the kitchen. This new ceramic family will be available in 1.5 and a generous large bowl option, along with a range of specially designed accessories to enhance the wash zone.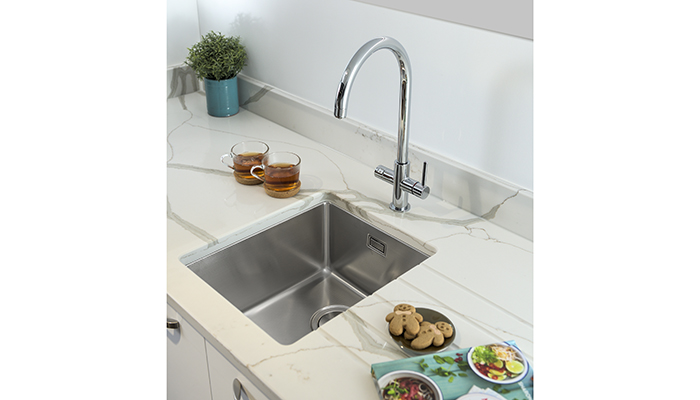 Managing workflow at the sink to optimise efficient food prep will be a big part of the work zone this year, which is why we are launching a fresh range of sink accessories that seamlessly coordinate with our new modern ceramics, stainless and granite sinks. System Sync will make tasks easier and more ergonomic for the busy home chef. Look out for integrated accessories such as chopping boards, colanders, and flex racks so that the essential food prep tool kit is designed to fit the sink perfectly for a much better end user experience. With the rise in cooking from scratch, consumers are demanding state-of-the-art sinks which maximise the available space and our latest products are especially designed to deliver this whatever the kitchen size – which I anticipate will be a real game changer for designers whether they are working with undermount, inset or inset flush mount options.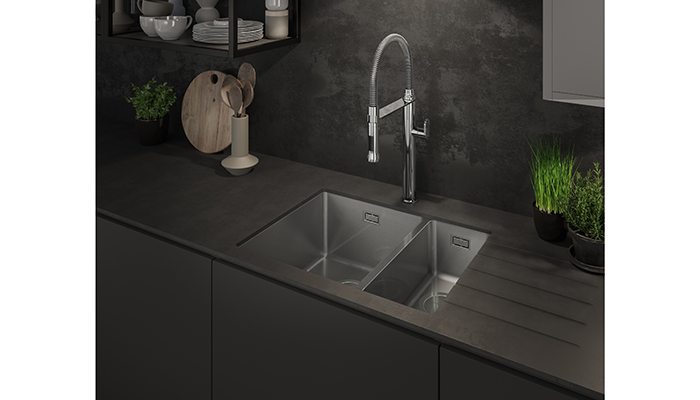 In fact, as the wellness trend continues to permeate the premium market, we have seen strong growth across our sink portfolio as homeowners reappraise the kitchen living area. Not only are they appreciating the importance of having a dedicated sink for handwashing or veg prep separate from the main sink, but they are also investing in larger sinks which can accommodate bigger pots and pans especially in conjunction with a steaming hot water or filtered water tap for enhanced cooking. With this in mind, we have designed a new Granite collection to meet demand. Delivering big bowl practicality with colour, flexibility of install and optimal workflow with the option of System Sync accessories, we are confident that it will appeal to discerning homeowners.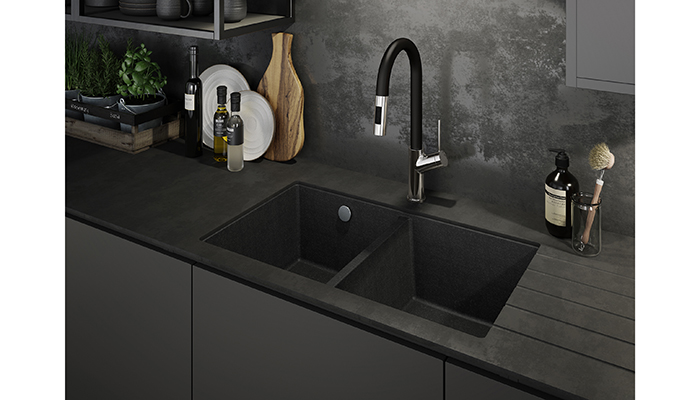 I feel there is plenty of scope for the composite granite market to grow and develop in 2023-4 as the kitchen becomes a more sophisticated and design-led space at all price points. When we look at the global picture for the kitchen sink market, metallic options comprise over 50.5% with granite, marble, cultured marble and composite marble taking up roughly a third. I think it is true that there can be more prestige attached to these types of sinks especially in the North American and European markets due to perceptions around luxury materials and possible the association of stainless steel with commercial use. That said, beauty is in the eye of the beholder and stainless steel remains the go-to choice.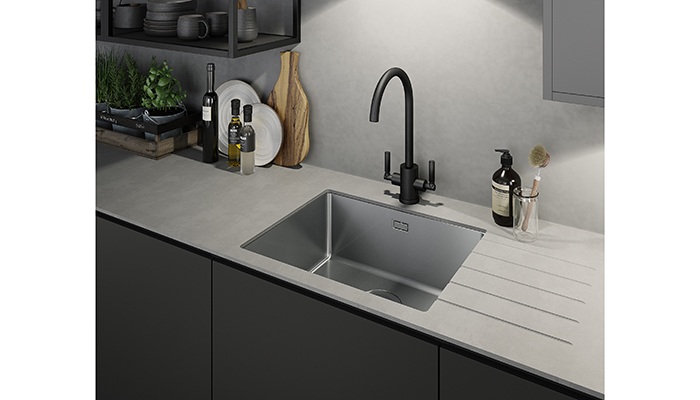 Stainless steel is not going to give up the lion's share of the market overnight and composite granite models are a relative 'new kid on the block' in comparison with the traditional ceramic sink – but this newcomer is definitely on the up. In my experience, consumers are prepared to invest more in a kitchen (including a sink) if they are in a forever home and the longevity and modern appeal of composite granite models can give it the edge over stainless steel for some image-conscious homeowners. Given the continuing appeal of industrial influence in the kitchen, it's not surprising that grey and black composite granite sinks are proving popular to complement this consumer-friendly look. The GR15 collection is one of our bestselling ranges with the Grey Metallic Granite model fast becoming a design icon.