Thinking of updating your showroom displays? Then you'll want to create a lasting impression showcasing products with a timeless appeal. Ashley Sinclair, specification and design manager for Sanipex Group, reveals the key trends that Bagnodesign can help retailers get on board with.
Like all fashions, bathroom trends come and go but it is the materials, colours, and finishes that offer an updated look, combined with a sense of timelessness that consumers are really interested in. After all, investing in a new bathroom is a big deal, in terms of budget and time, so trends that create a modern feel yet won't date the space too quickly are key.
We see this regularly in bathroom and washroom design for commercial situations, such as hotels. And therefore, the trends first seen in this sector can be a good indicator of what looks are likely to be popular and ultimately sell well for retail customers.
As the seasons change and retailers consider switching over showroom displays and updating stock ahead of a busy spring, taking note of current design trends in the bathroom helps ensure retailers have the products to support their unrivalled bathroom planning advice. Here are just a few of the trends we think will be big in 2023.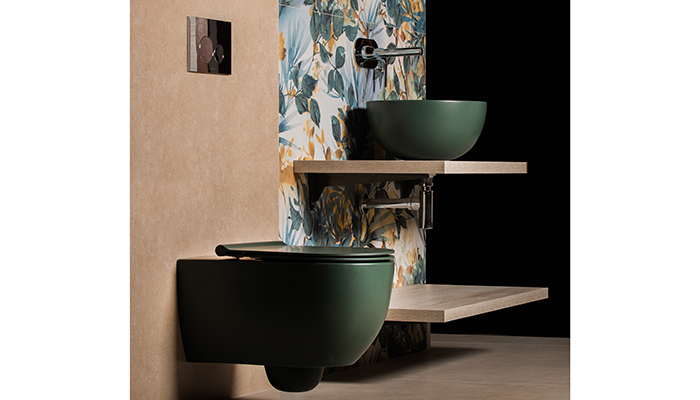 Colour
While white is a classic colour scheme in the bathroom with good reason, adding bold and bright accents is a fast-growing trend. After all, the bathroom is a space that is ideal for consumers to get creative with colours and themes. There is a real desire to add personality to the bathroom and colour offers a great opportunity to do just that.
As colour in the bathroom continues its huge resurgence in 2023, the Bagnodesign brand is at the forefront of the trend, making tapping into the look easy with our colourful Koy washbasins available in 10 shades, including Buttercup Yellow, Dusky Pink, Matt Green and Thistle Blue. This range really enables designers to mix things up with a statement bathroom set-up by pushing creative boundaries of a vibrant bathroom space.
This trend also provides lots of opportunity for independent retailers to create eye-catching window displays with colours that really pop and entice passers-by in to find out more.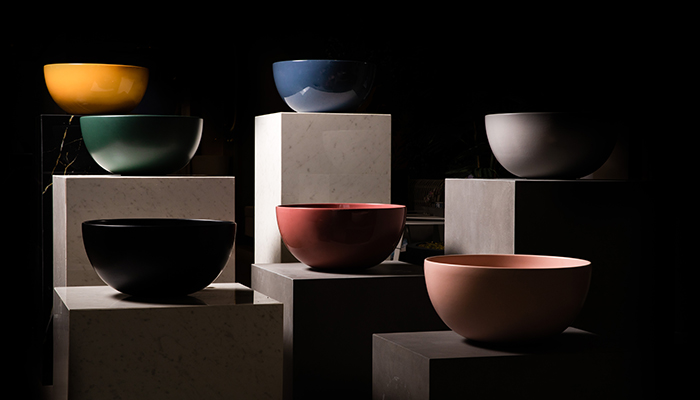 Retro inspiration
In something of a contrast to a brave use of colour, many consumers are seeking out the familiar for their bathroom design. A lot of comfort can be taken from this look, and at a time of such great uncertainty it's no surprise really that 'old-fashioned' elegance is doing so well.
The retro-inspired look is now super-trendy and was certainly the inspiration for the Bagnodesign Stereo FM range, which has proved hugely popular. This is a range that epitomises the trend, with brassware designed to look like an old-fashioned radio that needs to be tuned. As such, it celebrates the essence of a period that catalysed a new wave of innovation, unbridled creativity, and optimism.


Brassware finishes
Finishes in the bathroom continue to be a huge story and one that is driving the Bagnodesign brand growth. By offering a wealth of fashionable finishes, including our innovative Zanzibar, Soft Bronze, Brushed Nickel and Anthracite, across our brassware collections we're at the cutting edge of interior design trends.
The perfect way to evoke a sense of luxury, such brassware finishes inspire creativity in bathroom design and are most definitely a trend that has now becoming a mainstay.

Bespoke elements
Having mentioned earlier the desire among consumers to add personality to a bathroom, the trend for bespoke design taps into this too. Daring to be different is no bad thing, particularly as no two homes or bathrooms are the same. Offering a tailor-made approach creates a high-end, seamless finish, a service that is made possible with ranges such as Bagnodesign Alpine. Cut from slab tiles this offers unlimited options and really does achieve something different.
Ultimately, domestic bathroom design in 2023 is focused on creating a space to linger. The trends that achieve this are those that we'll likely be reflecting on as our bestsellers at year-end.