Hugh and Howard Miller of H. Miller Bros reveal how they worked up a serene scheme featuring warm British Elm cabinetry and cool White Attica Caesarstone surfaces to meet the brief of a client who had fallen in love with Japan on her travels. Photos by Robert Holmes.
Q: What type of property was it in and what was the brief for the project?
Hugh: The 'Siatama Kitchen' was designed within a contemporary extension space in an Edwardian family home located in West Sussex. Our client had previously lived in Japan and developed a love of the country's culture and food. Living back in the UK, now married and with two young sons, she wanted a family kitchen that reminded her of their love of Japanese design. Included in the brief was a pantry cabinet, so frequently used ingredients and small appliances could be close at hand, and a place to display special items. They also expressed a desire for a statement island that would enable them to cook, supervise homework and socialise together as a family.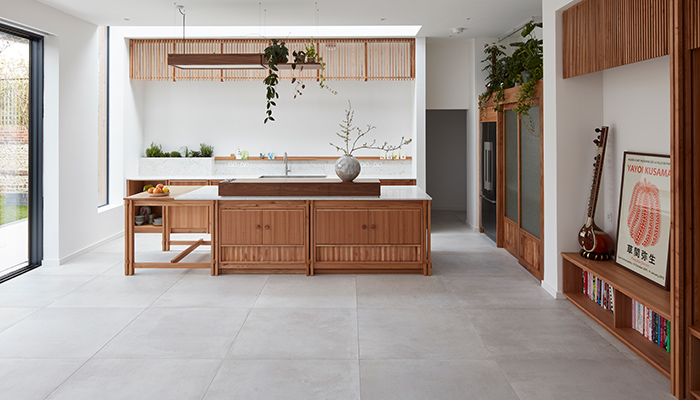 Q: How did you go about meeting the brief?
Howard: We drew on Hugh's experience of Japanese craftsmanship from his travels and research in the country and applied the specialist cabinet-making traditions he had learnt using his prized Japanese antique woodworking tools to handcraft the cabinetry in our Liverpool workshop.
The large, central island was designed to be open-ended with a wood worktop to provide a casual dining, coffee and homework area. The slats are part of a lighting scheme that runs around the whole kitchen – they are inspired by Japanese shoji screens which are a signature of our bespoke designs. Hidden light tracks behind the slats create shadow patterns on the ceiling.
A long run of waist-high cabinets was designed to run along the back wall to house the sink, bin drawer and cabinet storage. The pantry and fridge sit next to each other, providing a single location to collect and store ingredients and produce. Bridging between the sink and pantry was a huge island measuring 3.6m long, that contained a set of lined drawers for pans, spices and utensils, as well as a special drawer for baking that is lined with a digital scale and measuring cups.
To answer their brief to design a place to display special items from their time living in Japan, we created a 'tokonoma' – a large piece of fitted cabinetry between the kitchen and living room, where the family can display their most treasured possessions. Cookbooks are stored under a bench seat at the bottom, and mood lighting is hidden under the 'shoji-screen' at the top.
The eye-level pantry allows the family to access their most-used equipment and food in one place. To keep the kitchen clutter-free, the pantry features obscured wired glass on the door fronts that also provide contrast and interest situated next to the stainless-steel Fisher & Paykel fridge-freezer which sat in a specially lined nook so that it felt part of the design.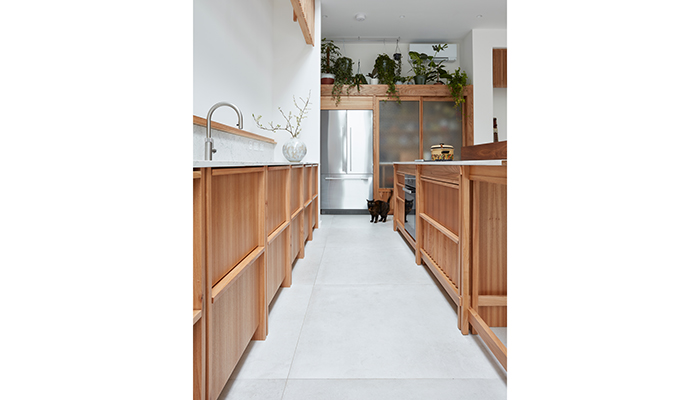 Q: What type of cabinetry did you choose and what made it the perfect choice?
Hugh: The kitchen is made of British Elm. It is a beautiful honey-coloured timber but unusual and we sourced the timber as a single tree that was delivered in raw planks with the bark still attached. This rough-sawn stock was machined, jointed, and hand-finished in their Liverpool workshop.
The island frame was made using traditional Japanese jointing techniques, with the legs made in four square staves that were based on the traditional Japanese measurement unit of one 'sun'. The island was also designed to be open-ended with a wood worktop to provide a casual dining, coffee and homework area.
The island drawer fronts, and the base of the pantry doors, feature an intrinsic wooden chevron design to add texture and help blend the space between the kitchen and living area. Furthermore, this detail catches the light and creates areas that are bright and shaded in the kitchen. We're a traditional furniture-making workshop so this sort of detail, which requires precision and craftsmanship, is just the sort of thing we love. Because we make everything by hand, incorporating these sorts of details is really where we get to stretch our design muscles and develop unique ideas that we've never done before.
Q: What materials did you use?
Howard: White Attica Caesarstone worktops, with delicate, blue-grey organic veining, were chosen to complement the natural, organic beauty of the handcrafted British Elm cabinetry. The quartz also provided a sophisticated, polished look with definition across its flawless white base. We love to add unusual and playful moments into our kitchen designs and the yellow vinyl in the base of each drawer does just this. It's also hygienic and easy to clean.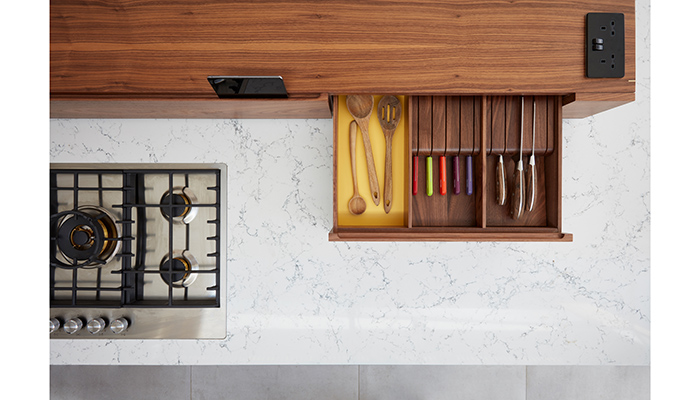 A Miele oven and dishwasher were fully integrated into the cabinetry, and a Fisher & Paykel fridge-freezer sat in a specially lined nook so that it felt part of the design. We also included a KitchenAid induction hob into the island.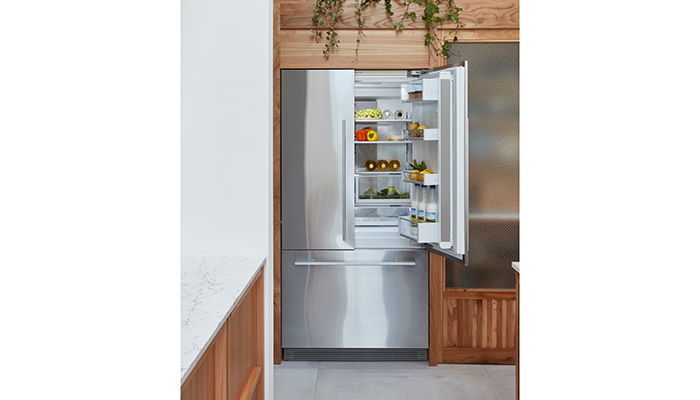 Japanese-inspired pottery pieces from Liverpool-based ceramic artist, Attila Olah were commissioned to form part of the design. Attila is also heavily influenced by Japanese craftsmanship and ceramic design and his flared vases, carafes, stoneware bowls and plates in a range of natural and blue tones provided the finishing touch to this unique and special project.
Q: What were the challenges that you faced and what were your solutions to overcome them?
The new extension space had very high ceilings and stretched across the rear of the property, so it was important to create a kitchen-living space that had a sense of atmosphere and intimacy. To answer this, we included biophilia features within the cabinetry such as the indoor Herb Garden, a Japanese plant display and a bespoke hanging light over the island that is covered in Japanese washi paper to create different zones, interests and ambience in the space.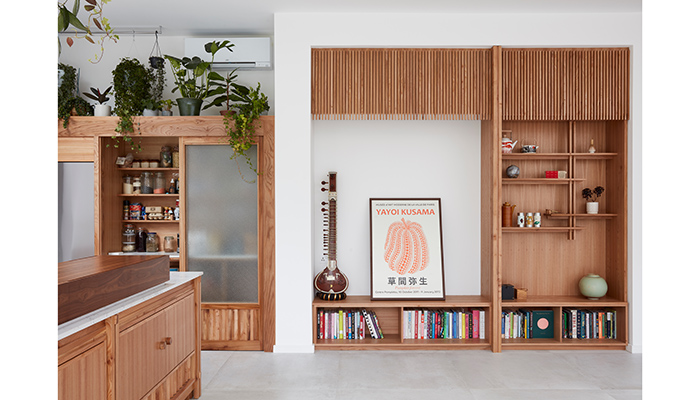 Q: What is the client's favourite part of the finished project?
Hugh: That each aspect of the design has a personalised, specific purpose for the family. We work closely with the clients to understand how they wanted to live in the space, so we could make sure everything they want to store in the kitchen has a place, and nothing was forgotten. For example, we planned a dedicated space for their huge spice collection, a baking drawer with divided parchment nooks and some solid walnut knife blocks, amongst many other features. Not only does this keep everything organised and easy to find, but it also keeps the space looking beautiful and a joy for them to use.