A sophisticated and stunning choice of worktop for any kitchen décor, marble-inspired surfaces continue to be on-trend, with two new launches from CRL Stone tapping into this luxury movement.
Bold patterning and intricate detailing unite with Palermo and Lava Black from the CRL Quartz collection. Distinctively different but wonderfully aligned, these hard-working and visually striking surfaces turn the worktop into a work of art.
Opulence and luxury in interior design is defined with Palermo. A crisp white background is the perfect setting for bold, veining that adds instant character and eye-catching detail to any setting. Inspired by nature, the quartz surface elevates any interior into a fresh, sophisticated space. Bookmatch options are also available, to create the glorious look of marble in large spaces.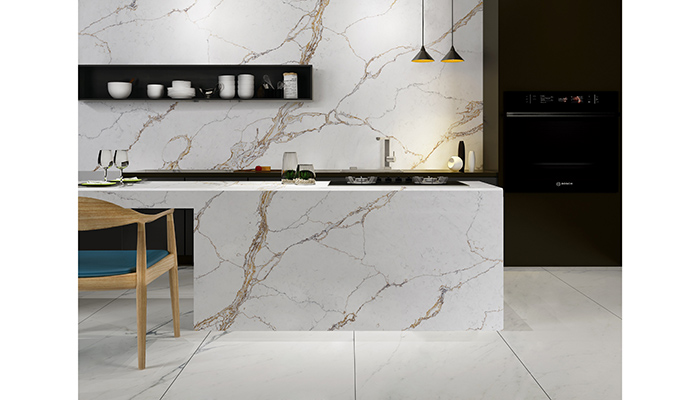 Responding to the shift towards darker shades in interior design, Lava Black sits at the opposite end of the colour spectrum, giving a sophisticated take on what is a design classic. This dramatic surface offers a blank canvas for adding contrasting colours, eye-catching materials and tactile finishes. These CRL Quartz surfaces feature dramatic patterning, inspired by stones found in nature, designed with modern trends and modern lifestyles in mind.
Palermo and Lava Black are just two of a series of new additions to the CRL Quartz range for 2023, with more inspirational colours to come.
CRL Quartz is an ideal material for use in any setting, including kitchens and bathrooms. Highly resistant to knocks and impacts, it is heat, scratch and stain resistant, and no extra care or special products are needed to clean it. Stains can be removed with water or mild cleaning products and, because it is a non-porous surface, the build-up of bacteria or mould is prevented, making it hygienic and easy to maintain. As such, CRL Quartz is the ideal way to offer consumers the durability and style they are looking for from a worktop.
For more information call CRL Stone on 01706 863 600 or visit www.crlstone.co.uk.