The UK's only event dedicated to surface material innovation, the Surface Design Show, took place at London's Business Design Centre on 7th - 9th February. More than 150 exhibitors plied their wares, offering a feast of visual and tactile stimulation to an audience of designers, architects and industry professionals. Amelia Thorpe rounds up 5 key trends from this year's show.
1. METAL
Exhibitors specialising in patinated metal finishes (both sheet metal and liquid spray form) were hard to miss, with at least half a dozen stands showcasing striking designs suitable for kitchen cabinet door fronts, as well as wall and door panels and table tops, from Novocastrian, Metal Clad, Innometal, Capisco and more. "Patinated brass is timeless, so always in demand, but we are also seeing interest in distressed stainless steel, which has an added depth to the classic metal," says Richy Almond, founder of Novocastrian. "We are also seeing more mixing of metals, including darker tones for extra interest."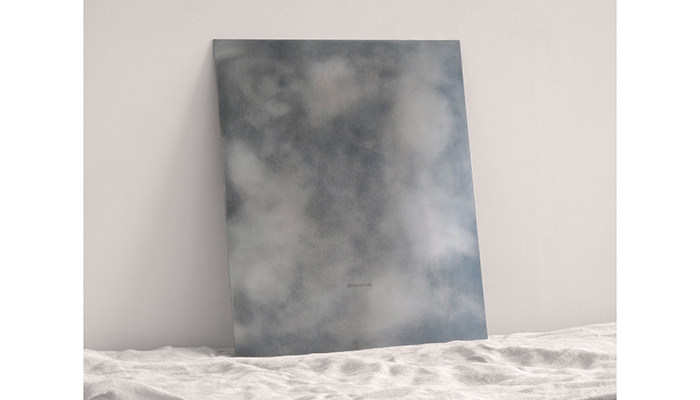 2. FLUTED FINISHES
The interiors world's interest in reeded surfaces of all kinds shows no sign of abating. Antique mirror specialist, Rough Old Glass, showcased its silvered vintage fluted mirror glass. "There's no slowdown in people purchasing antique mirror glass for splash backs, but we are also seeing interest in new designs, such as the fluted finish – it reflects light beautifully and adds a great sense of texture," says founder, Charlotte Hunter.
More fluted designs included solid wood reeded panels from The Surface Studio, Salsa tiles from Natucer and Gredos Tiles from Tau, both at Tile of Spain, and immaculately ribbed natural stone forming part of the Stone Tapestry display, designed by Squire & Partners to highlight the versatility of stones from the British Isles, including those from Britannicus Stone, Albion Stone and Burlington Stone.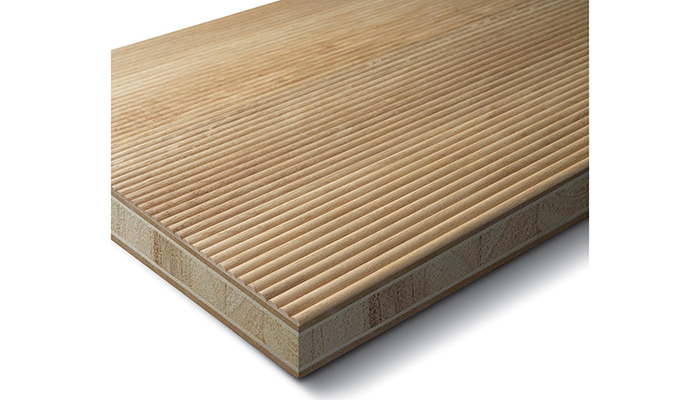 3. SEAMLESS SHOWER WALL COVERINGS
Several exhibitors showed off seamless surface finishes, applied by trowel and designed as an alternative to tiles, with waterproof options specifically designed for use in shower areas and wet rooms. They included cement-based Cemher from Relentless Microcement, lime marble plaster mix Puramente from Frescolori and lime-based Tadelakt from Clayworks.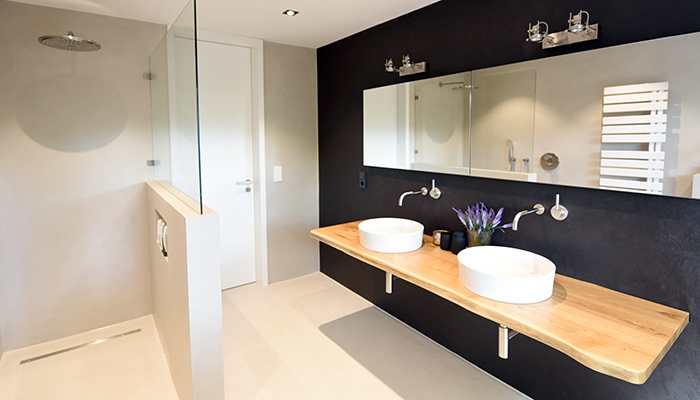 4. NEW TILES
Several tile manufacturers, including Mirage and Grestec, showed off the versatility of porcelain, fabricated into basin vanities with matching wall tiles. Sales director Luke Thurtle of Grestec highlighted other key trends. 'We aren't moving away from greys, taupes and beiges, but we are definitely seeing a move towards warmer tones of these colours,' he says. 'Stone effects are also still popular, but the move is from classic marbles towards replicating rare stones. While some of these natural stones are rare to the point of extinction and very expensive, say, £3,000m sq, they are achievable in porcelain – from around £80m sq.'
At Tile of Spain, the 'earth' colours emphasised by Luke Thurtle at Grestec were also very much in evidence, as well as a definite focus on blue and green for bathroom tiles.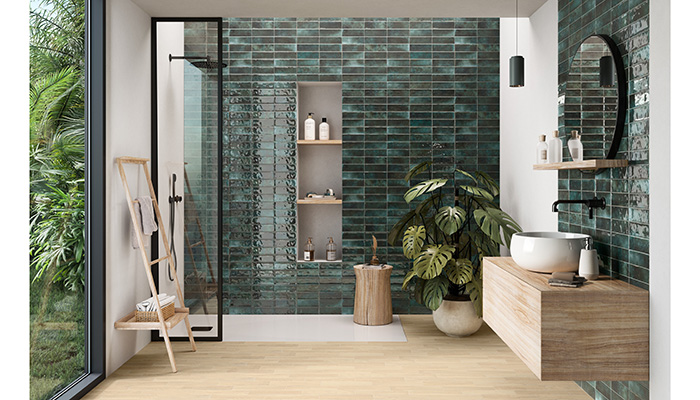 5. SUSTAINABLE MATERIALS
It was good to see the overall emphasis, throughout the Show, on sustainability, with a wide range of options. Organoid is a producer of natural (and naturally fragrant) surfaces, made from materials such as hay, hop cones, cornflower blossoms, flower petals and pine needles, mixed with an ecological binding and agent and then pressed together into a thin layer. They can then be sealed with conventional oils and varnishes to make them water, scratch, light and abrasion resistant, and used for cabinets, furniture, flooring and acoustic panels. Spyros Kapsalis of Organoid UK says, 'People want to touch and smell this material – they are always drawn to it.'
Smile Plastics makes its surface material from 100% recycled plastic packaging. It is a useful solution for bathroom countertops since it is waterproof and mould resistant (less good for kitchen worktops, because it can't be used near the heat of the hob). More recently, it has launched its Heron surface, flecked with soft grey tones, ochre and black on a white ground, made from recycled white goods and available in 5mm, 12mm, 20mm thicknesses.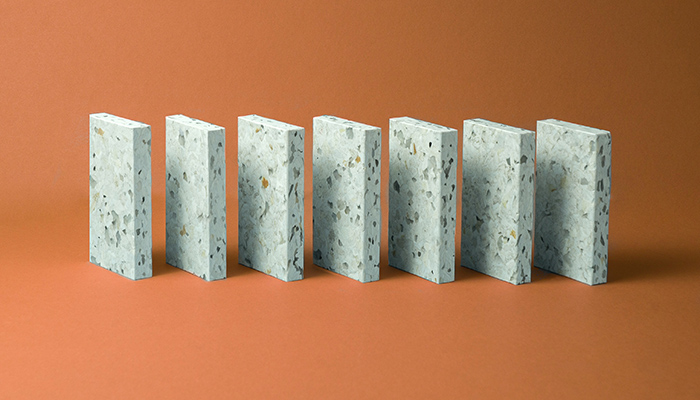 Also worthy of note: Tomas & Jani, who are busy making richly-coloured surfaces and furniture from used coffee grounds and coffee bean husk, and to surface designer Emily Hatton, who specialises in three-dimensional surfaces in wood, eco-resin and waste materials.