Smeg's exciting new range of Neptune Grey built-in appliances offer a minimalist design look whilst creating professional quality food in the comfort of your own home. Representing a true expression of 'Made in Italy', the simplicity, ergonomics, and balance make Linea a sought after aesthetic. Complete with innovative technology, stylish Neptune Grey ovens, warming drawers, wine coolers, hobs and hoods offer a fully cohesive and modern kitchen design.
Offering an understated alternative to the stainless steel or the black, Smeg's latest Neptune Grey colourway has been applied to its array of Linea built-in ovens, its Area induction hob, and its Linea extractor.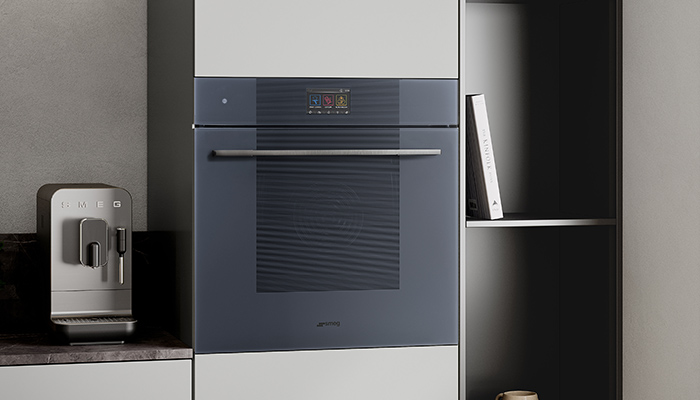 Smeg's Linea Built-In Ovens
Available in 9 different formats, the choice between 45cm and 60cm provides tangible space saving improvements and full customisation options when creating your perfect kitchen aesthetic. With optional extending telescopic rails, airfry, bbq and pizza stone accessories available, you can take your cooking to the next level in the comfort of your own home. With Pyrolytic and Vapour cleaning functions, cleaning has never been easier as the need for cleaning chemicals is removed.
Part of Galileo, the revolutionary new platform of Smeg ovens, SpeedwaveXL models combine traditional cooking and microwave in one appliance. With a thermostatically controlled grill, accurate temperature control, and Circular and Eco Circular airflow system, you can speed up cooking time by 40% and ensuring no flavour transfer between dishes.
Also available in the new colourway is the Smeg top of the range Omnichef. Combining steam, microwave and traditional cooking in one appliance, cooking is simpler, more convenient and up to 70% quicker. The smart cooking function offers an impressive 150 automatic recipes to ensure outstanding professional cooking results. With the 3 tip probe and the clever fill and hide water loading system, the oven is designed to ease and simplify cooking experiences.


Smeg's Linea Induction Hobs
Smeg's most intelligent hob, the Area induction hob, allows you to have complete freedom and control when moving pans across its surface. Using Follow Pot technology, heat is only generated when the pan comes into direct contact with the hob to optimise power consumption and ensure a safe environment when in use.
With Multizone operation, the cooking zones can be used as two independent cooking zones or combined into a single zone. Each zone automatically adapts to the size and position of the dishes and is heated only where the pans locate, providing better heat distribution. With each zone featuring a slider control plan, this is offers a simple and convenient method of adjusting heat levels.


Smeg's Linea Hoods
Not only does the new Neptune Grey range tie together via its aesthetic, but also with its ability to provide smarter cooking. Using AutoVent 2.0 technology, this smart Bluetooth system can pair Linea induction hobs and hoods together so the cooker hood will automatically adjust its extraction speed to match the hob settings and pan temperature. This allows you to have full control over food preparation and creates a safe kitchen environment.
With four available speed options, an extremely efficient perimeter extraction feature has been added to draw in vapours rapidly, then decrease in speed once inside the extraction fan, reducing noise. To limit energy consumption, an automatic switch ensures the hood turns off when no longer needed. Finished with easy to clean Neptune Grey tempered glass, a sleek angled design, and an adjustable white LED light, the hood the perfect touch for creating a minimal and contemporary kitchen aesthetic.