According to a recent poll commissioned by the BMA, three-quarters of British adults try to use water wisely whenever they can, with 75% of respondents stating that they recognise their individual responsibility to save water. So with the issue of water efficiency increasingly resonating with consumers, where does that leave those who have an eco conscience, but love a long soak in a tub, or simply don't consider a bathroom scheme complete without one?
"There are many options available that mean you can be eco-conscious without having to compromise on style," says Bette head of marketing, Sven Rinsinghoff. "There are a wide range of baths, both freestanding and fitted, that have smaller water capacities."
Bette offers some baths that are shallower, but still offer a comfortable bathing experience. Its BetteOcean Low-line baths are less deep to reduce the amount of water used, and its trapezoid BetteSpace fitted baths also help save space. The BetteStarlet Oval Silhouette, pictured above, is a striking freestanding option measuring 1650 x 750mm and with a volume of only 92 litres. Added to that, it is made from glazed titanium steel, which is long lasting and 100% recyclable.
"Water efficiency is essential to many consumers, especially those on water meters," says Margaret Talbot, marketing manager for VitrA. "Choosing a bath with shallower proportions can represent a considerable saving in water and the energy used to heat it. Baths that actively retain heat also avoid the need to top up to keep warm."
VitrA's Balance bath combines a shallow 38cm depth with an increased recline for a luxury feel.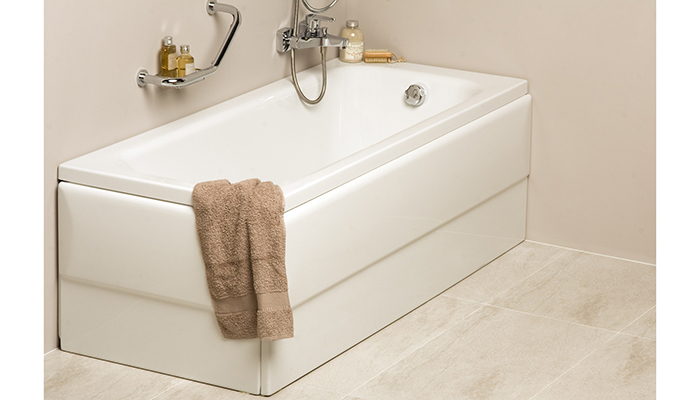 "When it comes to the desire for a luxury bath, our Volute cast iron bath is designed for those who want freestanding in their dream bathroom, but don't have the space for a standard size," says Amanda Turner, associate product manager for Kohler UK. "The smallest bath in this range measures just 1600mm for a more compact option that still looks beautiful and contemporary."
"Our two lowest volume baths are the Cabrits with a capacity of 176 litres, and the Shropshire at 159 litres," says Emma Joyce, brand manager at Victoria + Albert Baths. "Added to that our baths are made from Quarrycast, which is proven to have 3.2°C more heat than cast iron over an hour period."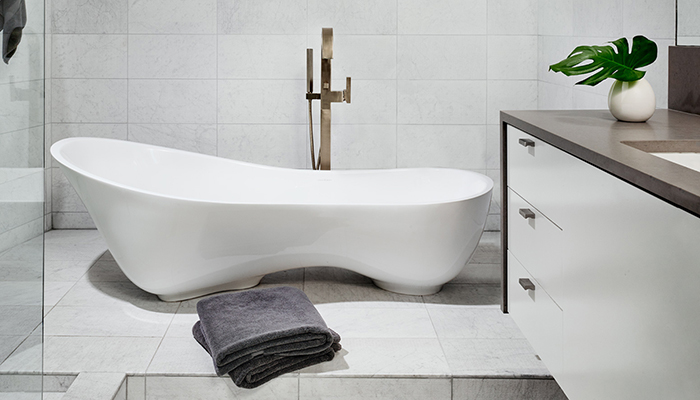 Other small but statement baths are coming to market all the time. C.P. Hart has just added the new Era range from Cielo Ceramica to its portfolio – a collection of elegant compact solutions with angular elements designed by architect Luca Cimarra that features a neat but stylish tub measuring 1400 x 800 x 570mm.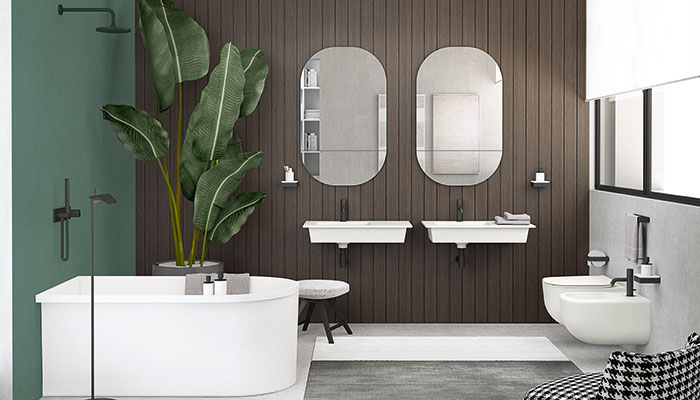 Another range characterised by clear geometric forms and slim edges is Laufen's Val collection designed by Konstantin Grcic. The oval freestanding bath is a smaller model but still has great impact.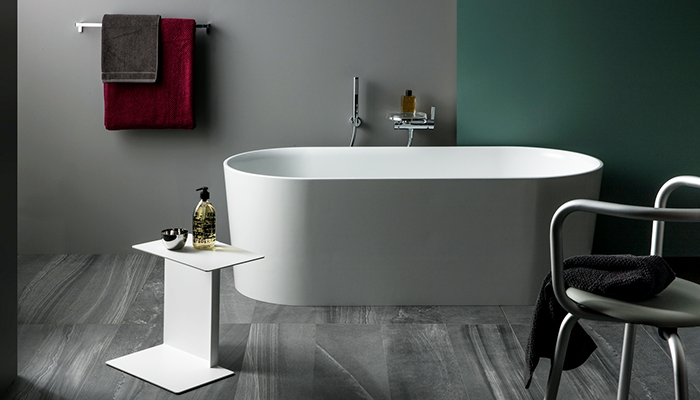 While consumers are starting to prioritise sustainability more, Lee Frost, director of Waters Baths of Ashbourne, believes that retailers and designers have a part of play in encouraging their clients to select a more sustainable option. "It may be that at the initial design stage, few consumers will put water efficiency or sustainability at the top of their wish list – it will be more about the form and functions of the room, tallied with an overall aesthetic. But if consumers are presented with choices by the designer that fit with their wish list, and that benefit both them and the planet, they'll have the chance to make an informed choice," he says. The brand's Space collection features smaller capacities and footprints, but is designed specifically to capture the statement feel of a freestanding tub.