Will Lyne, MD of bespoke kitchen and interiors specialist Christopher Peters, reveals how he used a timeless blend of traditional and modern styles in the revamp of a period property, and created a family kitchen by drawing together a large space with homely touches and a clear focus on functionality.
Q: What type of property was it in and who was the project for?
A: It was a period property that required a lot of renovation and modernisation, for a family with young children.
Q: What was the brief from the client for this project?
A: They wanted to create an open-plan family-friendly space for the kitchen and dining area, while blending old and new together. The utility room needed to be functional and provide ample storage and the boot room needed to house lots of school and sports gear.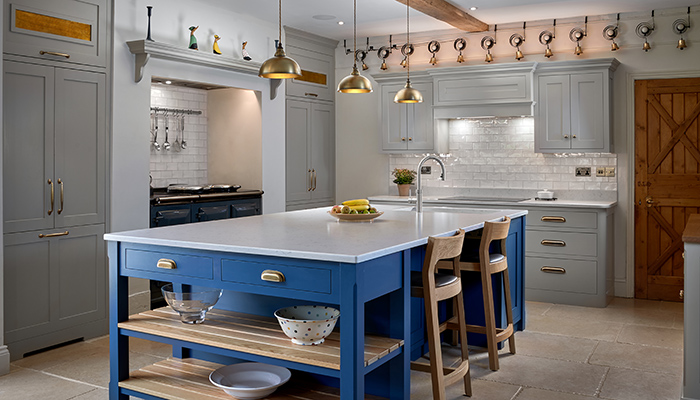 Q: How did you go about meeting the brief?
A: The kitchen cabinetry layout was designed to flow easily and be sociable. We incorporated both an Aga and conventional oven to blend traditional and modern, as well as working cabinetry around existing period features such as the original servants' bells. The utility housed a full-height integrated fridge and freezer to give extra food storage, as well as a wealth of open wall shelving and, wooden vegetable drawers. The utility room featured hanging hooks and shoe racks as well as individual locker-style cabinets for the children's sports and school gear.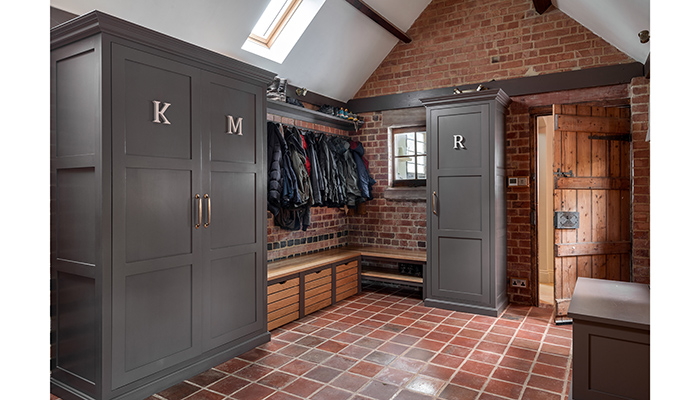 Q: What type of cabinetry did you choose and what made it the perfect choice?
A: We selected our own cabinetry in a traditional Shaker style with oak interiors – so traditional and classic. Being bespoke meant we could design cabinetry that suited the family and the space exactly, rather than being restricted by set carcase sizes and heights.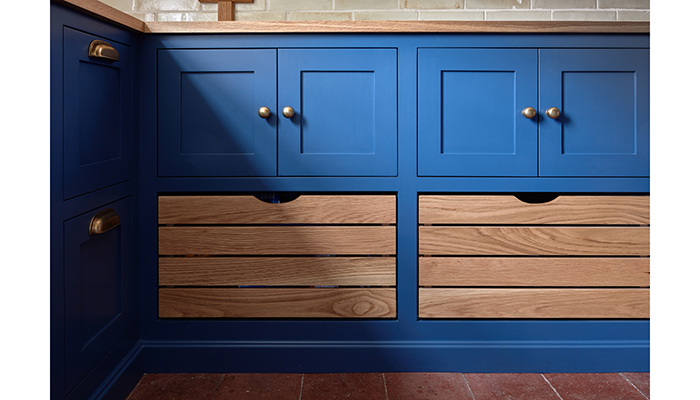 Q: How did you go about zoning the open-plan space?
A: We kept the end of the island open, with shelving to display crockery and books, which takes away the heaviness of looking at a solid island-end and also links with the built-in bookcase in the living space. The fireplace with the bespoke designed log store in the dining area helps that space feels more living than kitchen. We used colours throughout that complemented each other and tied the scheme together, whilst still giving each space its own identity.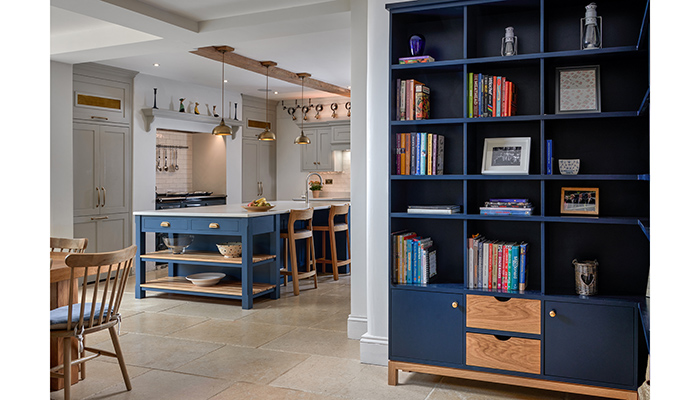 Q: What materials did you use? Did you use anything different or unusual?
A: We used Silestone Lagoon Quartz for the work surfaces, but in a suede finish, rather than a polished one, which gives it a softer, diffused look. We also used bespoke brass grilles from Armac Martin in the kitchen to link with the existing metal bells. We made custom wooden vegetable boxes for the utility room and show boxes in the boot room, as well as a storage trunk for kit.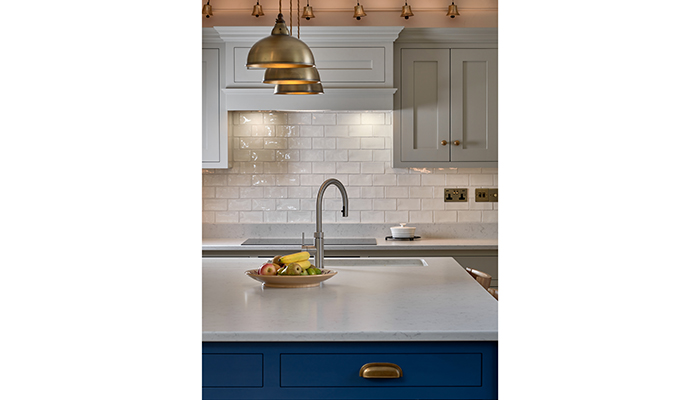 Q: What were the particular challenges that you faced?
A: Period properties always bring the odd challenge due to unusual lines etc, but this is where our furniture comes into its own and our team of fitters are well versed and experienced in overcoming any obstacles that arise – particularly during a renovation.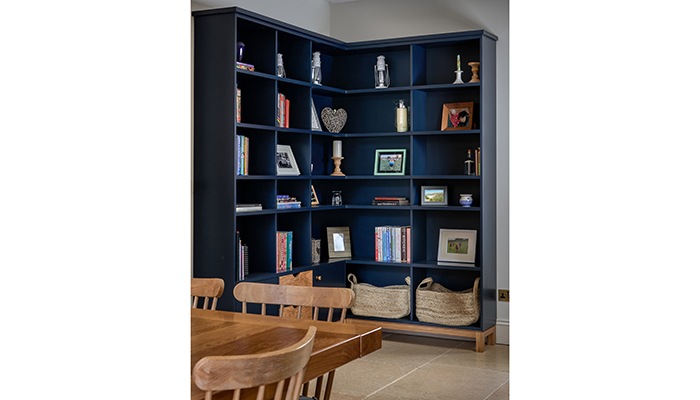 Q: What is your favourite part of the finished project?
A: We love how our furniture sits so well in the space: like it has always been there. We particularly like the open-ended island, the counter-top breakfast cupboard and the bespoke brass grille detail to cabinetry and how we utilised the chimney recesses for full-height cabinets.
Q: What is the client's favourite part?
A: They were particularly happy with how functional the space is and how much storage we created. The kitchen is timeless and the whole kitchen, dining space provides great family space as well as being perfect for entertaining. The bookcase adds interest to an otherwise blank corner, as well as providing storage and a space to display sentimental items.