Jade Eaton, design consultant at Et Lorem, reveals why her personal style is Scandi and Japandi, and explains how clean lines, natural elements and neutral colours can create calming and welcoming kitchen spaces.
Q: What defines Scandi or Japandi design?
A: Scandi design is characterised by minimalism, functionality and a strong connection to nature. In kitchen design, the minimalist element of Scandinavian style emphasises clean lines, natural materials and a sense of light and space. This beautiful simplicity creates stunning spaces that can be appreciated daily.
The functionality of Scandi design ensures that kitchen spaces designed in this style, are highly practical and have efficient solutions for all of the functional requirements of a kitchen; efficient, attractive storage, easy- to- use appliances and well organised workspaces all contribute to the high functionality of a Scandi kitchen.
Finally, the connection to nature within a Scandi design is key. Natural elements such as real woods and natural stone, styled with lots of plants or natural fibres, can create a calm and airy atmosphere which contributes to the overall feel of the kitchen space. Using large windows or skylights to let in natural light, further helps to connect the kitchen space with the outdoors. I often take inspiration for a kitchen's colour palate, from nature in view.
The Scandi style has been further enhanced through a fusion with the key elements of Japanese design. Japandi style combines the simplicity and functionality of Scandinavian design with the elegance and sophistication of Japanese design. Balance and harmony is strongly emphasised in a Japandi style kitchen, where elements such as symmetry create a feeling of calm and a combination of light and dark colours or textures, create contrast and interest.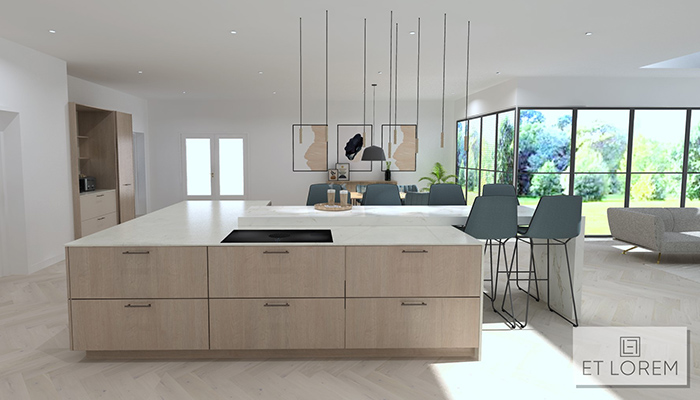 Q: What are the advantages of designing a space in this style?
A: Both Scandi and Japandi styles have a timeless quality. The simplicity and minimalism of both styles have no need for the addition of unnecessary objects, which can make a space feel dated over time. As functionality and tidy storage is key to both design styles, the space will always feel and be, practical.
One of the things I love the most is that both styles offer the opportunity to use natural materials, tones and textures, that can be the more sustainable choice. Timbers, stone, and metal are not only beautiful but also durable and long-lasting. I'll always design a kitchen that I believe can be enjoyed for generations.
Q: What are the pitfalls designers should avoid?
A: Designers should avoid over complicating the design. Simplicity is key, so avoid unnecessary features; stick to clean lines and focus on minimalism and functionality. They should also think carefully about the colour palate. White is a signature colour of Scandinavian design, but overuse of the colour could make the space feel sterile and cold. Remember to include wood tones and textures to help create an inviting and cosy atmosphere. If you are set on white furniture, explore some of the warmer white tones available and layer with other neutral colours. The same is true of Japandi design; warmer whites will work much better alongside the earthy tones associated with this style.
Q: What are the key pieces of advice you give to homeowners when they embark on a kitchen project?
A: I'd always advise someone starting a project to consider using a kitchen design specialist. The guidance they can offer through the entire journey is invaluable. They should take time to find a designer who will hold their hand through the process, and who listens carefully to preferences and requirements. They also need to make sure they start the design process as early as possible. As soon as planning permission has been approved – this is the right time to start planning what they want from a space, with a designer by their side.
I always encourage clients to have an open mind when it comes to design possibilities. Amazing kitchen design is about collaboration. A kitchen designer will spend lots of time getting to know them and the way they see themselves spending time in their new space. When they are guided through all of the options, the final design may end up being something completely different from what they initially had in mind!