Midlands-based Intrinsic Works is a furniture manufacturing company with an offering that works for KBB retailers tackling whole-house projects – founder and MD Steve Chaney-North explains.
Q: Tell us a bit about Intrinsic Works – how did it start and what is the company ethos?
A: I founded the company in November 2018 – we manufacture custom fitted furniture for bedrooms, home offices, and living areas for the trade. I had started working in the industry at only 15, moving through the production process learning every element, from delivering to operating CNC machinery, and installing custom-made furniture – all of which proved to be invaluable when I made the decision to invest everything I had into building my own business.
After buying a plot of land, I had a purpose-built facility designed and constructed. In order for the company to succeed, every part, from equipment to suppliers, had to be the right fit and despite the Covid pandemic hitting the business in its infancy and closing production for six weeks, the company has thrived and grown rapidly.
We are now 4 years on and equipped with the latest Homag machinery, the best software solutions, and materials and components sourced from industry-leading suppliers. The key to our success is our combination of highly developed systems, our drive for innovative development, and a dedicated team with a wealth of knowledge and expertise enabling us to produce the finest quality furniture.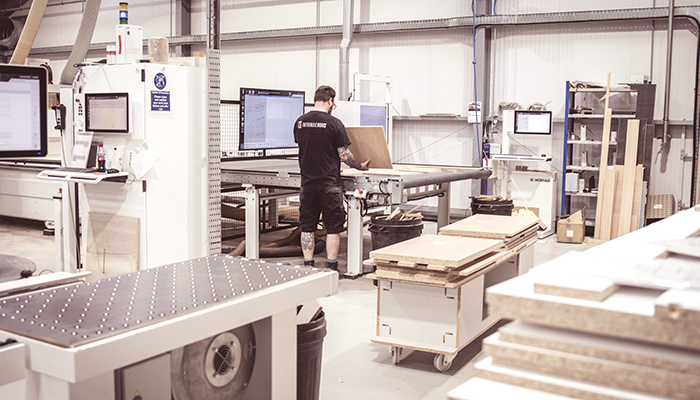 Q: What solutions does Intrinsic Works specialise in?
A: We believe 'Your design is our standard' – the flexibility of our manufacturing along with high accuracy allows our customers to design truly bespoke living spaces without being restricted to off-the-shelf standards.
Whether it's a project that needs to utilise the space effectively, an area that requires decors and textures combined with made-to-measure functionality or simply a room with odd angles, we can take a drawing and measurements and build furniture that will perfectly fit the space. We will go the extra mile to resolve any design challenge our customers face, ensuring the best solution for even the most awkward room or complex project.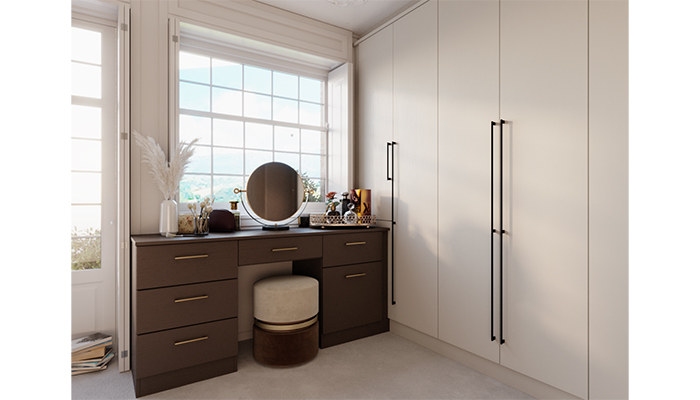 Q: What is your most in-demand product and what trends are you seeing coming through?
A: There has been a real increase in dressing rooms that are solely dedicated to the purpose of dressing. Customers are seeking luxurious spaces for clothing to breathe, accent lighting, and smart storage solutions, putting the emphasis on elegant displaying rather than storage. Some popular choices we have seen include intelligently illuminated cabinets with tinted glass fronts, lifting systems that provide functionality without compromising on design, and LED lighting solutions with PIR sensors to enhance displays.
Recent technological advancements have made media walls increasingly popular as well. With the rise of electric fireplaces, the two prominent living-room features – the TV and fireplace – can now be combined into providing a feature in a living space, creating a centralised hub where a smart television, speakers, and game consoles can be stored.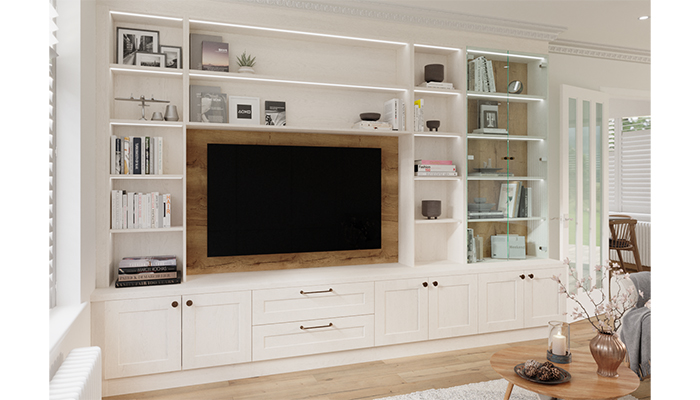 Q: Why is the company of particular interest to KBB retailers and designers?
A: We have the flexibility of sizes and styles, all of which can be manipulated to create individual solutions for any project regardless of its complexity, so in essence, we can do the things other furniture manufacturers cannot. Our offering covers an extensive range of the best quality board collections from Egger and Kronospan to name just two; Blum fitting solutions; edged, vinyl, glass, and sliding doors; versatile lighting options; and the latest design in handles and knobs. We meticulously check every item that leaves our facility, ensuring it is protected and clearly labelled ready for installation.
Additionally, we have joined the ArtiCAD supplier partnership programme, so as well as streamlining their order process, our trade partners can enhance their design presentations to their clients. Retailers and designers can really benefit from incorporating furniture solutions into their designs with our services.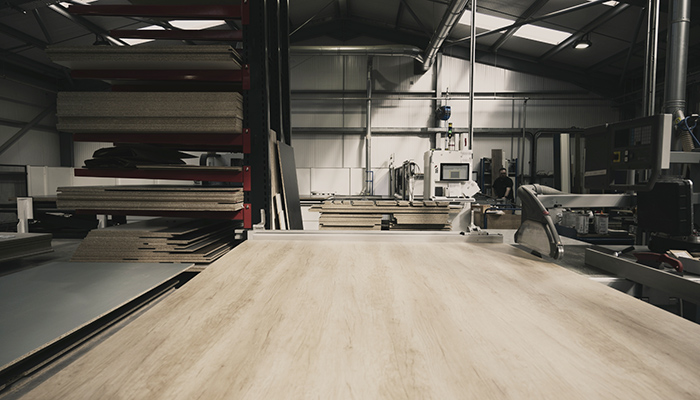 Q: What sets you apart from your competitors?
A: We are more than just a supplier – we're a true business partner. Our team has a wealth of knowledge, expertise, and skill with many years of industry experience to draw from. We can offer advice and technical know-how on the best solution for their project and can overcome any hurdle they may face.
Keeping up with innovation is a core part of our business; we are constantly improving how our products are manufactured to ensure maximum efficiency during installation. Having years of fitting experience, we not only provide advice, but we continually work to make sure our products can be easily installed saving time and money, so our customers can focus on their customers – and increasing sales.