Working smarter rather than harder is the mantra of Euromobel MD Bodie Kelay, who tells Nicola Hanley why his new deal with German brand Sachsenküchen perfectly fits into his philosophy.
It's been nearly 20 years since Bodie Kelay established KBB trade specialist Euromobel to represent German manufacturers in the UK. "For a lot of agents, their offices are the passenger seats of their cars. No disrespect to them, but we were determined to be different. We wanted to have a proper office base in the same way that a manufacturer would have in an organised business. And that's worked for us and thankfully we're still here," he says.
Operating out of a HQ in Birmingham, Euromobel offers dedicated sales ordering and support for retailers including showroom training, working with appliance brand Küppersbusch, furniture manufacturer Stormer, which also produces Villeroy & Boch kitchens under license, and more recently, with Sachsenküchen.
"I've worked in the industry with kitchen manufacturers for 39 years and I've known Sachsenküchen for quite a long time," says Kelay. "They actually asked Euromobel to work with them a few years ago but the timing wasn't quite right. They were redeveloping and automating their production line and we were just about to take on the Villeroy & Boch kitchen brand and it didn't make sense to dilute the concentration when we needed to get that established."
But as market conditions started to change last year, Kelay felt the time was right to rethink working with the company. "Last year we saw more casualties within the manufacturing base with the loss of the likes of Rational and Warendorf and it left a big gap in the market."
Keen to fill that gap and strengthen his proposition in the mid-to-upper sector of the market, Kelay restarted talks with Sachsenküchen. Established in 1908 and based in Obercarsdorf in the region of Saxony, Sachsenküchen – pronounced Saxon Kuchen – manufacturers approximately 18,000 kitchens a year, half of which it sells to export, and employs around 240 people.
One of the things that appealed to Kelay, was Sachsenküchen's ability to offer 'special solutions as standard'. "Sachsenküchen produce book matched veneers and book matched laminate and it's unique. So we're talking a price group 1 woodgrain that is book matched so the grain continues horizontally or vertically from unit to unit. And with how the market has changed over the last 12-18 months, Sachsenküchen allows a kitchen specialist to accommodate that discerning client who doesn't want to be buying in the lower end of the market because he wants that symmetry," says Kelay. "So the timing was right for us and for Sachsenküchen and we're really pleased to have finally got to work with them."
Another thing that attracted Kelay to Sachsenküchen was its smart thinking. "They've gone from a €30m to a €60m turnover business. And they've managed to do it in the same square footage of factory at a time where we're seeing other German manufacturers doubling the size of their production plants. But Sachsenküchen have done it by thinking smarter and by the automation they've created. They haven't needed to double the workforce, so it has gone from 210-240 people because of the right investment. And that's a philosophy we take to the dealer network. Don't work harder, work smarter. It's all about working with likeminded people."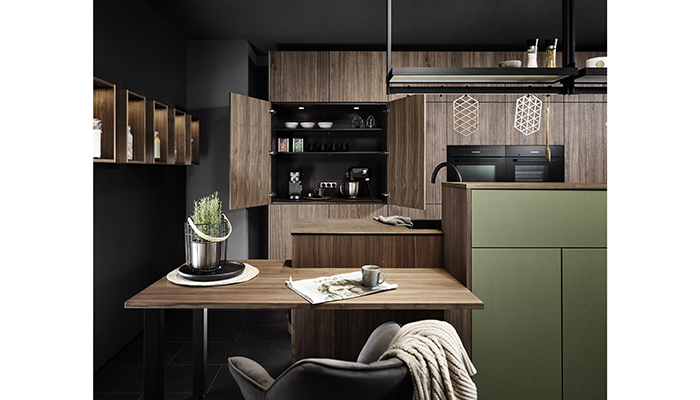 Although Euromobel isn't looking to take on hundreds of studios across the country, he is hopeful that the addition of Sachsenküchen will open a few more doors. "We do hope more of the excellent studios who have directed their business towards the lower mass market will see the light and give us an opportunity to talk to them. But for us it's about quality rather than quantity – you don't gain anything by spreading yourself too thin."
Despite the challenges of the pandemic, Euromobel had its two best years in 20/21 and 21/22, increasing turnover by 20% last year. This year Kelay says he's cautiously optimistic. "There are major production issues with all manufacturers in Germany at the moment and I'm mindful that there are a lot of rumours going round. But we all live in glass houses and we have to be careful not to throw stones because we're going to break our own windows. The bottom-end of the market is suffering the most. We're concentrated on the mid-to-upper market so we're lucky that we have fairly good order books but we're not ignorant to the facts."
The challenges of the last few years and the continuing economic climate has reinforced the importance of service, honesty and patience for Kelay. "We've increased our patience levels because there's no point getting frustrated and upset because something hasn't turned up. It isn't done intentionally so we just work with our partners on the manufacturing and retail side and look at all the options, because there's always an option. That's where it comes down to experience. You learn a lot over time and to think before you act."