The Natural Stone Show is back at ExCeL London on 6th - 8th June, once again co-locating with the Hard Surfaces exhibition to complete the picture of natural and man-made products used by the stone and tiling sector. Richard Bradbury, MD of organisers QMJ Group, tells us what's in store.
Q: Tell us about this year's Natural Stone Show – what sets it apart from previous years?
A: A lot has happened in the market since the previous exhibitions in 2019, so there's plenty to catch up with. That applies as much to the machinery, tools and consumables used by the sector as to the materials themselves. Both are constantly developing – you will find it hard to believe the cutting speeds achievable by using the latest blades, even when cutting quartzite or porcelain.
Q: What will kitchen and bathroom retailers and designers gain from visiting the show?
A: You will find plenty to interest and surprise you at the exhibitions that cover this rapidly developing market. It offers an unrivalled choice of leading international players launching the latest collections with a lot of the emphasis on large-format, seamless, low maintenance and ultra-hygienic surfaces (anti-microbial). These include among others: Lapitec; Keope Ceramiche; Archiporcelain; Arklam (represented by Pentagon Tiles); Avesta Stone; Bestile; Bigs Slabs by Nuovocorso; Brachot; Ceramiche Caesar; Coverlam Top By Grespania; Ascale Tau; Lamar Ceramics; La Fabbrica; ABK stones By Bloomstones; and many more.
The stone look is so popular that the engineered stone and sintered stone/porcelain manufacturers have encompassed it wholeheartedly, expanding the market with new and innovative materials. Almost all the materials, tools and consumables used by the sector originate from outside the UK and the Natural Stone Show – supported by Stone Federation Great Britain, and Hard Surfaces – backed by the Worktop Fabricators Federation, give you an opportunity to meet a wide range of suppliers all under one roof in the UK – now that's efficiency!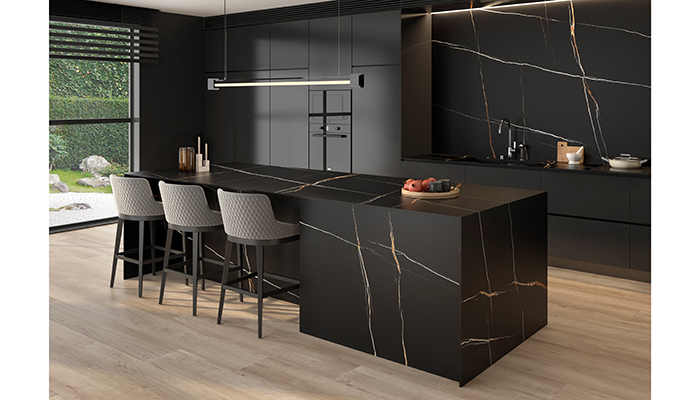 Q: What highlights should visitors make sure they don't miss while they're there?
A: The latest ranges at the two shows include a new idea from Italian company Chroma being introduced to Britain by UK Solmar. It is a hybrid material inspired by the Japanese art of Kintsugi. Chroma blends natural stone with engineered stone made using a resin, not from petro-chemicals, but the shells of cashew nuts. It is a new look for those who want an engineered surface without the environmental impact of a resin from the petrochemical industry.
Another new product introduced this year by Marmox UK is Slicedstone Veneer. It offers 13 different natural stones in the form of ultra-thin, flexible sheets. It is made from natural stone peeled from the surface of Indian sedimentary rock and then re-engineered with a stabilised backing fleece, producing a surface that is a practical and cost effective alternative to ceramic tiles. The surface of each sheet has been treated with a clear, polycarbonate solution to make it waterproof and stain resistant. Slicedstone Veneers can be applied to any wall, furniture and doors. The sheets are flexible enough to curve around columns, and because they are waterproof can be used to liven up bathrooms, wetrooms or shower areas with the look of natural stone.
Surfaces wholesaler Bloomstones is introducing the Cooking Surface Prime under-surface induction hobs it is now selling in conjunction with its slabs. And among the first-time exhibitors at the shows is Ascale Tau. With more than half a century in the ceramic sector, its sintered slabs are available in 6, 12 and 20mm thicknesses and its product portfolio encompasses marble and other stones, cement, woods, metals and essential minerals.
There will be more than 100 other new materials on show, some so new they are still in developmental stages, from Netherlands company MaterialDistrict, which has scoured the world for the latest developments in surfaces, looking particularly for those that are kind to the environment and address issues of global warming.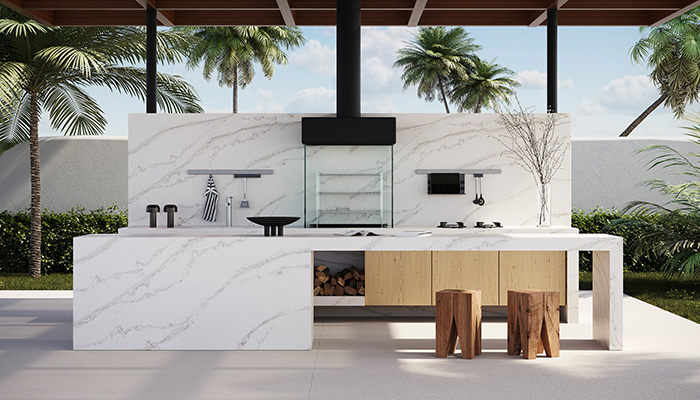 Q: What is the best way to get the most out of the show?
A: Plan your visit by looking at the exhibitors on www.stoneshow.co.uk and www.hardsurfaces.co.uk. Although a major benefit – and often the most exciting – of visiting a live show is the serendipitous discovery of something unexpected and exciting, so it is worth leaving time to take a look at the all the stands. And if you want to know more about the stone and tile sectors, both exhibitions have seminar sessions exploring aspects of the industry. The Hard Surfaces seminars are curated by Joe Simpson, previously the Editor of Tile & Stone Journal and now presenting TileCast podcasts.
Q: What elements are you personally looking forward to the most?
A: The Natural Stone Show & Hard Surfaces shows have always been international and once again have attracted exhibitors from China, India, Italy, Spain, Turkey and elsewhere. It's seeing this international collaboration and the new ties that are always formed at the Natural Stone Show & Hard Surfaces exhibitions that most excites me. I'm also looking forward to the presentation of the Emerging Talent Awards that will come at the end of a seminar session looking at the skills and qualities needed in the sector by the next generation that will lead it. And the presentation of the Industry Choice Award. This is an Award for the project that the industry chooses as its favourite from among Stone Federation's Natural Stone Award category winners presented in London in December.
Click HERE to register now to attend the Natural Stone Show & Hard Surfaces at ExCeL 6th - 8th June.