Leading British manufacturer Crown Imperial is delighted to present its latest working from home furniture solutions, perfect for a summer interior makeover. Designed for modern lifestyles, retailers have a comprehensive choice of flexible home working and storage to create a dedicated work zone.
Ideal for multi-functional room schemes, Crown Imperial showcases the Furore workspace in a sleek grey aqua shade, with ample organised storage to ensure ergonomic access to office essentials. Designers have a choice of desk styles to easily personalise a client's workspace, including corner solutions and a special panel service to maximise every centimetre.
Create a dramatic dark decor with the Zeluso collection, featured here in a statement matt black finish and available in a choice ten striking shades. A perfect choice for the work-life balance, Crown offer a host of organised interior storage configurations, including filing drawers and stationery trays to achieve a clutter free feel.
Add a touch of elegance to a home office with the Midsomer shaker collection, paired in a painted oyster and sage, with discreet brushed aluminium shadow handles. The organised work from home layout also features complementary open shelving to provide an additional easy access storage zone.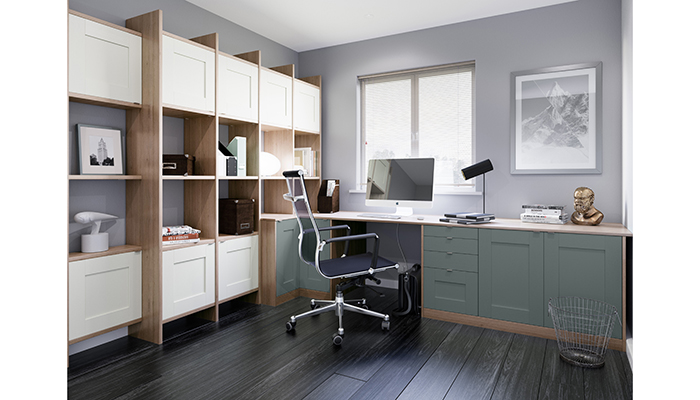 Crown Imperial offers retailers a complete collection of working from home, bedroom and kitchen furniture, accessed through a central design palette to ensure a seamless fusion throughout the home.
www.crown-imperial.co.uk – 01227 742424