Home renovation and design platform Houzz.co.uk has identified the top emerging interior and exterior design trends based on the latest search insights from its community of homeowners, home design enthusiasts and renovation professionals – we bring you the highlights.
Getting Industrial in the Kitchen
Kitchens are usually a strong indicator of current trends and an increase in searches for industrial-style kitchens (up by 99%) gives a clue as to where homeowners are looking next. With their easy-to-clean surfaces and high-traffic durability, they're a good choice for busy households. With associated features like 'stainless steel worktop/splashback', 'exposed beams' and 'open kitchen shelving' all more than doubling we're likely to see a more commercial vibe in kitchens over the next few years.
Stainless steel worktop/splashback - 179%
Exposed beams - 166%
Open kitchen shelving - 136%
Industrial kitchen - 99%
Polished concrete - 23%
1970s Revival
1970s-influenced interiors have been trending for a while now, but this summer they're set to really dominate – maybe it's the Daisy Jones & the Six effect that has us feeling nostalgic for the richness of 70s decor. Searches for 'eclectic' and 'retro' design inspiration have risen by more than 2x, along with searches for 'mustard yellow sofa', 'dark wood flooring' and 'quirky wallpaper' (all up 2x). Some of the more extreme elements of 1970s style have also popped up on the radar, with searches for 'sunken bath' more than doubling.
Orange - 259%
Eclectic - 157%
Mustard yellow sofa - 139%
Dark wood flooring - 132%
Sunken bath - 117%
Retro - 109%
Quirky wallpaper - 99%
A Degree of Separation
After years of loving open-plan living, we're increasingly seeing homeowners seeking out solutions to help divide up spaces, with searches for several different types of room dividers making it into the rising search trends. Glazing is proving to be a popular choice among homeowners who want to create separate spaces that still feel connected, with 'internal glass window' and 'internal glass door' both up significantly year over year.
Kitchen peninsula - 136%
Internal glass window - 77%
Partition wall - 51%
Room divider - 47%
Internal glass door - 39%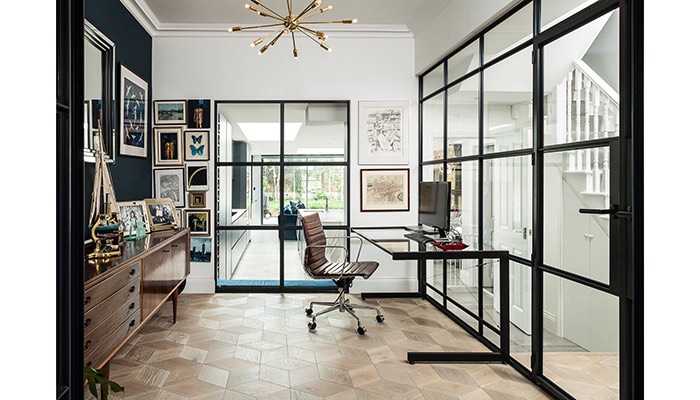 Big Personality
The interest in cottage-style interiors, characterised by the use of pattern, colour and vintage items remains steadfast. However, it looks set to be combined with a more playful approach, with several searches indicating a desire to create unique and individual spaces. 'Vintage decor items' spiked by more than 6x compared to the same period last year and 'William Morris pattern' also saw a significant increase, while searches for 'colourful rooms' and 'wall art' rose too. Intriguingly, searches for 'secret door' also more than doubled.
Vintage decor items - 569%
William Morris pattern - 144%
Secret door - 140%
Country cottage interiors - 136%
Kitchen dresser - 129%
Colourful rooms - 98%
Wall art - 57%
Climate-influenced Updates
The 2023 UK Houzz & Home Study highlighted the increased focus on energy efficiency, with almost half of homeowners citing it as highly important when renovating, rising sharply since 2020. With a changing climate coupled with rising energy prices, it's perhaps unsurprising that searches on Houzz mirror these findings, with 'insulation', 'heat pump' and 'solar panels' all increasing year on year (up 100%, 99% and 28%, respectively). 'External cladding', which not only improves the appearance of a house but also helps to provide further insulation, rose by a third.
Insulation - 100%
Heat pump - 99%
External cladding - 32%
Solar panels - 28%
Luxurious Bathrooms
Bathrooms continue to be a popular space to upgrade, with more than a quarter of renovating homeowners improving theirs in 2022, according to the 2023 UK Houzz & Home Study. Homeowners are seeking out warm, comforting spaces, with the search term 'rustic bathroom' shooting up by more than 5x. We've also seen showers continue to rise in their popularity over baths, with searches for 'shower enclosures' quadrupling and 'shower niche' up 77%.
Rustic bathroom - 444%
Shower enclosures - 318%
Luxury bathroom - 109%
Shower niche - 77%
Spa bathroom - 61%
Bathroom lighting - 55%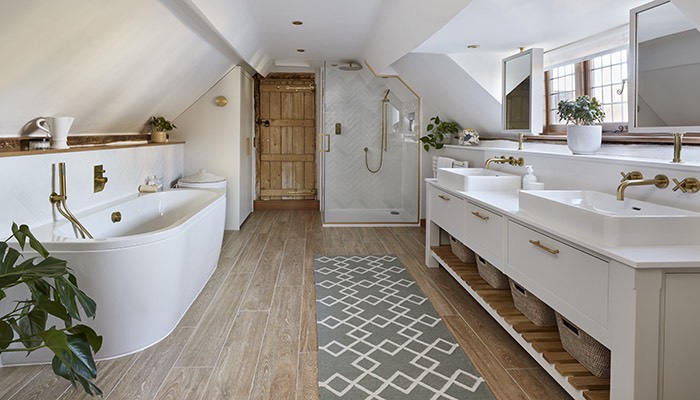 Hosting Guests Again
Brits are feeling sociable, with searches indicating that they're busy readying their homes for guests. Both 'guest bathroom' and 'extendable dining table' saw more than triple the amount of searches compared to the same period last year and 'murphy bed' more than doubled.
Guest bathroom - 290%
Extendable dining table - 283%
Murphy bed - 179%
Guest room - 91%
Preserving Charm and Character
With many homes in the UK ageing (according to the 2023 UK Houzz & Home Study 47% of the surveyed homeowners live in homes built in 1940 or earlier), preserving the charm and character of these buildings is a high priority among homeowners on Houzz. The search terms 'listed building' and 'Georgian house' shot up 2.5x and 2x, respectively, and 'Victorian terrace' increased by more than half.
Data reflects year-over-year growth in UK-based searches on Houzz from January-March 2023 versus January-March 2022. Read the full report HERE.