As Bushboard unveils its reimagined Omega Collection, product leader Elliott Fairlie reveals how the latest laminate kitchen worktops can make the high-end look achievable for more homeowners.
Q: Tell us about the new reimagined Omega Collection – what does it consist of?
A: In recent years, we've seen myriad exciting innovations come into the kitchen worktop market. What the Omega collection does is blend together this new innovation with modern, high-end design, which extends as far as its matching upstands and splashbacks. Ultimately, what makes Omega so unique is that the collection is considered and co-ordinated, offering 25 décors in various profiles, thicknesses and lengths to offer plenty of choice for a wide variety of kitchen requirements. Made in the image of real wood, marble and stone finishes, with a true square edge or slight curve, and with 3m and 4.1m lengths, there's an option to suit all retailer needs.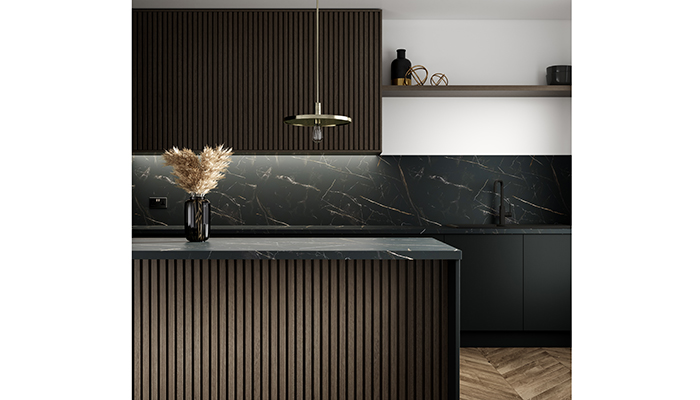 Q: Why have you launched it now?
A: When it comes to the world of high-end kitchen worktops, there's a huge number of options available to those looking. However, with the cost of living and raw material costs both increasing, it's becoming ever more difficult to achieve these sought-after designs and styles at a budget-friendly price point. At Bushboard, we were able to identify space in the kitchen worktop market for a collection that feeds the craving for modern high-end design, but without the designer price tag. The Omega collection was created with that in mind; carefully designed and constructed while upholding affordability, all without compromising on aesthetic.
Q: How does this range differ from previous collections?
A: The new Omega work surface collection is truly a game-changer when it comes to offering the high-end, modern look many aspire to having. We wanted to create something innovative and stylish that leaves room for personalisation so have consolidated the range of décors to those we feel carry maximum appeal, while adding a selection of optional matching splashbacks and upstands. To put it simply, it's a more current and more cost effective kitchen worktop than any we've seen brought to market before.
Not only that, but we've been able to introduce four premium finishes including the metallic emulating Brushed Bronze and three anti-fingerprint 'Touch' surfaces, on which micro-scratches are repairable whilst also being easy to clean. The antibacterial protection available as standard on all designs in the collection also offers added peace of mind to customers buying in an increasingly health-conscious market.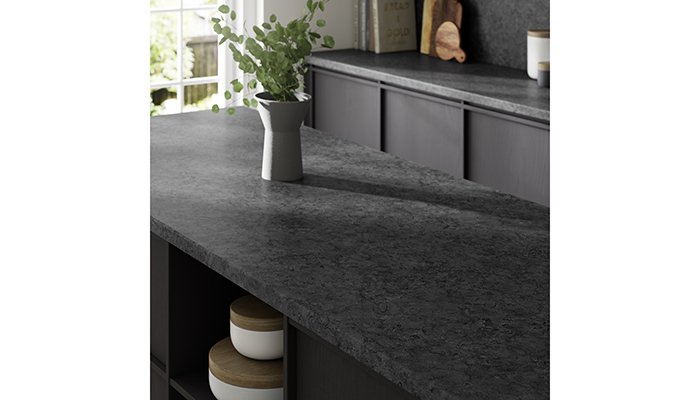 Q: Are the new worktops launched in response to any particular trends?
A: While aesthetic preferences are ever-changing, what remains constant is the need for high-quality work surfaces at an affordable price point – especially in the current financial climate where the average home improvement budget will have taken a hit. With the new Omega collection, we have set new boundaries with revolutionary trend-inspired designs inspired by nature, while, keeping quality and simplicity at the core, without commanding a premium price. Now, with the next generation of designs and styles brought together in one consolidated offer, the collection has everything a customer needs to turn their inspiration into reality.
Q: Is there any particular aesthetic theme running through them?
A: With the range boasting 25 décors, it felt important that it remained cohesive and considered. Each design, texture and style has been developed to offer a genuine cost-effective alternative to cutting-edge solid surface and timber. Offering highly realistic marbles, stones, metals and woods, the range remains true to the nature inspired trends of today, but with the added benefit of much simpler installation and maintenance requirements.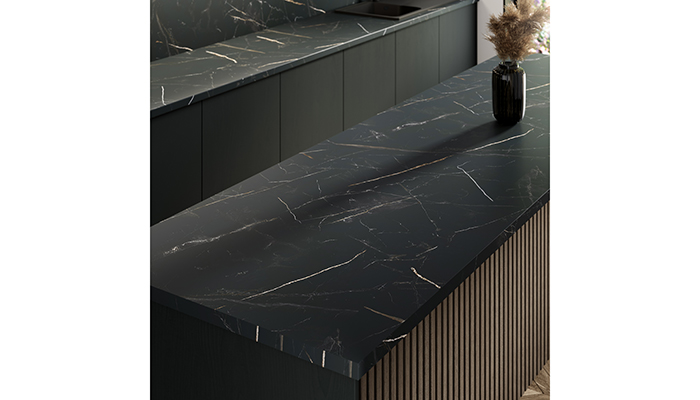 Q: What do they offer retailers and designers?
A: The key message to retailers and designers in this instance is that less is definitely more. Omega is a laminate worktop available in a varied palette from light to dark and in a variety of designs and styles. Ultimately, the range has been created to offer something for everyone, but without the complexity of overwhelming retailers and designers with too much choice. Complementing Omega kitchen worktops with matching splashbacks and upstands means it's easier for retailers and designers to mix or match as they look to deliver a personalised look inspired by endless potential design ideas.
Q: What support is Bushboard offering retailers with the latest collections?
A: Bushboard has and continues to be committed to supporting retailers, who remain an essential extension of our brand. We can offer retailers a free point-of-sale stand and display opportunities, as well as a dedicated team of personnel on hand to offer marketing support and to answer any queries if needed.