Duravit has revamped its Clerkenwell showroom and now has Vitrium by Christian Werner, Qatego by Studio F.A. Porsche and Bento by Philippe Starck on display, along with new coloured taps. UK MD Martin Carroll talks us through the latest developments.
Q: Tell us about the Londonshowroom revamp – why have you decided to do it now?
A: Duravit is constantly investing in new products, and 2023 is no exception. At ISH in March, we launched a number of brand-new series and products and the London Clerkenwell showroom refurbishment is our opportunity to showcase those new collections, ensuring our partners, architects and designers are able to see the latest innovation in new products.
Q: How many new displays are there and what do they showcase?
A: In total there are 8 new display areas showcasing Qatego by Studio F.A. Porsche, which is a complete collection of ceramics, furniture, and bathing, and Vitrium by Christian Werner, which is a furniture series incorporating our new DuroCast basins manufactured from mineral cast material. Faucets and showers through the addition of Wave and our new shower systems are presented in Brushed Bronze, Polished Gold and Bushed stainless steel in combination with the Special Finishes on D-Neo furniture, incorporating Starck T accessories.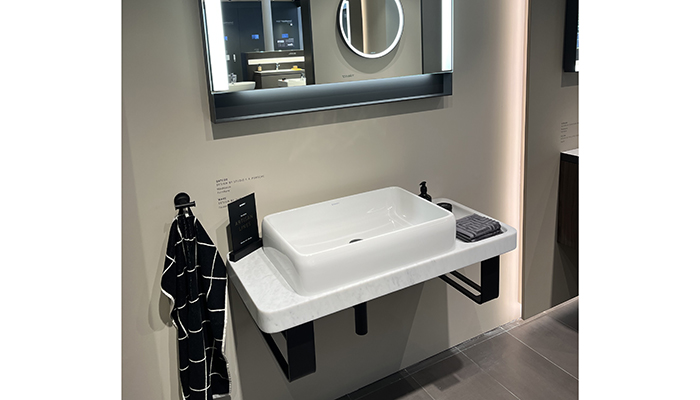 Q: How did you decide on the styles of the displays and which products to include?
A: When Duravit launches new series, they are very comprehensive in their offering giving maximum flexibility to the consumer. We look at the collections and strike a balance between what we feel are going to be the most popular combinations of products, due to size, style or colour (for furniture), but also try to show something that might also be different from the norm, to help inspire visitors that maybe their bathroom can offer something outside of the traditional design or look.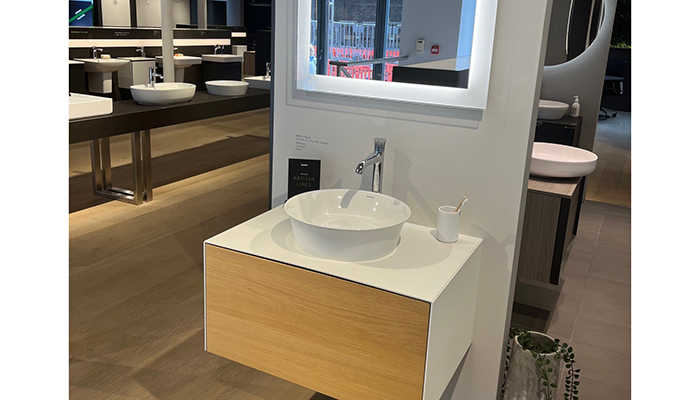 Q: Do they reflect any particular new trends?
A: Visitors to the showroom currently are inspired by natural and neutral colours on furniture, but may want something different on the smaller items like accessories and brassware, so we have kept our new furniture displays in keeping with the neutral trend, but complemented by accessories and brassware in new finishes such as Polished Gold and Brushed Bronze.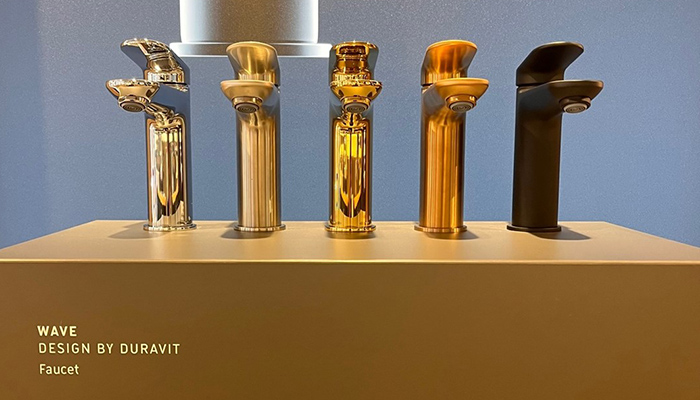 Q: Are any of them working displays?
A: We have a working taps area, where visitors can see water through their favourite basin mixer styles, along with working models for our SensoWash Shower toilets.
Q: When retailers and designers come to the showroom, what 'journey' do you take them on through Duravit's products?
A: When our retail partners visit, we are able to offer 1-2-1 training sessions so that their staff are fully acquainted with the collections and can feel comfortable in how the sell the features of benefits of each series. Additionally, we also discuss display options and what we feel would work within their business to maximise sales. From an interior design perspective, the journey is usually led by the designer and their needs or the needs of their client – they are either looking for something specific for a project 'in progress' or they are gathering information on what has changed since their last visit and how they may use this on projects in the future.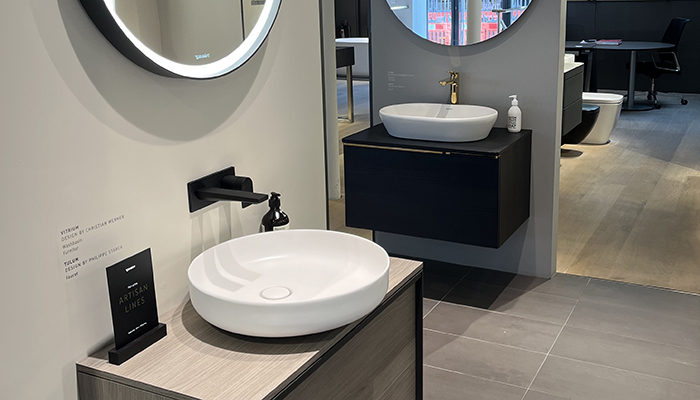 Q: What support do you give retailers with product displays in their own showrooms?
A: All of our partners are offered display rates to assist with introducing a new product into their showroom. At times, we also offer new product 'promotions', which support our partners and offer them additional support to help introduce a new product into their business.
Q: In your view, what sets Duravit apart?
A: Our rich design heritage and collaboration with the world's leading designers such as Philippe Starck, Sebastian Herkner, Christian Werner, to name but a few. This means that our perspective and ideas are constantly being challenged from the outside rather than just our own internal viewpoint. We also strive to create products which have a long-lasting and sustainable design pattern, which means that our products are around for a very long time.