Earthy tones, creamy-beiges and moody browns are all the rage in interior design right now. Consumers and designers alike are seeking the calming and cosseting environments created by bringing natural colours and organic textures into the home. Whether its natural wooden finishes, woven textile accessories or earthy colour palettes, designers and consumers everywhere are embracing bringing the serenity of nature into the home.
So how can current trends be translated into the kitchen space, when one of the most important elements of any kitchen design is longevity? Caesarstone offer a clever solution to this problem through their considered surface designs and thoughtful approach towards longevity.
Caesarstone surfaces are years in the making. Our in-house design team curate our range of products with aesthetic beauty and timelessness in mind, always. Whilst working on new designs the team also consult with trend forecasting experts to ensure our surfaces will be just as coveted years after installation. This applies not only to the beautiful designs, but their durability too, as proven by our residential lifetime warranty.
No customer wants to look at their kitchen space in 3 years' time and feel like it reflects a long-gone trend, which is why it's so important to choose a worktop designed with longevity in mind. Caesarstone surfaces are sure to be loved just after installation and still loved many years down the line.
Scroll down to see a selection of our timeless earthy designs:
6338 Woodlands
This rich surface is defined by its sumptuous chocolate base colour and intricate caramel veining. In this beautiful barn conversion by Planet Kitchen, it pairs wonderfully with the bare brickwork and dark cabinetry.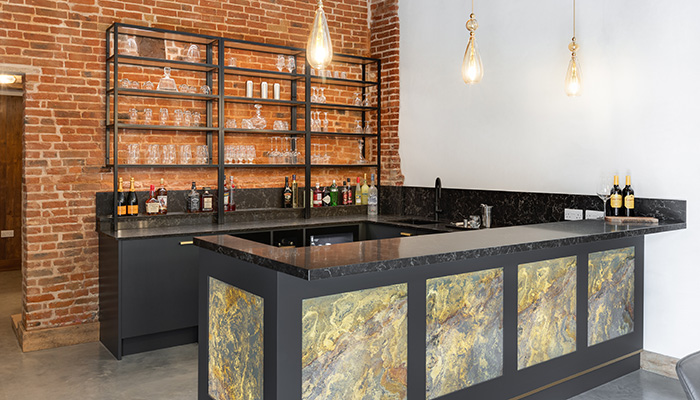 513 Striata
It doesn't get more Earthy than Striata with its weathered smoky-grey base and prominent veins designed to reflect a geological landscape. This bold surface is sure to be a statement in any kitchen, but its close resemblance to the natural world will ensure it never goes out of style.

6046 Moorland Fog
Foggy browns and swirling greys dance across this rich and creamy base making it the perfect choice for any kitchen design in need of a neutral but enticing worktop design.

506 Mirabel
When we first launched Mirabel it shot into our top ten most-requested samples and it's easy to see why it's so popular. It's characterised by an ivory white base awash with bold charcoal veins and delicate copper accents. The perfect way to enhance an organic scheme whilst keeping the colour palette bright.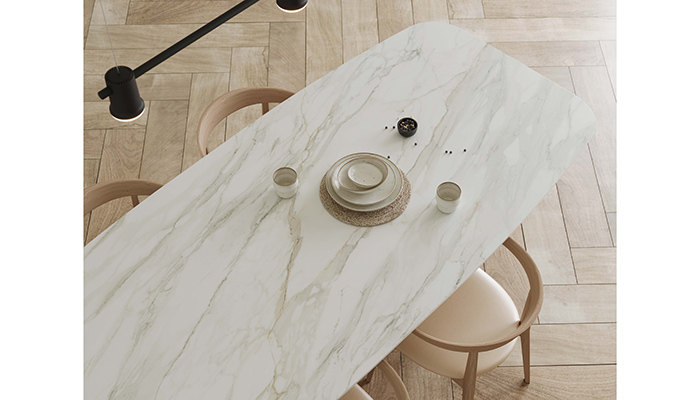 1004 Stoneburst
For any designer looking for a more subtle nod to earthy tones and a neutral colourway. With notes of sage, cream, grey and beige and delicately laced with subtle veining this surface couldn't be better suited to a pared back, neutral scheme.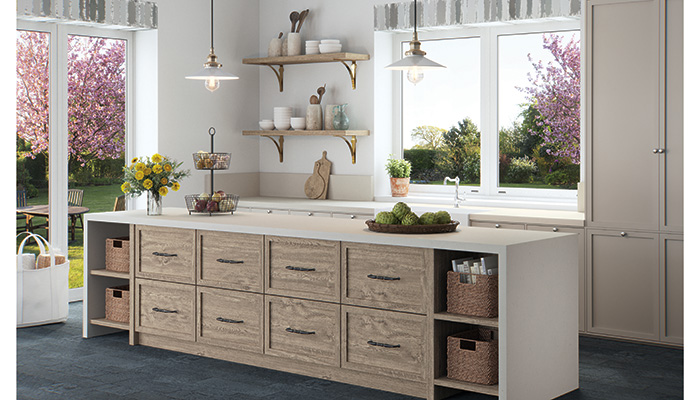 For more design inspiration and to browse our full range of colours visit the Caesarstone website.