A TV in a bathroom is the ultimate luxury, but what should designers bear in mind when creating a scheme that features one? Rajesh Parmar, head of marketing at bathroom technology manufacturer ProofVision, explains.
Q: Tell us about integrating a TV into a bathroom design – what are the key things that bathroom designers should bear in mind?
A: Featuring a TV in a bathroom elevates the customer's perception of the overall design proposal. The key aspects designers need to consider are aesthetics, location and safety. For example, designers should factor in how a TV will visually blend into a bathroom, as this is a critical design consideration. In terms of location, the TV needs to be embedded into a wall with a depth of 6cm and powered by a 12V adaptor, which must be plugged into a mains source.
Safety is if course a priority. Strict rules exist here in the UK that govern which electrical devices can be installed in a bathroom, therefore designers should select a bathroom TV that's purpose-built to meet electrical safety regulations. The ProofVision range of bathroom TVs is designed and tested to meet all relevant safety and electrical standards, and we recommend that a qualified electrician installs our bathroom TVs.
Nothing says luxury like an elegant TV in a beautifully designed bathroom that creates a spa-like oasis in which to relax and unwind. At ProofVision, we see a strong demand for bathroom TVs, especially for larger sizes, from designers creating a beautiful space to meet their client's vision of their dream bathroom.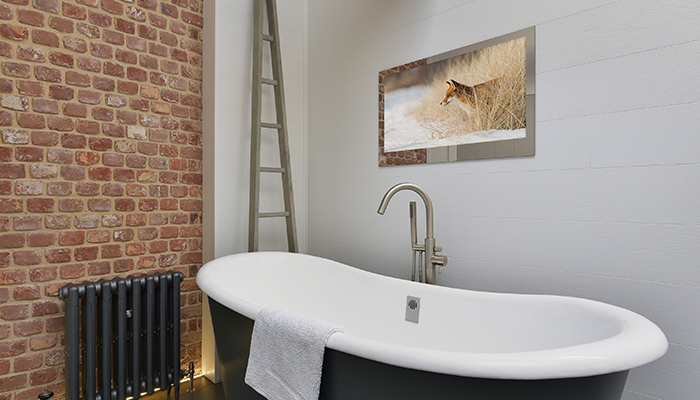 Q: How much choice do homeowners have when it comes to different products?
A: The ProofVision collection of in-wall, smart bathroom televisions offers plenty of choice for consumers that are looking to enhance their space. Available in five sizes, (19", 24", 27", 32", 43") to suit compact spaces and spa-like bathrooms, and three finishes (black, white and mirrored) ensuring the TV can complement an assortment of styles and décor preferences.
Q: What is the ideal position for a TV in the bathroom?
A: To guarantee a comfortable viewing experience, designers should position the bathroom TV at a suitable distance where it can be easily seen from the preferred viewing spot, such as in the bath or standing at the basin and is visible without any obstructions. It's important to select an appropriately sized TV that is in proportion to the room, as a large TV can be overwhelming in a small room, however if the space allows, a large TV can provide more of a cinematic viewing experience.
Q: What are the latest innovations when it comes to waterproof TVs?
A: ProofVision smart bathroom televisions boast a 1080p HD display and built-in vibration speakers for a crystal clear picture and high quality sound. The collection benefits from Smart TV functionality and built-in Wi-Fi connectivity, meaning users can easily access their favourite streaming services, making the TVs the ideal bathroom accessory for those looking to relax and unwind while enjoying their favourite TV shows, movies or music.
The innovative range, which also benefits from a heated screen to minimise misting and condensation, can be seamlessly embedded into the bathroom wall for a sleek appearance. What's more, for blending completely into the bathroom, when turned off the mirrored version can be utilised as a bathroom mirror, making the technology near invisible.
For peace of mind, the ProofVision models come complete with an ultra-slim, splash-proof remote control that can withstand damage if accidentally submerged into water, enabling users to adjust the volume, change channels and much more from the comfort of their bath or shower.
Q: What are the main pitfalls to avoid when installing a bathroom TV?
A: When specifying the product with the customer, it's vital to ensure the TV is specifically designed to be installed in a bathroom, as not all televisions are waterproof or humidity resistant. The ProofVision smart bathroom TVs and remote controls boast an IP65 and IP67 rating1. Designed for use in high-moisture environments, ProofVision models can withstand humidity, meaning users don't need to worry about any damage caused by moisture, steam or splashing water.