Times may be tough for many retailers but Bournemouth-based Coastal Bathrooms has just opened a second retail showroom, and added a separate e-commerce strand. Tim Wallace gets the full story from MD Paul Etheridge on how they're riding out the challenges of today.
Q: What's the thinking behind the new store?
A: We'd been struggling with storage facilities so we invested in a warehouse towards the end of last year. It's in quite a busy location so we decided to put another showroom in there. It's in Somerford, not far from our other one in New Milton and opened in July.
Q: How's business?
A: Last year was phenomenal. Our average turnover is normally around £1.5m, but it was £1.6m last year and profitable. But 2023 has been a funny old year. In June the footfall was nice and July got really busy. We're also lucky that we have a wide range of customers – from one-off retail, which has dropped off a bit, to trade, hotel groups and larger developers. If one area goes quiet, another seems to be doing well. But the rest of this year looks like being challenging.
Q: Where's the biggest growth?
A: We've become quite active in the contract side. There are also going to be a lot of developments here in the next two or three months, which will make a massive difference to the way we work. I'm working on big contracts that, if they come off, will almost double our turnover. It will be transformational for us.
Q: Are you still having problems with online dealers undercutting you?
A: Yes, a few manufacturers have really upset us over the year. We stopped trade with one big supplier a while ago and one particular shower brand has become a swear word in the industry. We spent years helping build their brand, then they dump you for their online customers. But the biggest blow has probably been Hansgrohe's decision to go on Amazon. This was at a time when we were selling a lot of Hansgrohe, well over £100,000 a year. To qualify for AXOR we needed working displays and then all of a sudden Amazon are selling it at what we paid for it. It makes a mockery of the whole dealer system they have.
Q: Isn't that just the harsh reality of the bathroom business? Can the problem ever be resolved?
A: No it's getting worse. It's cheaper to buy one particular brassware brand's products from Amazon than it is from the company themselves. It's cheaper to buy one particular shower brand from Screwfix than it is from the distributor. There's a divide between brands that want to support showrooms and those that just sell boxes to whoever. That divide will get bigger.
I know one shower brand that will even go to the consumer direct and say their guarantee is about to run out so they offer to supply and fit their new shower, which obviously cuts us out of the loop for the duration of the warranty of that product, which is five years.
Q: But you've just launched your own e-commerce business?
A: Yes, casabagno.co.uk, because we get the odd customer that is adamant that they want to buy online. It's an own-branded product. We don't expect to take over the online world but the site offers an own brand that we can display in the showrooms and sell online if consumers want it. We get it delivered to them anywhere in the UK.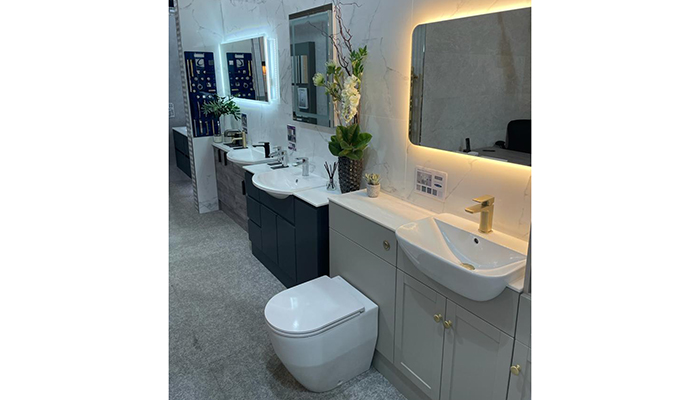 Q: Which brands do you offer online?
A: It's one very good UK company who are good at logistics. All the product comes from that one brand, delivered direct to the consumer via their logistics company. I'm not sure I want to tell who it is!
Q: Are you happy with your current showroom suppliers?
A: Ironically yes, we have a very strong relationship with Laufen, Arteform, Sonas and Bette. We've been working with Laufen for 20 years and I can phone anyone there and they will have a chat. Whereas with the brand we dropped I could never get hold of the people running things.
Q: What are the big current trends?
A: Coloured brassware is massive – Nickel, Brass and Black. At least 50% of our bathroom sales are non-chrome.
Q: Which bathroom retailers look best placed to survive in this climate?
A: While we don't do it at the moment one of the main factors will be the ability to supply and fit product. Contracts are fine but you're working on lower margins which is OK if you get paid. If you don't you can take a big hit. There are pitfalls but supply and fit will have an edge.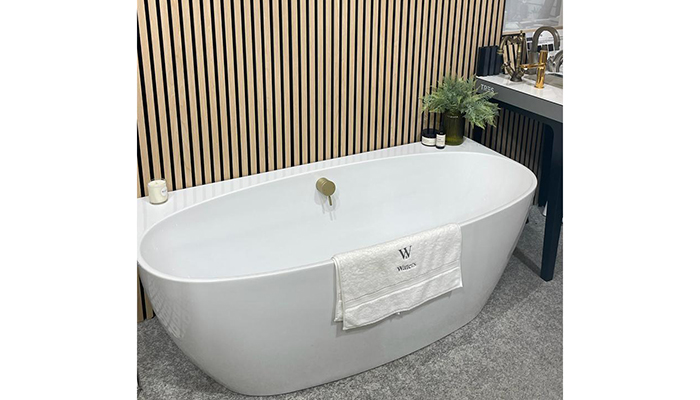 Q: What sort of margin are you looking for?
A: Because we have a mix of trade, retail and developers our gross margin is just under 30%. Net profit is about 9-10% which is pretty good. The toughest part is the age-old thing about how much time you spend with customers without charging for designs. We've got the latest version of Virtual Worlds and some talented designers but the problem is other people don't charge for their designs so we spend a lot of time with customers and don't know if there'll be a sale at the end of it. So the two questions everyone in retail is asking themselves is should you install the product and should you offer free design?
Q: So you don't charge?
A: No, but we try not to give out designs without them at least coming in for a consultation. Does it put people off? Does it filter out people who aren't serious? It's difficult – if we charge and say we'll refund you when you order people are reluctant because they don't know if they're going to buy from you or not.