Jane Stewart, design director of bespoke kitchen company Mowlem & Co, has had a career that has spanned three decades. Here she reveals her thoughts on how the industry has evolved, how to approach certain projects and why listening is the key to everything.
The kitchen industry has changed dramatically in my time – it used to be very 'old school', especially when it came to gender politics. I remember clearly some of my colleagues in the 1980s asking perfectly capable and independent female clients "When is your husband available for you to be able to make the final decision?" Honestly – it happened…
Originally, I learned a set of skills that have remained invaluable when I started my career at Bulthaup, and as I have been blessed with the ability to draw, I was given the freedom to just design away. I moved from a systemised product, to a hand-made bespoke cabinet makers when I went to Mowlem & Co, and have loved the creative freedom.
But with choice comes challenges, and I have had to learn to manage and balance the vital design and functionality requirements with the desires of the clients. A key piece of advice would be to always plan the space as a whole, especially open-plan rooms. Don't just focus on your own 'kitchen area' as the entire space has to have an aesthetic and practical cohesion.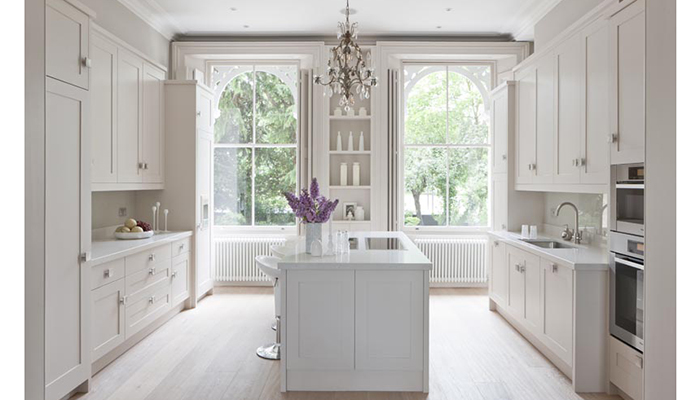 This project was a perfect example of function and form for the whole house. The imposing London property had a magnificent ground-floor arrangement with stunning windows at the front. The client's brief was originally to have a large kitchen in the central room, but it would have left two smaller spaces for relaxing and dining. We suggested that the small front room – originally a foyer – was the kitchen, and we designed it using every millimetre to be well balanced and functional. This left the huge central room as a dining area and created a much more spacious feel in keeping with the grand house.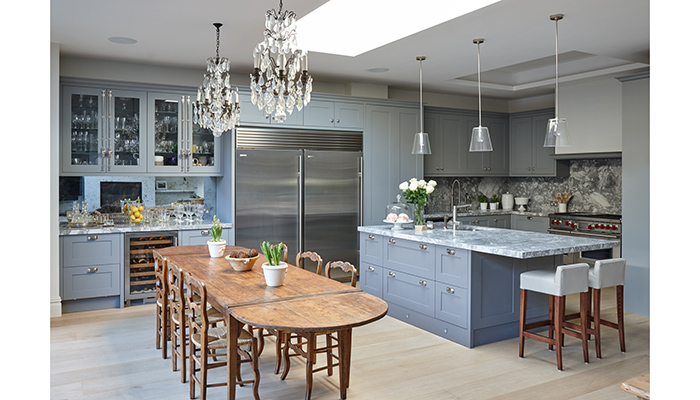 I have learned never to impose my own 'style' on a client. This beautiful space had family heirlooms and sentimental pieces, as well as modern classic and luxurious elements. I was guided by this client and inspired as to how to combine these different styles into one harmonious space, for example, the modern look and the chandeliers just worked perfectly together.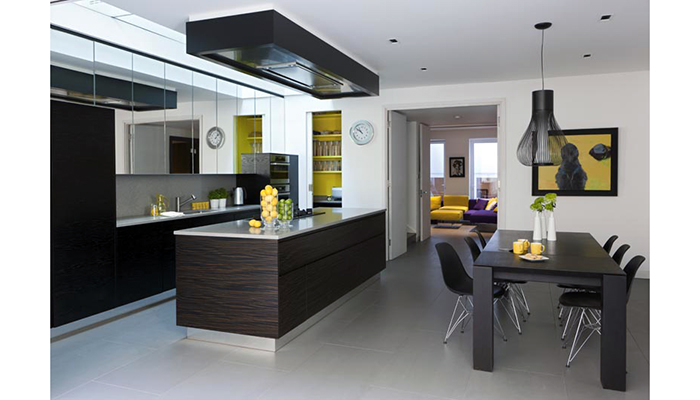 This was one of my favourite designs. Working closely with the architect Stephen Fletcher, it was a teamwork moment incorporating the mirror-fronted wall units that reflected the light coming down from the glass panel in the flooring at ground-floor level above the kitchen. This added so many visual dimensions and so much light in the basement area. Ultimately, I have found it to be crucial to work as a team.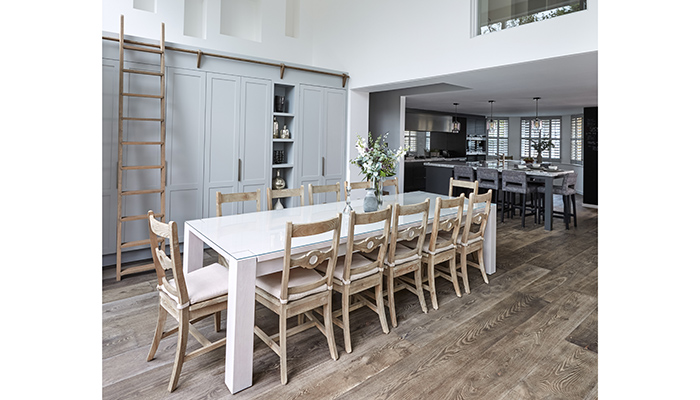 Some clients' design choices are often the things that make a room truly amazing. I had designed this kitchen at the other end of the room – for me it just made sense. But because the client was knowledgeable and well versed in spatial planning, I redesigned it with the dining area as she wished – and my goodness she was so right! I think some kitchen designers forget that actually they can take the back seat in the room, and that there's nothing wrong in being subtle.
What have I learned in my time in the industry? Certainly I think I'm still learning. But perhaps I would say the biggest thing I've learned is simply to listen. It's the key to everything – working well with colleagues, suppliers, contractors, but especially clients.