Larders and pantries have shot up the consumer wish list when it comes to a dream kitchen design – we round up 10 stunning breakfast cupboards that offer the ultimate in both convenience and good looks.
1. This breakfast cupboard by Searle & Taylor features storage drawers in a four-three-two pattern beneath a granite worktop. Above is a stepped back cupboard with bi-fold pocket doors. These feature decorative glass insets with internal LED lighting, to make a feature of the cupboard at night. When the doors are fully opened they reveal a tea station with shelving to accommodate cups, saucers, bowls and plates together with a toaster and a coffee machine.

2. The spacious bespoke breakfast pantry from Tom Howley's timeless Shaker-style Hartford Collection is ideal for keeping work surfaces clutter free, and large enough to house small appliances as well as plates, bowls, tea, coffee and cereal. The unit features bi-fold doors, and LED strip lighting under the shelves and above the worktop to aid breakfast prep on dark mornings.

3. Available in an elegant oak finish, the Cartmel Butlers Pantry from TKC comes with four fixed shelves for the top section and two for the bottom, which provide ample space for displaying ingredients, crockery, glassware and more. It also comes with three 600mm wide drawers with a 40kg capacity and soft-close mechanism. The top section base can be replaced with a worktop to match the rest of the kitchen design and provides ample depth for toasters and kettles. Pictured here in Anthracite, its overall size is 1970 x 1000 x 560mm.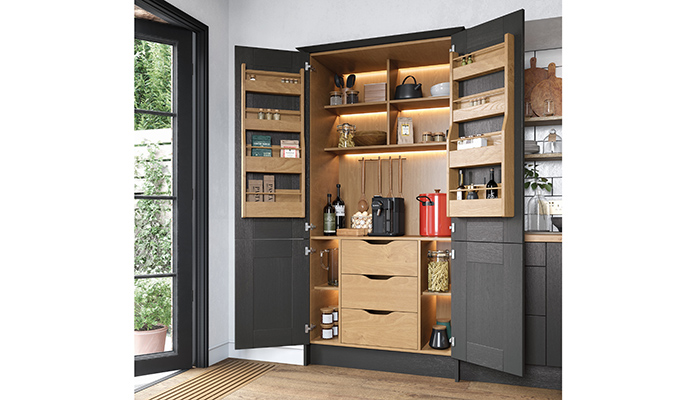 4. Shown here in the Shenaya Shaker range Crown Imperial's pantry offers ample space to make morning coffee and store daily food essentials with tiered shelving and organised drawers. Ideal for modern families, it can house small appliances and a microwave so work surfaces remain clutter free, and features customisable interior configurations, including open shelving, drawers, plate and door racks, plus trays to suit individual needs. It is available in medium and high wall options across the entire kitchen collection.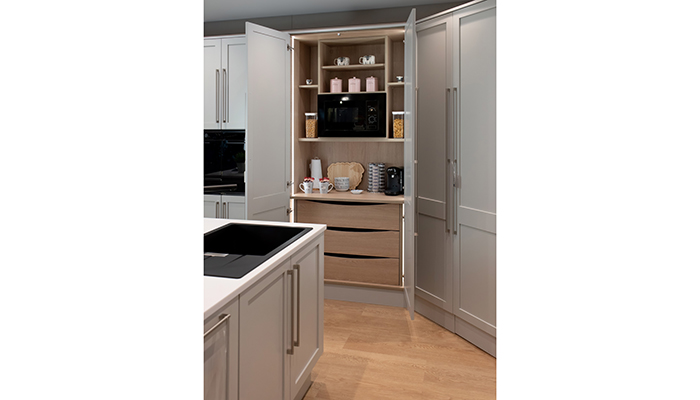 5. The Breakfast Dresser from Masterclass Kitchens enables homeowners to store away and access breakfast paraphernalia with ease. Shown here with internals in Portland Oak, it's available in all the Masterclass fitted kitchen ranges, and comes in a variety of widths and with space-saving bi-fold door options to suit any kitchen.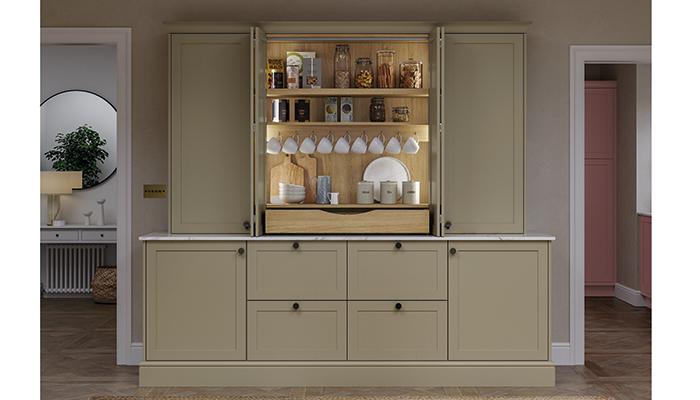 6. The Ascot kitchen from Ledbury Studio features a spacious breakfast cupboard with grey-stained natural oak doors with a brass inlay design on the front. Appliances are housed on the countertop, while richly toned wooden shelving provides space for glassware and crockery. Neat racks built into the doors accommodate jars, bottles and cereal containers, and pull-out wooden drawers in the base allow for packets and bulkier items.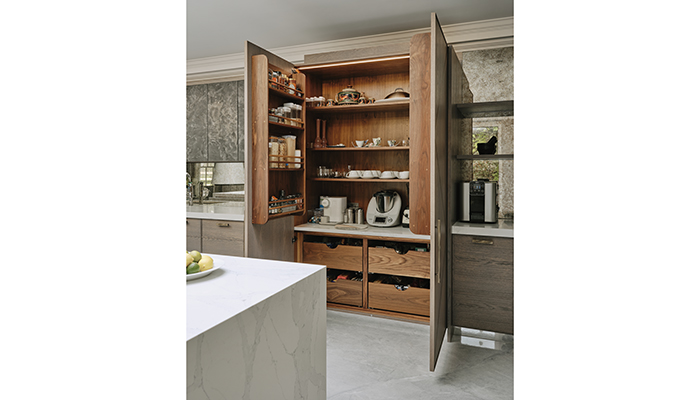 7. This breakfast cupboard by Brandt Design in Pavilion Grey Heritage furniture features space-saving pocket doors, integrated shelving and built-in bead lighting. Deepfill drawers with distinctive bar handles offer plenty of extra storage space, and 20mm Frosty Carrena quartz worktops provide an elegant, but easy-to-clean and hygienic worktop for breakfast prep.

8. This design by Martin Moore in a grand, period-style country house features the company's traditional English and New Classic collections, painted in Soft Grey. The breakfast cupboard has convenient bi-fold doors, and holds everything from a kettle and toaster, to the high-tech coffee machine. Favourite cups and mugs for three generations of the homeowner's family sit on the shelves above.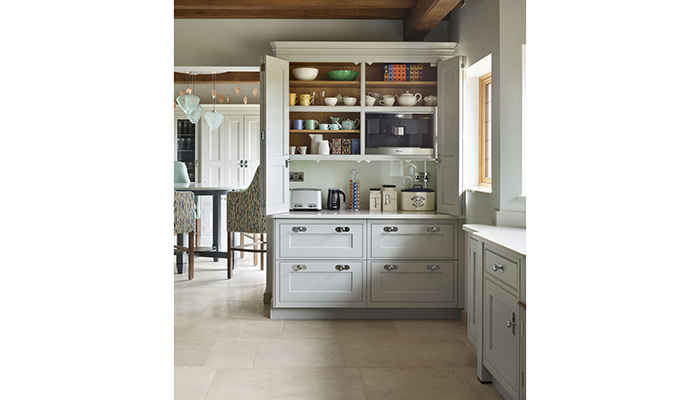 9. This is a contemporary take on Masterclass Kitchens' Breakfast Dresser and is shown here with internals in Tuscan Walnut. Available in three heights to accommodate 20mm, 30mm and 40mm worktops – 1210mm, 1220mm and 1230mm – the Breakfast Dresser comes with strip lighting, and all dressers come with motion sensors installed for light activation.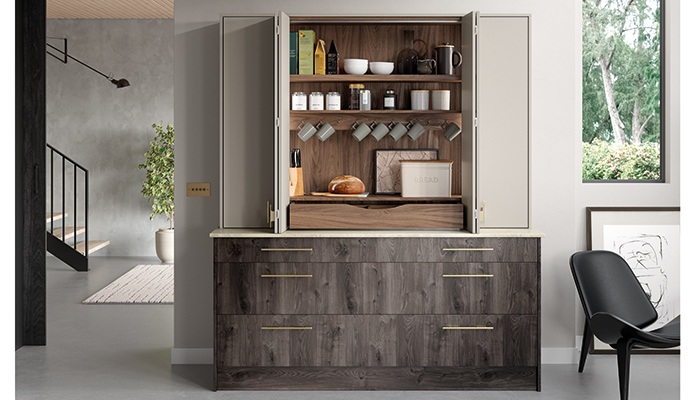 10. This bespoke design by Davonport is part of a grand scheme and features Davonport Soho furniture, which struck the perfect balance between maintaining a minimalist aesthetic and making a luxe statement. Copper lights and mirrors accentuate the air of luxury, while the generous proportions of the cupboard offer plenty of handy storage for a busy family home.